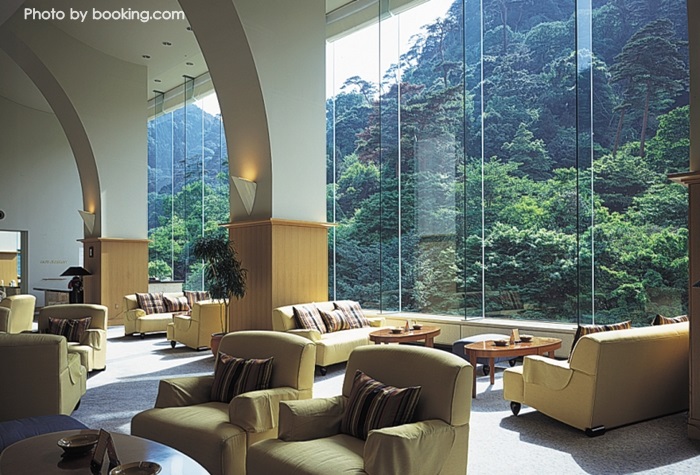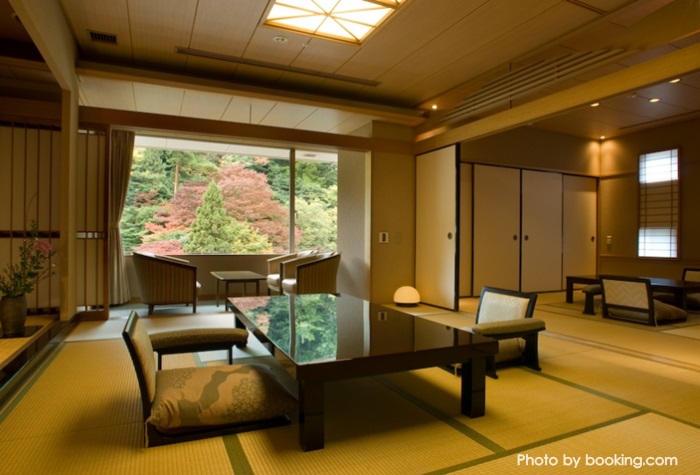 The property wouldn't be luxury but this is my cup of tea.  If you are looking for a typical onsen ryokan adventure, I think you should stay at Arima Onsen Gekkoen Korokan.  Perhaps, if this is your first time staying at ryokans, I would highly recommend it.  The property would be great for families with children, couples, groups, or solo travelers.  The ambiance is tranquil, lively, and family-oriented.  If you are going to stay here, I would highly recommend booking a room with peaceful mountain views on the highest floor possible.  The room is functional, relaxed, and clean.  The building would be aged but facilities tend to be the latest.  All of the amenities are taken care of including enough toiletries, yukatas, samue outfits, and a green tea set, etc.  There are KOSE skincare products in the bathroom.  Then

Arima Onsen Gekkoen Korokan is child-friendly

.  Staff can provide yukatas, chairs, and meals, etc., for children if you request in advance.  Room service is available from 7:00-22:00. 

The free WiFi reception was good

in the property.  Then there are

a variety of

wonderful indoor and outdoor communal hot springs in-house.  Also, there are 3 kinds of private family hot springs.  They cost 2,200JPY for 40min.  You need to book in advance at the reception if you want to use them.  All of them are open from 6:00 to 24:00.  On top of that, you can use communal hot springs in the sister inn,

Yugetsusanso

.  If you are a hot spring lover, you should try all of them.  We fully enjoyed going on a hot spring hopping in-house after dinner.  *Please note that if you have tattoos and want to use the communal ones, use reserved private family ones instead.  Then

the property is a perfect universal design

.  There are some rooms for wheelchair users.  Also, wheelchairs are available for borrowing.  If you bring people with weak feet, you may want to book a western-style room as there is no step.  Then authentic kaiseki food experience for dinner was great.  If you are a gourmet, you should try it.  If you book a Japanese-style tatami room, all meals are served in your room.  If you book a western room, all meals are served in the Japanese restaurant.  *

Please note that inform the staff when you book a room with meals if you have any food allergies

.  Alternatively, you can go out for dinner as there are some nice restaurants around

Arimaonsen Station

.  Then we were surprisingly impressed with their warm hospitality.  All staff is attentive, proactive, and exquisite.  If you want to experience signature Japanese hospitality, you should stay here.  I have many experiences staying at onsen ryokans, but this would be exceptional.  Overall, the price range would be reasonable if compared to others in Arima Onsen.  We return again next year.  I noticed that there are so many return local guests from Osaka, Kyoto, and Kobe, etc.  Then the best season to stay at Arima Onsen Gekkoen Korokan would be in spring or fall.  You can view beautiful nature from the property.  The location is a little away from Arimaonsen Station.  Free shuttle service is available from the station between 8:00 AM and 7:00 PM. 

Call at 078-903-2255

when you've arrived at the station.  It takes 10min on foot, but there is a slope on the way to the property.  You may want to ask the staff to pick up if you have baggage.  Have a nice trip!  Welcome to receive any questions about the property from the below space.  *All information is as of the date that I posted on my blog.  **Check-in and out times 3:00 PM / 12:00 PM You need to inform staff of your expected arrival time in advance. 
Check Availability and Pricing for the ryokan on

Booking.com

or

Agoda
Info about Arima Onsen Gekkoen Korokan
Style

Japanese Onsen Ryokan

Guest Rating

Wonderful 9.0

Estimated Price

40,000JPY for 2 adults per room

Contact

Call at +81
Call at domestic Japan
from overseas

Internet Connection

Free WiFi in the ryokan

Facility Information

Wheelchairs are available




Pets are not allowed


The free parking lot is available


Location

Arima Onsen Gekkoen Korokan's MAP

Access

 Free Shuttle Bus from Arima Onsen station
from 8:00-19:00  JST
Call at 078-903-5503
when you've arrived at the Station


Address and TEL

318 Arima-Cho Kita-Ku Kobe Hyogo 651-1401
Tel +81

Official Homepage

Arima Onsen Gekkoen Korokan's HP
You may be interested in other places near Arima Onsen.