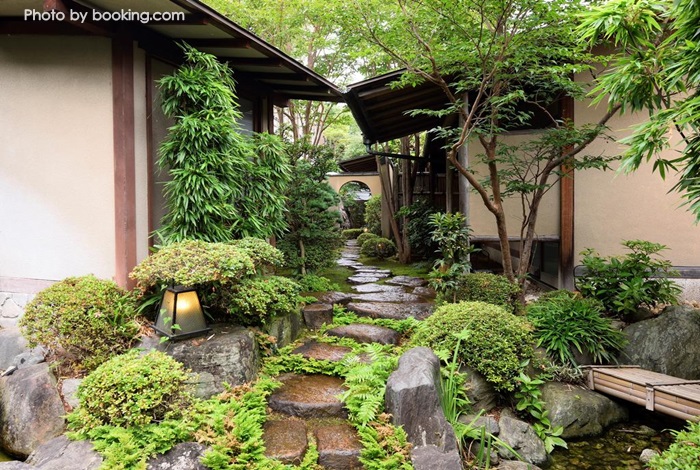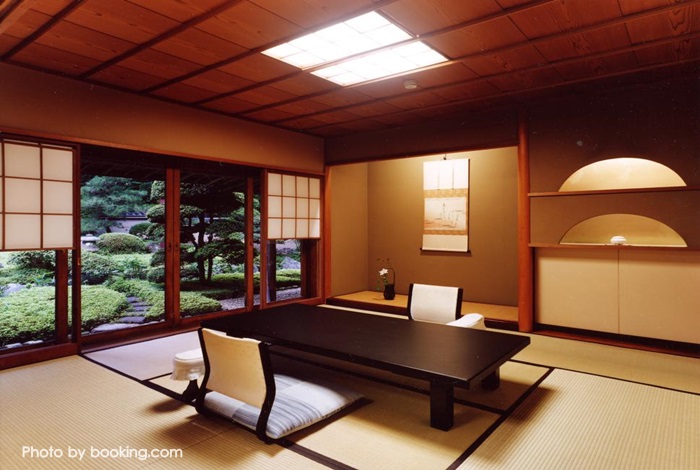 If you are looking for an authentic ryokan adventure in Atami, I would highly recommend it.  Perhaps, if you are looking for a room with a private hot spring, you must stay here.  On the other hand, if you are the first time to stay at ryokans, I wouldn't recommend it.  Perhaps if you are not so keen on Japanese food, traditional garden, architecture, hot springs etc., this is not.  The ambience is serene, tranquil and cozy.  The ryokan would be great for couples, family, or solo travelers.  Once we entered the gate, it's like another world.  Then there is no front desk in-house.  We were escorted to a room immediately.  We checked in and out in our room.  Check in and out times 2:00PM/11:00AM  Anyway, if you are going to stay here, I would highly recommend staying at a room with a private hot spring called Yugiri on 1F on Friday or Saturday.  The room is located in front of a Noh stage in the garden.  You can see Geishas who perform dancing at the traditional stage at night.  Also you can see carps in the pond from the room. This is a spectacular place in Atami.  The performance is held on every Friday and Saturday only.   Then all of the amenities are taken care of including toiletries and 2 yukatas for per person.  There is only Japanese tea set provided in a room.  You might want to buy your necessities around Atami Station before coming here as there is no convenience store nearby.  Also the private hot spring in a room wouldn't be special as there is no view.  The water temperature would be very high.  You might want to add cold tap water before you soak in the bath.  The spring quality is wonderful even though the location is in Atami.  Then there is a charming private family outdoor hot spring in-house.  You can use it for 45min without charge.  You need to book it.  Also all guests staying here can use large public hot springs in the sister inn, Atami Sekitei.  Then if you bring people with weak feet, I wouldn't recommend Atamisekitei Annex.  Because there are many floor stones on-site.  Facilities tend to be outdated, but well-maintained, clean and neat.  Wifi was available in our room.  Then authentic kaiseki food for dinner and breakfast was great.  But it may be challenging for western palates.  The portion tends to be small.  All meals are served in each room.  Then staff tends to be very professional, attentive, and elegant.  It seems that they work here for long years.   Anyway the location is just 10min drive away from Atami Station.  TAXI fare approx. 1,000yen  *No shuttle service.   At last, the best season to stay here would be except the summer season.  Because there would be many bugs around the outdoor baths in the season.  Then you may feel reluctant to soak in the bath on hot days.  Have a nice trip!  Welcome to receive any questions about the property from the below space.  *All information is as of the date that I posted on my blog.  Check Availability and Pricing for the ryokan on Booking.com or Agoda

About Atamisekitei Annex Sakuragaokasaryo
When visiting Shizuoka, you'll feel right at home at Atami Sekitei Annex Sakuragaokasaryo, which offers quality accommodation and great service. From here, guests can enjoy easy access to all that the lively city has to offer. With its convenient location, the hotel offers easy access to the city's must-see destinations.  At the ryokan,  every effort is made to make guests feel comfortable.  Whatever your reason for visiting Shizuoka, the Atami Sekitei Annex Sakuragaokasaryo is the perfect venue for an exhilarating and exciting break away.
Info about Atamisekitei Annex Sakuragaokasaryo
You may be interested in other places near Atami.