What kind of Machiya House is Aoi Hotel Kyoto?
If you are looking for Machiya-style properties, I would recommend it.  This is like a holiday home in Kyoto.  Everything, furniture, decorations, and interior tend to be sophisticated.   The ambiance is unique in that it feels luxurious and down to earth.  Perhaps if you plan to stay in Kyoto for the long term, the property would be great as there are small kitchens, including microwaves, induction cookers, fridges, electric kettles, and washing machines.  Perhaps, if you plan to visit in early to mid-April, you should stay here.  Because Sakura along Kamo River near the property would be in full bloom.  Aoi Hotel Kyoto would be nice for couples, families with children, solo travelers, or small groups.  There are only 11 rooms.  We never met other guests during our stay.  The property completely emphasizes private experiences for each guest.
  TOP5  Kyoto Machiya Houses
Is the location easy to access?
Yes, the location is great access to public transportation.  It takes around 5min on foot from Kyoto-Kawaramachi Station or Gion Shijo Station.  Alternatively, if you take a taxi from Kyoto Station, it takes 10min.  It costs around JPY1,000.  There are many attractive spots within walking distance, such as Yasaka Shrine, Gion, and Kiyomizu Temple, etc.
Rooms I would recommend?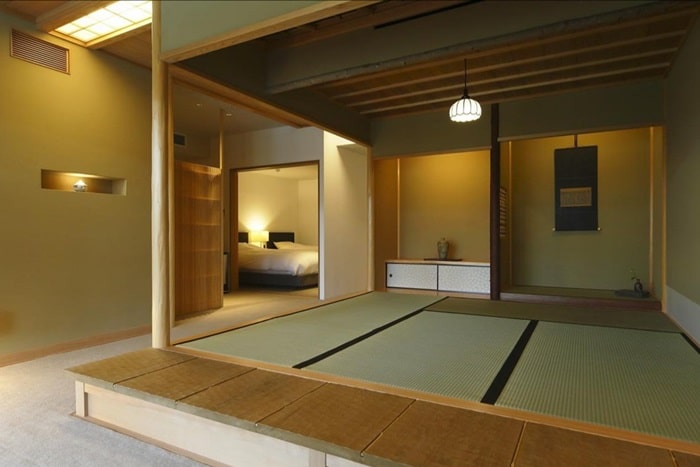 If you are going to stay here, I would recommend Room#301.  The room including a bathroom is well-designed and decorated by a famous interior designer who has a lot of celebrity customers. It's worth staying here.  *A minimum age requirement of 10 applies.  Other rooms have no age requirements.  We chilled out at the balcony with a beer in hand while viewing a peaceful landscape of Kyoto city.  A one-night stay wouldn't be enough.  Facilities tend to be the latest.
How about toiletries & in-room amenities?
All of the amenities are taken care of including minimum toiletries, pajamas, English tea bags, and a green tea set, etc.  There are some convenience stores nearby.  Room service is not available.  The free Wi-Fi reception was good.
How about In-house Facilities?
Aoi Hotel Kyoto is not a universal design.  If you bring people with weak feet, you may want to request a room on 1F.  There is no communal bath, no lounge, and no cafe, etc.
  TOP5  Accessible Hotels in Kyoto

How about meals?
Kyoto-style cuisine for breakfast is offered by a famous catering shop if you order in advance.  It's available at JPY2,500.  The chef is well-known in Kyoto.  You can choose either Japanese or western cuisine. *The staff can offer breakfast, lunch, and dinner by delivery.  Actually, there are many restaurants, shops, and cafés, etc. nearby, but most of them are open from 11:00 AM except for fast-food shops.
My impressions
The most important I would like to highlight is the staff is very warm, helpful, and polite.  If you want to experience family hospitality, you should stay here.  If this is your first visit to Kyoto, you might want to ask the staff about recommended spots, events, and restaurants, etc.  They are very informative.  Overall, the price range would be reasonable if you are a small group or family. 
Then the best season to stay here would be in spring or fall.  The weather is just nice, not so hot, and not so cold.   You can fully enjoy beautiful views during the seasons.  When we stayed here, we got rental bicycles to go sightseeing.  It was quite pleasant to run feeling the wind blowing. 
Actually, there would be many tourists anywhere in downtown Kyoto during the seasons.  Also, traffic would be very heavy, especially on weekends and Japan's public holidays.  That's why bicycles would be very useful.  *Please note that there is no parking space for bicycles in-house.  You may want to rent it every time you use it.  Have a nice trip!  Welcome to receive any questions about the property from the below space.  Check Availability and Pricing for the hotel on Booking.com or Agoda
Info about Aoi Hotel Kyoto
Style

Modern Machiya-style hotel

Check-in and out times


14:00/11:00

Estimated Price

54,000 JPY for 2 adults per room

Contact E-mail

aoi@kyoto-stay.jp

Internet Connection

Free wifi in the hotel

Booking

Wheelchairs are not available


Pets are not allowed
The parking lot is not available


Location

Aoi Hotel Kyoto's MAP

Access

 10min by TAXI from JR Kyoto Station

Address and TEL

146 Tennōchō, Shimogyō-Ku, Kyōto-shi,
Kyōto-fu JAPAN 600-8013
Tel +81 75-354-7770
Open Time 10:00-18:00 JST

Official Homepage

Aoi Hotel Kyoto's HP
*All information above is as of the date that I posted on my blog.