What kind of Machiya House is Aoi Kyoto Stay?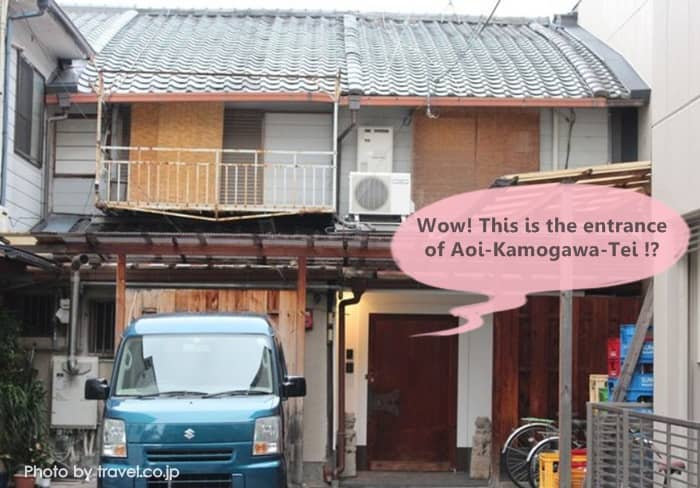 If you are looking for modern Machiya-style accommodations, you should stay here.  This is like a holiday home in Kyoto.  Aoi Kyoto Stay has 6 townhouses in Kyoto city.   In particular, I would recommend "Aoi Kamogawa-tei" if you are going to stay here.  You can take it easy with a beer in hand at a terrace while viewing the Kamo River.  That's precious time.  Then if this is your first visit here, you won't be able to find the place easily as the outside of the building is shabby.  On top of that, there is no signboard and no clue to find it.  When we visited for the first time, we passed by the property many times even though we checked a map very carefully.  Nobody including us imagines that this townhouse would be "Aoi Kamogawa-tei".  *Refer to the second photo attached to the above.  Unexpectedly the environment around here is just downtown.  Once you recognize this is the one which you are looking for, you may want to cry in front of the townhouse, and you may be totally disappointed, but don't worry.  Once you open the door, amazingly it's like you're in another world.  The ambiance is tranquil, cozy, and serene.  Everything, such as antique furniture, interior, and decorations, etc., is stylish, cool, and sophisticated.  Facilities tend to be the latest.  You cannot judge a book by its cover.  It's a lovely place and really well-designed.  The owner would be an antique collector.
  TOP5  Kyoto Machiya Houses

Is the location easy to access?
Yes, it would be easy if you take a taxi from Kyoto Station.  It takes less than 10min by taxi.  It costs JPY800.  *Please note that most of the TAXI drivers wouldn't know Aoi Kamogawa-tei.  You might want to show a map of where it's located.  Alternatively, it takes 5min on foot from Kiyomizu Gojo Station or 10min on foot from Gion Shijo Station or Kawaramachi Station.   Then the location is almost perfect if you love Kyoto.  There are many attractive spots within walking distance, such as Gion, Kiomizu Temple, and Yasaka shrine, etc.  You wouldn't need to travel far.  Then when we stayed here, we got rental bicycles.  Actually, there would be many tourists anywhere in downtown Kyoto during the spring and the autumn season.  Also, traffic would be heavy, especially on weekends and Japan's public holidays.  Bicycles would be useful in Kyoto city.
How about toiletries & in-room amenities?
All of the amenities are taken care of including minimum toiletries, yukatas, English tea bags, a coffee machine with capsules, and a green tea set, etc.  Also, a DVD player, a BOSE audio, an air cleaner, a smartphone, a microwave oven, etc., are placed.  Room service is not available.  There are some convenience stores nearby.   The free Wi-Fi reception was good.  Floor heating is installed on 1F.

How about meals?
Kyoto-style cuisine for breakfast is offered by delivery if you order in advance.  It's available at JPY2,500 per person.  You can choose either Japanese or western cuisine.  Actually, there are many restaurants, shops, and cafés, etc., nearby but most of them are open from 11:00 AM except for fast-food shops.

My impressions
The staff was helpful, informative, and welcoming.  If this is your first visit to Kyoto, you should ask the staff about the recommended spots.  Overall, the price range would be reasonable if you are a group or family.  Have a nice trip!  Welcome to receive any questions about the property from the below space.   Check Availability and Pricing for the property on Booking.com or Agoda
Info about Aoi Kyoto Stay
Style

Machiya-style Villa

Check-in and out times


14:00/11:00

Estimated Price

50,000 JPY for 2 adults per room

Contact E-mail

aoi@kyoto-stay.jp

Internet Connection

Free wifi in the property

Booking

Wheelchairs are not available




Pets are not allowed


The parking lot is not available


Location

Aoi Kyoto Stay's MAP

Access

less than 10min TAXI from

JR Kyoto Station




Address and TEL

246 Nakano-cho Shinmonzen Street
Higashiyama-Ku Kyoto 605-0082
Tel +81 75-354-7770  10:00-18:00 JST

Official Homepage

Aoi Kyoto Stay's HP
*All information above is as of the date that I posted on my blog.