What kind of resot hotel is L'Hotel de Hiei?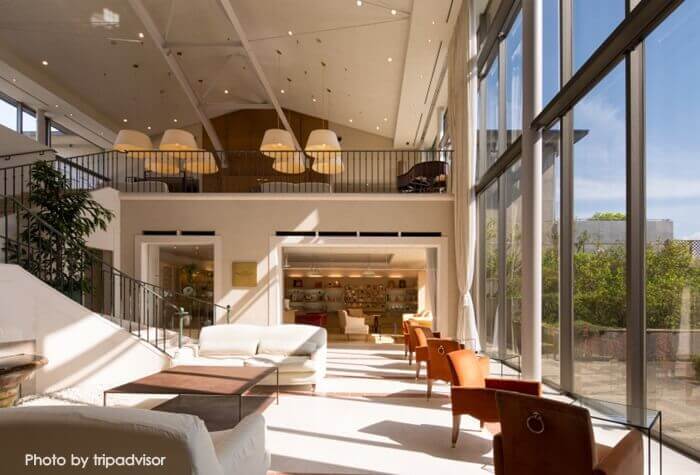 This is not a 5-star hotel, but very cozy.  When I have a chance to visit Kyoto in the summer season, I always stay at this boutique resort hotel.  Because Kyoto City is much hotter than Tokyo during the season.  It would be hard to walk outside in the city, but luckily, the temperature around the resort hotel is much lower than in Kyoto city.  The environment surrounding the property would be perfect for the summer holiday.   The resort hotel is located halfway up Mt.Hiei near the line between Kyoto and Shiga prefecture.  It takes 50min by car from Kyoto Station.  Also if you plan to drive around Lake Biwa, the property would be a great choice.  On the other hand, if this is your first time visiting Kyoto, you may want to stay in Kyoto city.  Perhaps if you visit Kyoto in the winter season, I wouldn't recommend it unless you are a local.  It's bitterly cold around here.  L'Hotel de Hiei would be wonderful for couples, solo travelers, family, or small groups.  *A minimum age requirement of 7 applies.
Is the location easy to access?
A free shuttle service is available from Kyoto Station.  You need to book it in advance.  Refer to the below. 
*Departure from Exit Hachijyoguchi of Kyoto station at 11:00, 15:00, 17:30
*Departure from the hotel to Exit Hachijyoguchi of Kyoto station at 10:00, 14:00, 16:30

Rooms I would recommend?
If you are going to stay here, I would recommend rooms with lake views.  On the other hand, I wouldn't recommend rooms on the mountainside.

How about toiletries & in-room amenities?
All of the amenities are taken care of including enough toiletries, pajamas, bathrobes, and a Japanese tea set, etc.  Room service is not available.  The free WiFi reception was good in our room.

How about In-house Facilities?
Overall, the building including furniture tends to be worn out but it's clean, cozy-looking, and well-maintained.  Also, there is a spa treatment, souvenir shop, and library lounge.  There is no common bath, no swimming pool, and no gym.  Then the property is not a universal design.  If you bring people with weak feet, I wouldn't recommend it.  Also, there is no convenience store nearby.  You may want to buy your necessities before coming here.

How about services?
L'Hotel de Hiei offers some interesting free activities.  You should join them as much as possible, especially visiting Enryakuji Temple in the early morning.  Guests can participate in a meditation session held every morning at the temple.  It was quite unique.  The place has a very mysterious and sacred atmosphere.  Don't miss it.  It's truly worth a visit.  *You need to book it in advance when you check-in at the front desk.  Then, the resort hotel offered complimentary "afternoon tea" at the terrace from 15:00.  Baked sweets, such as macarons, butter cookies, and English muffins, etc., were available.  After the afternoon tea, we joined the "Wine tasting workshop" from 17:00.  On top of that, complimentary beverages, such as wine, whiskey, and shochu were available at the terrace between 19:00 and 24:00.  We fully enjoyed drinking while viewing the lake.  That's precious time.  *The management company of this property has changed since June 2020.   Therefore, the above service may be changed.
How about meals?
L'Hotel de Hiei is one of the auberge-style hotels in Kyoto.  French food for dinner is truly amazing.  The restaurant offers beautiful and delicious food using a lot of local fresh ingredients.  The portion tends to be average.  I noticed that there were many local people and return customers for French dinner.  If you are a gourmet, you should try it.  *Please note that inform the staff when you book a room with meals if you have any food allergies.  They probably wouldn't be able to offer alternative food if you request on that day.  Then there is no restaurant around the property.  The location is out of the way.  You may want to book a room including meals.
  TOP5 Gourmet Ryokans in Kyoto

My impressions
All staff tends to be sophisticated.  The hospitality was impeccable.  If you want to relax in boutique resort hotels in Kyoto, the property would be one of the best.  You will have an unforgettable time.  Have a nice trip!  Welcome to receive any questions about the hotel from the below space.  If you check-in after 18:00, you need to contact the staff in advance.  Check Availability and Pricing for the hotel on Booking.com or Agoda
Info about L'Hotel de Hiei
Style

Resort Hotel

Guest Rating

16:00/10:00

Estimated Price

30,000 JPY for 2 adults per room

Contact E-mail

Fill the form in

Internet Connection

Free wifi in the hotel

Facility information

Wheelchairs are not available




Pets may not be allowed


The free parking lot is available


Location

L'Hotel de Hiei's MAP

Access

50min by car from

JR Kyoto Station 


Free shuttle service from the station
Need to book in advance.

Address and TEL


Tel +81

Official Homepage

L'Hotel de Hiei's HP



*All information above is as of the date that I posted on my blog.

Still not sure where to stay in Kyoto?
Browse through my TOP5 Ranking Lists of all the best places to stay in Kyoto?
Or you could leave a message at the below space for advice.