What kind of Machiya house is Kiraku Kyoto Aneyakoji?
This machiya-style villa is one of the best in Kyoto.  If you want to experience Machiya houses, I would recommend it.  This is like a luxury holiday home in Kyoto.  You can discover the traditional Kyoto-style way of life during your stay.  It would be wonderful for family or groups, but not solo travelers.  *A minimum age requirement of 6 applies.  Perhaps, if this is your first visit to Kyoto, you should stay here.  The location is definitely convenient to go sightseeing and great access to public transportation.  On the other hand, if this is not your first visit to Kyoto, I wouldn't recommend it.  The location is not very much Kyoto.  I would rather recommend accommodations around the Higashiyama area.  Then when we checked-in, the staff provided us with a tea ceremony and welcomed us with warmth.  All staff is truly helpful, prompt, and informative.  The website looks good, but actually, it looked much more fantastic.   The property is so spacious, comfortable, and clean.  There are a small quaint garden and an outdoor bath.  This is not hot spring, though.  You can fully enjoy the "Kyoto experience" as you expect.
  TOP5  Kyoto Machiya Houses
  TOP5  Hotels for Families in Kyoto
  TOP5  Hotels and Ryokans in Higashiyama Area

Is the location easy to access?
Yes, it would be easy.  It takes 5min from Nijojo-Mae Station or 10min from Karasuma Oike Station on foot.  Alternatively, it takes 15min from Kyoto Station by Taxi.  It costs around 1,500JPY.  Please note that most of the TAXI drivers wouldn't know Kiraku Kyoto Aneyakoji.  You might want to show a map of where it's located.
How are the rooms?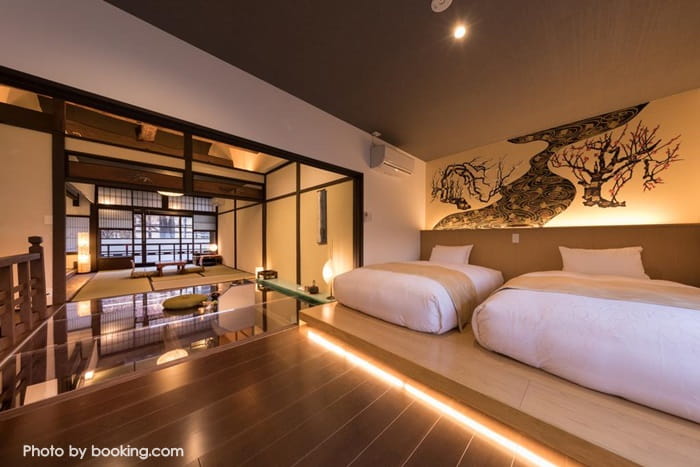 When we stayed here in the winter season, we felt a bit cold at night.  I think that the heating appliance wouldn't be enough if it's bitterly cold outside in winter.  The staff mentioned that Machiya house buildings have limitations to install electric appliances.  Most of the Machiya house accommodations in Kyoto were renovated old houses built over 100 years ago.  Therefore it may be impossible to install the latest facilities everywhere.  If you want to chill out at Machiya house properties, you might want to stay in the spring or the fall season.  The weather is just nice, not so hot and not so cold.
How about In-house Facilities?
Kiraku Kyoto Aneyakoji is not a universal design.  If you bring people with weak feet, this is not.  There is no lift.  Wheelchairs are not available.
  TOP5  Accessible Hotels in Kyoto

How about meals?
Kyoto-style food experience for breakfast was simply wonderful.  The local ingredients were very high-end including beef, fish, vegetables, etc.  The portion tends to be big.  Don't forget to bring your empty stomach.  *Please note that if you want to order breakfast, you need to inform the staff when you book a room.  They probably wouldn't be able to prepare it if you order on that day.  Actually, there are many restaurants, cafes, and shops, etc., around the property, but most of them are open from 11:00 AM except for fast food shops.  Then dinner is not offered on the property.  If this is your first visit to Kyoto, you should ask the staff about recommended restaurants nearby.

My impressions
Overall you may feel a bit overpriced but it's well worth it.  At last, if you stay here, I would recommend joining Kyo Yuzen Workshops after breakfast which is the traditional dyeing technique of Kyoto.  The location of the shop is nearby.  It's just a 5min walk from the property.  We enjoyed it so much more than we expected.  Have a nice trip!  Welcome to receive any questions about the property from the below space.   If you check-in after 21:00, you need to inform the staff in advance.  Check Availability and Pricing for the property on Booking.com or Agoda
Info about Kiraku Kyoto Aneyakoji
Style

Modern Machiya-style villa

Check-in and out times


16:00/12:00

Estimated Price

 65,000 JPY for 2 adults

Contact E-mail

nazuna@daiti.co.jp

Internet Connection

Free wifi in the property

Facility Information

Wheelchairs are not available




Pets are not allowed


The parking lot is not available


Location

Kiraku Kyoto Aneyakoji's MAP

Access

approx.15minTAXI from

JR Kyoto Station


or 5min walk from

Nijojo-Mae Station




Address and TEL

 Tel +81
*All information above is as of the date that I posted on my blog.