What kind of accommodation is Seikoro Ryokan?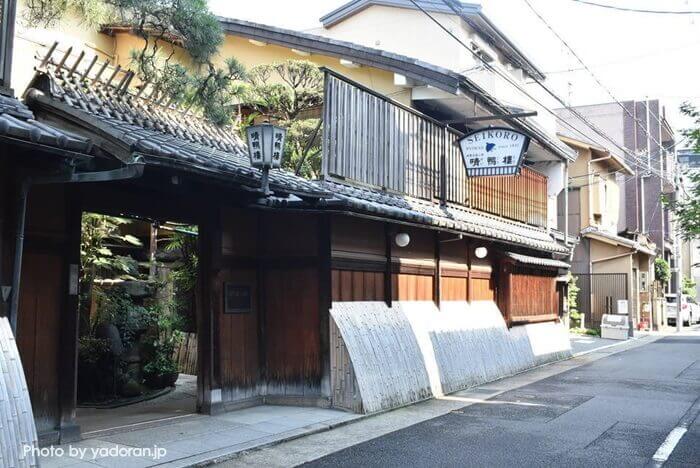 This is an authentic ryokan with a long history near Kyoto Station.  If you are a connoisseur of Japan, I would recommend it.  Everything, such as interior, furniture, and architecture, etc. is amazing.  We were so excited to explore on-site.  Once we entered the property, we felt that we were being pulled into old-Japan.  It's like you're in another world.  On the other hand, if you are looking for modern ryokans, this is not.  Perhaps if this is your first time staying at ryokans, I wouldn't recommend it.  Facilities tend to be outdated.  You may feel stressed during your stay.  This is very authentic.
  TOP5  Authentic Ryokans in Kyoto
  TOP5  Boutique Hotels & Ryokans in Kyoto
Is the location easy to access?
Yes, the location is near Kyoto Station.  It takes 7min by TAXI.  It costs around 800JPY.  A free shuttle service is not available.  Alternatively, it takes 2min on foot from Kiyomizu-Gojo Station.  A free parking lot is available.
  TOP5  Hotels & Ryokans near Kyoto Station

Rooms I would recommend?
Seikoro Ryokan has 2 buildings, one is called the new building, and the other is called the main building.  The latter would be much more classy, charming, and quaint.  If you are going to stay here, you should stay in the rooms in the main building.   All rooms tend to be worn out but well-maintained, clean, and Japan minimalistic.  There is no western element.  If you don't want to sleep on Japanese mattresses called futons on tatami mats, you may want to find others.  Then, the property has no latest soundproofing system but unexpectedly it was quiet in our room.  If you are a light sleeper, you may want to request a quiet room when you book.  The free WiFi reception was available in the main building only.
How about toiletries & in-room amenities?
All of the amenities are taken care of including minimum toiletries, yukatas, and a Japanese tea set, etc.  It seems that each room has no minibar.  The landlady said that it didn't much with traditional tatami rooms.  Then, there is no vending machine on-site.   Because it wouldn't much with traditional interior design, such as Seikoro Ryokan, so when you need drinks, you can ask room services, or you can buy at a convenience store nearby.
How about In-house Facilities?
There are small communal artificial hot springs on site.  They are open from 6:00-8:30, 16:00-24:00.  *If you have tattoos, you may not be permitted to use the public bathing area.  Then this is not a universal design.  If you bring people with weak feet, I wouldn't recommend it.  Then Seikoro Ryokan is pet-friendly.  Only small dogs (up to 7 kilograms) that are potty trained and do not bark are allowed in specific rooms.  For those who are interested, contact at info@seikoro.com  Your dog's meals and restroom use are your responsibility.  When you are in a public area, make sure your dog is either leashed or caged.
  TOP5  Accessible Hotels in Kyoto

How about meals?
Kyoto-style kaiseki food for dinner and breakfast was good but wouldn't be special.  The food tends to be very authentic and the portion tends to be big.  It would be challenging for the western palate.  All meals are served in your room.  *Please note that inform the staff when you book a room with meals if you have any food allergies or dietary needs.  They probably wouldn't be able to prepare alternative food if you request on that day.  Alternatively, you can go out for meals as there are many restaurants around the property.
My impressions
The staff tends to be not sophisticated but attentive, elegant, and courteous.  If you expect 5-star hotel service, this is not.  Please be mindful and respectful of the Japanese traditions here as it's a very traditional accommodation.  If you really want to get much of an immersive traditional lifestyle experience in Kyoto, Seikoro ryokan would be one of the best.  It's well worth staying here.  Have a nice trip!  Welcome to receive any questions about the property from the below space.   If you check-in after 19:30, you need to inform the staff in advance.  Check Availability and Pricing for the ryokan on Booking.com or Agoda
Info about Seikoro Ryokan
Style

Historical Japanese Ryokan

Check-in and out times


15:00/10:30

Estimated Price

50,000 JPY for 2 adults per room

Contact E-mail


info@seikoro.com

Internet Connection

Free wifi in the main building only

Facility information

Wheelchairs are not available




Pets are allowed




The free parking lot is available

Location

Seikoro Ryokan's MAP

Access

7min by TAXI from Kyoto Station
2min walk from 

Kiyomizu Gojo Station




Address and TEL

605-0907 Kyoto, Higashiyama-Ku
Tonya-machidori-gojosagaru 3 Nishitachibana 467
Tel +81

Official Homepage

Seikoro Ryokan's HP
*All information above is as of the date that I posted on my blog.