What kind of hotel is Solaria Nishitetsu Hotel Kyoto Premier?
 This is a luxury business hotel. If this is your first visit to Kyoto, I would recommend it.  Great access to public transportation when you go sightseeing.  Also, there are many restaurants, cafés, and shops, etc., within walking distance.   The location is really convenient.   If you don't have enough time during your stay in Kyoto, the property would be one of the best.  On the other hand, if you are a connoisseur of Kyoto, I wouldn't recommend it.  The atmosphere is not very much Kyoto.  If you want to stay somewhere reminiscent of Kyoto, I would rather recommend accommodations around Higashiyama Area.  Solaria Nishitetsu Hotel Kyoto Premier would be nice for couples, solo travelers, small groups, or business persons.  The ambiance is cozy, friendly, and relaxed.  The property with the most up-to-date facilities is modern, stylish, and functional.
  TOP5  Luxury Business Hotels in Kyoto
  TOP5  Hotels and Ryokans in Higashiyama
Is the location easy to access?
The location is near Kyoto Shiyakusyo-Mae Station or Sanjo Station.  If you take a taxi from Kyoto Station, it takes 15min.  It costs around 1,500JPY.   *Please note that the hotel opened in April 2017.  Most of the TAXI drivers wouldn't know it.  You might want to show a map of where it is located.
Rooms I would recommend?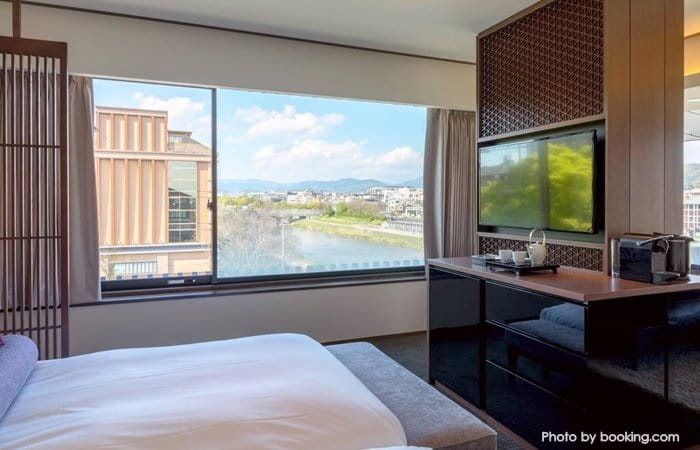 If you are going to stay here, I would recommend spacious rooms with views of the Kamo River on the high floor possible.  Most of the rooms tend to be cramped more than you expect.
How about toiletries & in-room amenities?
All of the amenities are taken care of including enough toiletries, samue outfits, pajamas, drip coffee bags, and a Japanese tea set, etc.  Room service is not available.  The wifi reception was excellent on the property.  Then Solaria Nishitetsu Hotel Kyoto Premier is child-friendly. Cribs and bed rails are available for borrowing if you request in advance.
  TOP5 Hotels for Families in Kyoto

How about In-house Facilities?
There are large indoor communal baths on B1.  You can relax while soaking in the bath after a long day out.  They are not hot springs, though.  They are open from 6:00-9:00, 15:00-25:00.  *If you have tattoos, you may not be permitted to use the public bathing area.  There is a vending machine.  There is a laundromat on B1.  There is a convenience store nearby.  Then Solaria Nishitetsu Hotel Kyoto Premier is a universal design.  There is room for wheelchair users.  Wheelchairs are available for borrowing.  If you bring people with weak feet, you may want to inform the staff in advance as they can arrange a room near the lift.
  TOP5  Accessible Hotels in Kyoto

How about meals?
Japanese western buffet-style food experience for breakfast was good but it wouldn't be special.  The buffet is quite extensive, though.  There was always more than enough food each day.  The restaurant tends to be cramped.

My impressions
All staff tends to be friendly, attentive, and courteous but if you cannot find English speakers at the reception, you might want to write on paper what you want to say.  Most of the staff would understand English sentences.  I hope you don't mind.  It seems that there is a shortage of staff during the busy season.  If you want to relax here in a tranquil atmosphere, you might want to avoid staying during Lunar New Year, early April, late April to early May, 16th of Aug, the weekend in Oct and Nov, and the end of the year and new year holiday.  The hotel would be crowded during these periods.  If you visit a variety of tourist destinations in Kyoto city, the property is one of the best.  Have a nice trip!  Welcome to receive any questions about the hotel from the below space.  If you check-in after 24:00, you need to inform the staff of it in advance.  Check Availability and Pricing for the hotel on Booking.com or Agoda
Info about Solaria Nishitetsu Hotel Kyoto Premier
Style

Modern Business Hotel

Check-in and out times


15:00/11:00

Estimated Price

16,965 JPY for 2 adults per room

Contact E-mail

Fill the form

in

 or


kyoto@hotels.nnr.co.jp

 

Internet Connection

Free wifi in the hotel

Facility Information

Wheelchairs are available




Pets are not allowed


The parking lot is available at 1,500JPY per day


Location

Solaria Nishitetsu Hotel Kyoto Premier's MAP

Access

5min walk from Sanjo Station or
Kyoto Shiyakusho-Mae Station


Address and TEL

509 Kamiosaka-Cho, Nakagyo-Ku

Kyoto-shi

, 

Kyoto




604-8001 

Japan 

Tel +81 75 708 5757

Official Homepage

Solaria Nishitetsu Hotel Kyoto Premier's HP
*All information above is as of the date that I posted on my blog.