What kind of resort hotel is Lake Shikotsu Tsuruga Resort Spa Mizu no Uta?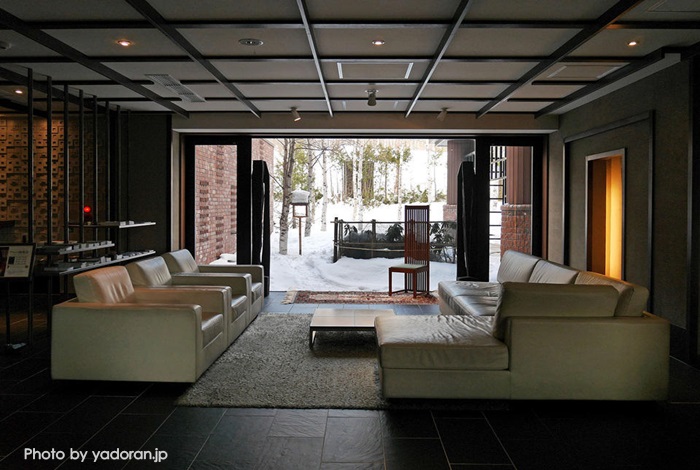 This is a boutique resort hotel with private hot springs in Hokkaido.  There are 53 rooms only.  If this is your first time visiting Hokkaido, I would recommend it.  Because access to the hotel would be very easy from New Chitose Airport.  It takes 40min by car from the airport.  The property would be great for family, couples, or groups.  The ambiance would be cozy, tranquil, and serene.  The stately Ainu architecture, interior, and furniture create a modern mature impression.
Is the location easy to access?
Yes, free shuttle service is available from New Chitose Airport, JR Chitose Station, or JR Minami Chitose Station.  You need to book it by 5 days before the check-in date.  Refer to the timetable.
Rooms I would recommend?
If you are going to stay here, I would recommend rooms with outdoor private hot springs.  Facilities tend to be bit worn-out, but well-maintained.  The housekeeping was good.
How about toiletries & in-room amenities?
All of the amenities are taken care of including enough toiletries, yukatas, samue outfits, bottled water, a coffee machine with capsules and a green tea set, etc.  Also, the property is child-friendly.  You can request samue outfits, ponchos, and amenities for small children.  Then, there was a small sink with a microwave oven in our room.  Also, there are some kinds of pillows in the pillow section which you can choose.  DVD players and humidifiers are available for borrowing if you request in advance.  Free Wifi reception was good, but sometimes a bit slow when I stayed in 2018.  I noticed that a PC was placed near a concierge desk to use someone.  Room service only for drinks is available.
  TOP5 Hotels & Ryokans for Families in Hokkaido

How about In-house Facilities?
There are a laundromat, a treatment spa shop, and a souvenir shop.  Also, there is a cozy lounge to relax while listening to jazz and live harp music.  There is a small gym on 1F you can use for free.  There are wonderful indoor and outdoor communal hot springs.  They are open from 4:00-9:30, 15:00-03:00.  There is no private family one in-house.  *Please note that if you have tattoos and want to use the communal hot springs, book a room with a private one instead.  Then Lake Shikotsu Tsuruga Resort Spa Mizu no Uta is a universal design.  A wheelchair is available for borrowing.  If you bring people with week feet, you may want to inform staff as they can arrange a room near the lift.  Then the property is pet-friendly.  There is a room where you can stay with your dogs.   *Only small dogs (up to 10 kilograms)  There is no convenience store nearby.  You may want to buy your necessities before coming here.  There are some vending machines for drinks including beer in-house.
  TOP5 Accessible Hotels in Hokkaido

How about meals?
There are two restaurants in the property, one is western Japanese buffet-style cuisine, the other is Japanese kaiseki cuisine.  We tried the buffet for breakfast and dinner.  The food is absolutely amazing.  This is one of the best in Japan.  All local ingredients were so fresh, tasty, and high-end.  The buffet is quite extensive.  There was always more than enough food each day.  They have a nice wine list to complement the meal.  Don't forget to bring your empty stomach.  You won't resist even you are full.   You can choose a main dish either fish or meat.  Basically all meals are served in restaurants, but if you stay at rooms with private outdoor baths, you can choose either your room or a restaurant.  *Please note that you need to check-in by 19:30 if you have dinner in the property.  Then, as far as I know, there is no nice restaurant around here.  Local papa-mama shops are closing early.  You may want to book a room with meals.
My impressions
All staff tends to be sophisticated.  If you expect 5-star hotel service, this would be perfect.  Overall, the property has great value for money.  A one-night stay wouldn't be enough.  If you want to chill out here in a tranquil atmosphere, you may want to avoid staying during Lunar New Year, late April to early May, weekend in Oct and Nov, and the end of the year and New Year holiday.  The resort would be very crowded during these periods more than you expect.  Have a nice trip!  Welcome to receive any questions about Lake Shikotsu Tsuruga Resort Spa Mizu no Uta from the below space.  You need to inform the staff of your expected arrival time in advance.  Check Availability and Pricing for the property on Booking.com or Agoda
Info about Lake Shikotsu Tsuruga Resort Spa Mizu no Uta
*All information above is as of the date that I posted on my blog.