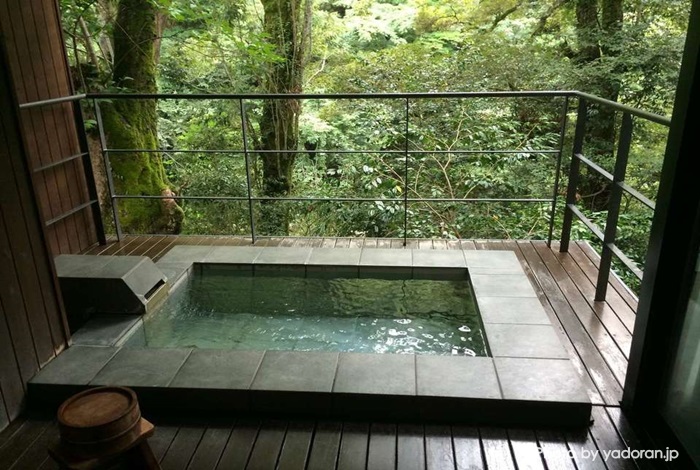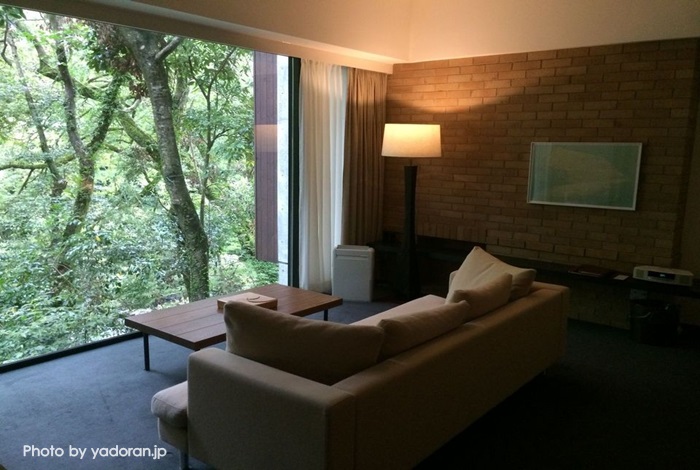 If you are looking for luxury modern rooms with private outdoor hot springs in Izu, you should stay at Arcana Izu.  Each room has a wonderful private outdoor hot spring.  Absolutely this is a perfect place to escape the hustle and bustle of city life.  Also, this is one of the well-known auberge hotels in Izu.  If you love French cuisine, I would highly recommend it.  On the other hand, if relaxation in rich nature is not your main goal, this is not.  The location is secluded.  There is no sightseeing spot, no restaurant, and no shop, etc., around here.  Once we arrived at the property, we were escorted to a stylish room.  The property has no front desk, no lobby, and no communal hot spring in-house.  We checked in at our room while having welcome sweets and coffee.  The hotel completely emphasizes private experiences for each guest.  This would be wonderful for couples, solo travelers, family, or small groups.  *A minimum age requirement of 12 applies.  This is like a hideaway for adults.  There are 18 rooms only.  Once you enter the property, you wouldn't need to go out until check-out time.  You can enjoy your private bath while hearing white noise from the river and viewing a peaceful forest.  The room tends to be spacious, functional, and stylish.  Facilities tend to be the latest.  There was no TV in our room.  A BOSE CD player was placed.  You can rent a projector at JPY2,000. 

Free Wifi reception was excellent in the property

.  All of the amenities are taken care of including enough toiletries, pajamas, bathrobes, bottled water, a complimentary mini-bar including beer, drip coffee bags, and green tea bags, etc.  There were La Casta amenities in the bathroom.  You can travel right.  Room service is available between 9:00 and 22:00.  There are many dishes on the menu, such as sandwiches, burgers, curry, and Teriyaki chicken rice bowl, etc.  Then there is no convenience store nearby.  You may want to buy your necessities before coming here.  Then butler service is available anytime.  Turn down service is available if you request.  Then

Arcana Izu is almost universal design

.  If you bring people with weak feet, you may want to request a room on 1F in advance as there is no lift.  Actually, once you enter your room, you wouldn't need to move around as there is a private hot spring in your room.  Then French food experience was just divine.  If you stay here, I would highly recommend having meals at the restaurant.  If you are a gourmet, you must be so excited.  The food presentation was not spectacular but also the taste was exquisite.  Each dish was full of surprises.  They have a nice wine list to complement the meal.  The portion tends to be big.  Don't forget to bring your empty stomach.  It seems that some local guests visit here to enjoy lunch or dinner only.  *Please note that inform the staff when you book a room with meals if you have any food allergies.  They probably wouldn't be able to prepare alternative food if you request on that day.  Then there is no nice restaurant around here.  You may want to book a room including meals.  Alternatively, you can order room service.  Then all staff tends to be sophisticated.  They are the loveliest group.  You can experience signature Japanese hospitality with a personal touch during your stay.  Overall, for this price range, the performance of the service, food, and amenities was way above my expectations.  Enjoy being completely lazy and recharge your batteries.  Then access to the property would be easy if you take a taxi from Shuzenji Station.  It takes 20min by car.  It costs around JPY3,500.  Alternatively, if you take a Tokai Bus from the station, and then, get off at Yugashima Onsenguchi Bus Stop and just 10min walk to the property.  If this is your first visit Yugashima Onsen, you may be worried where you should get off, so you may want to show the below Japanese sentence to a bus driver when you get on a bus.  Then you wouldn't miss the bus stop even if you fall asleep.  The bus fare is JPY690 per adult.  It takes 30min by bus.
湯ヶ島温泉口のバス停に着いたら、教えて下さい。

Please let me know when you reach "Yugashima Onsenguchi Bus Stop"
Have a nice trip!  Welcome to receive any questions about Arcana Izu from the below space.  *All information is as of the date that I posted on my blog.  *Check-in and out times 15:00/13:00.  

***Due to the coronavirus, the property is temporarily closed until the 20th of May, 2020

.  Check Availability and Pricing for the property on
Agoda
Info about Arcana Izu
Style

Luxury Modern Resort Villa

Guest Rating

Superb 9.3

Estimated Price

100,000 JPY for 2 adults per room

Contact

Internet Connection

Free WiFi in the villa

Facility Information

Wheelchairs are available




Pets are not allowed


The free parking lot is available
Valet parking is available


Location

Arcana Izu's MAP

Access

20min by TAXI from Shuzenji station

Address and TEL

1662 Yugashima, Izu City, Shizuoka 410-3206
Tel +81 558-85-2700

Official Homepage

Arcana Izu's HP
You may be interested in other places near Izu, Shizuoka.