What kind of resort ryokan is ABBA RESORTS IZU Zagyosoh?
This is a luxury Japanese-style modern ryokan in rich nature.  It's like you're in another world.  We were impressed by a well-kept beautiful garden while enjoying white noise.  If you are looking for luxury boutique modern ryokans in IZU, you should stay here. Absolutely the property completely emphasizes private experiences for each guest.  There are 30 rooms only.  On the other hand, if you bring small children, this is not.  *A minimum age requirement of 13 applies.  The ambiance is serene, tranquil, and quaint.  The property would be great for couples, solo travelers, family, or small groups.
  TOP5 Hotels & Ryokans with Private Onsen in Izu & Atami
  TOP5 Modern Ryokans in Izu & Atami
  TOP5 Ryokans with Traditional Gardens in Izu

Is the location easy to access?
The location is near Izu-Kogen Station.  It takes just a 5min drive.  A free shuttle service is available from the station.  You need to book it in advance.
Where is the best accommodation for anniversary?
If you are looking for venues for special occasions in IZU, the property would be one of the best.  The staff arranges flowers and cakes to celebrate an anniversary at additional charges if you request in advance.
  TOP5 Romantic Hotels & Ryokans in Izu & Atami

Rooms I would recommend?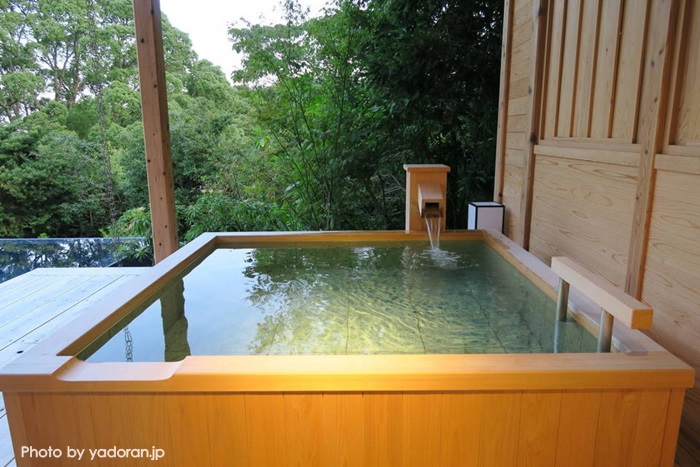 If you are going to stay here, I would recommend rooms with private hot springs.  We fully enjoyed our private bath until check-out time.  The room is user-friendly, functional, and stylish.  Facilities tend to be the latest.  Furniture, interior, and decorations, etc., are sophisticated.  Then if you don't want to sleep on Japanese-style mattresses in tatami rooms, you may want to book rooms with twin beds on tatami mats.
How about toiletries & in-room amenities?
All of the amenities are taken care of including enough toiletries, yukatas, bathrobes, a complimentary minibar including beer, Japanese sake, and champagne, a Nespresso machine with capsules, and a Japanese tea set.  There are BVLGARI amenities in the bathroom.  Also, there is a vending machine for Häagen-Dazs ice cream in 6 flavors near the front desk and all of them are available for free.  Room service is not available.  There is no convenience store within 10min walking distance.  You may want to buy your necessities before coming here.  Free Wifi reception was good in the property.
How about In-house Facilities?
There are wonderful indoor and outdoor communal hot springs in-house.  The indoor ones are open for 24H.  The outdoor ones are open from 6:00 to 23:00.  Also, there are 2 private family hot springs that you can use for free whenever they are not occupied.  They are open from 6:00 to 23:00.  *Please note that if you have tattoos and want to use the communal hot springs, use the private family ones instead, or book a room with a private one.  Then ABBA RESORTS IZU Zagyosoh is not universal design.  There are some steps.  There is no lift.  If you bring people with weak feet, you may want to inform the staff in advance as they can arrange a room near the entrance.  You may want to book a room with a private hot spring and twin beds.  Once you enter your room, you wouldn't need to move around.  Then the property is pet friendly.  There is only one room available where guests can stay with your dogs.
  TOP5 Accessible Hotels & Ryokans in Izu & Atami

How about meals?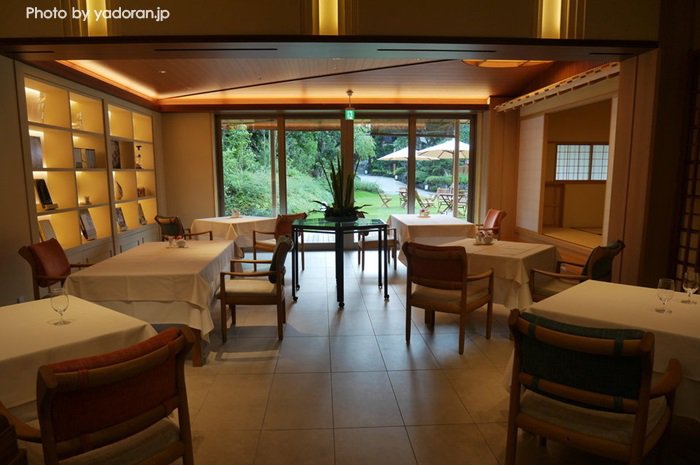 The food experience was just divine.  If you are a gourmet, you must be so excited.  We were really impressed by each dish.  You can choose either French, Japanese kaiseki, or Teppanyaki for dinner.  After dinner, don't forget to visit the bar.  The ambiance is truly cozy for adults.  Then you can choose either Western or Japanese cuisine for breakfast.  Complimentary champagne was available during breakfast.  All meals are served at the restaurants.  Then all restaurants are open for lunch as well.  *Please note that inform the staff when you book a room with meals if you have any food allergies.  They probably wouldn't be able to prepare alternative food if you request on that day.  Then, as far as I know, there is no nice restaurant around the property.  You may want to book a room including meals.
  TOP5 Gourmet Hotels & Ryokans in Izu & Atami

My impressions
All staff tends to be sophisticated.  If you expect 5-star hotel service, you should stay here.  Overall, you may feel a bit overpriced, but you won't regret your decision.  It couldn't be better.  Then the best season to stay at the property would be except the summer season.  Actually there are many bugs around outdoor hot springs in summer.  If you are cosmopolitan, you may feel uncomfortable.  It is surrounded by rich nature.  It cannot be helped.  At last, don't forget to check the weather forecast before booking a room.  If it's fine, just go ahead.  Have a nice trip!  Welcome to receive any questions about ABBA RESORTS IZU Zagyosoh from the below space.  Check Availability and Pricing for the property on Agoda or Booking.com
Info about ABBA Resorts Izu Zagyosoh
Style

luxury boutique modern ryokans

Check-in and out times


15:00/11:00

Estimated Price

80,000 JPY for 2 adults per room

Contact

yoyaku@zagyosoh.com

Internet Connection

Free WiFi in the ryokan

Facility Information

Wheelchairs are not available




Pets are allowed


The free parking lot is available 


Location

Abba Resorts Izu Zagyosoh's MAP

Access

Free shuttle service from

Izu-Kogen Station

Address and TEL

1741 Yawatano, Ito, Shizuoka 413-0232 JAPAN
Tel +81 557-53-1170

Official Homepage

Abba Resorts Izu Zagyosoh's HP
*All information above is as of the date that I posted on my blog.