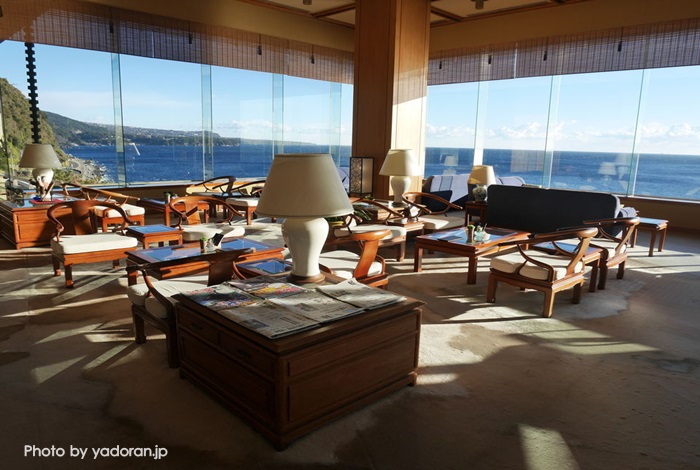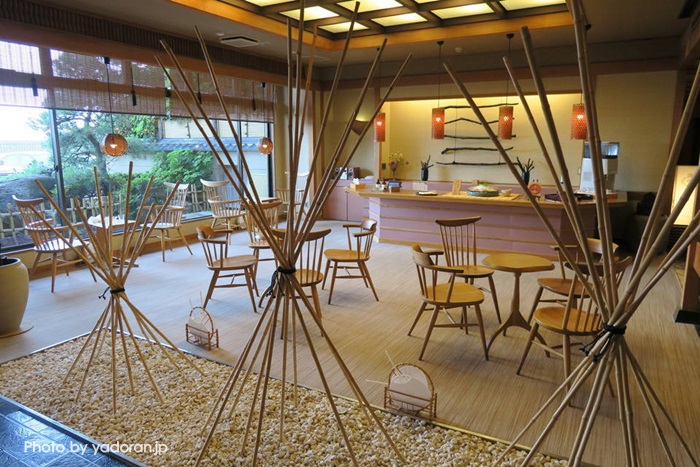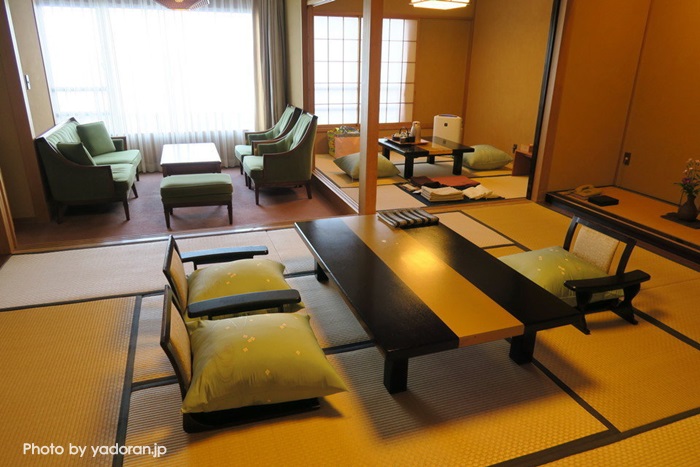 If you are looking for typical onsen ryokans, I would highly recommend Bousui.  This is one of the very popular in Izu.  Perhaps if this is your first time staying at ryokans, Bousui would be great.  On the other hand, if you are looking for authentic

quaint

ryokans, this is not.  The property would be nice for family, groups, couples, or solo travelers.  The ambiance is cozy, serene, and relaxed.  If you are going to stay here, I would highly recommend booking a room on a high floor possible.  The rooms on 2F are facing a parking lot and ocean.  You should avoid staying on 2F.  Overall facilities tend to be outdated, but well-maintained, clean and functional.  You can view an amazing ocean in good weather.  Then if you don't want to sleep on Japanese style mattresses in tatami rooms, you may want to book a suite room on 6F.  There are twin beds on tatami mats.  Actually, most of the rooms have no western beds.  Then there is no room with private hot springs, but there are 6 private family ones in-house.  2 out of 6 ones cost 12,960JPY for 90min.  Complimentary champagne is served.  Then 4 out of 6 ones are available for free for 50min.  You can soak in the baths while admiring dynamic blue ocean views.  All of them are very popular.  You need to book them in advance if you want to use.  You may want to check in earlier for better time selections as first come, first served.  Then there are large communal indoor and outdoor hot springs in-house.  There is no nice view from the communal ones, though.  All of them are open from 14:00-10:00 the following morning.  *Please note that if you have tattoos and want to use the communal hot springs, use reserved private family ones.  Then all of the amenities are taken care of including enough toiletries, yukatas, and a Japanese tea set.  Also,

this is child-friendly

.  You can request yukatas, meals, and futons for small children at an additional charge.  Then complimentary drinks, such as coffee, English tea, yuzu juice, wine, beer, vegetable snacks, popsicles, sherbet, and jelly, etc., are available at the lounge on 8F.  You can chill out at the lounge while drinking beer and viewing a beautiful sunset.  That's precious time.  Room service is available between 16:00 and 23:45.  There is no convenience store within 10min walking distance.  You may want to buy your necessities before coming here.  Then

free wifi reception was patchy in the property

.  Also, car-wash service is available for free.  Then

the property is almost universal design

.  Wheelchairs are available for borrowing.  If you bring people with weak feet, you may want to inform the staff in advance as they can arrange a room near the lift. 
Then seafood kaiseki dinner was just divine.  All ingredients were very high-end, such as abalone, crab, lobster, and beef, etc.  All meals are served in your room.  *Please note that inform the staff when you book a room with meals if you have any food allergies.  They probably wouldn't be able to prepare alternative food if you request on that day.  Then, as far as I know, there is no restaurant for dinner around the property.  The location is out of the way.  You may want to book a room including meals unless you have a car.  Then all staff tends to be very warm, helpful and friendly.  If you want to experience signature Japanese hospitality, you should stay at Bousui.  Then it seems that there may not be one who speaks English at the reception.  I noticed that Mandarin speakers were here when I stayed in 2018.  If you have specific requests, you might want to inform by e-mail in advance.  

info@bousui.com

 They would understand English sentences and I'm sure they do their best.  Then the location is near

Izu-Atagawa station

.  A free shuttle service is available from the station.  You need to book it in advance.  Access to the property would be easy even if this is your first visit Izu.  Then if you want to relax in a tranquil atmosphere, you may want to avoid staying during Lunar New Year, late April to early May, the third week of July to late Aug, and the end of the year and New Year holiday.  The property would be very crowded during the above periods more than you expect.  At last, don't forget to check a weather forecast before booking a room.  That's the most important.  Have a nice trip!  Welcome to receive any questions about Bousui from the below space.  *All information is as of the date that I posted on my blog.  *Check-in and out times 14:00/10:00  

You need to inform staff of your expected arrival time in advance

.  ***

Due to the coronavirus, the property is temporarily closed until the 30th of June, 2020

.  Check Availability and Pricing for the property on Agoda or Booking.com
Info about Bousui
Style

Typical Onsen Ryokan

Guest Rating

Superb 9.1

Estimated Price

60,000 JPY for 2 adults per room

Contact

Internet Connection

Free wifi in the ryokan

Facility Information

Wheelchairs are available




Pets are not allowed


The free parking lot is available


Location

Bousui's MAP

Access

Free shuttle bus from

 Izu-Atagawa station


Need to book it in advance.


Address and TEL

Tel +81-

Official Homepage

Bousui's HP
You may be interested in other places near Izu, Shizuoka.