What kind of onsen ryokan is Hamanoyu?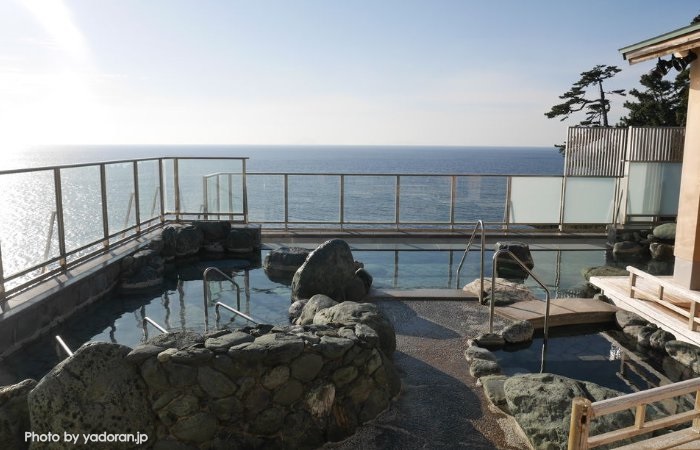 This is an onsen ryokan with ocean views in IZU.  If you love fresh seafood, you should stay here.  Seafood kaiseki for dinner and breakfast is truly fantastic.  On top of that, the portion tends to be very big.  Don't forget to bring your empty stomach.  Perhaps, if you are looking for rooms with private outdoor hot springs and panoramic ocean views, I would recommend it.  Perhaps, if this is your first stay at ryokans, Hamanoyu would be great.  On the other hand, if you don't like seafood, you should find others.  Perhaps, if you are looking for authentic onsen ryokans, this is not.  The ambiance would be family-oriented, cozy, and tranquil.  If you are a couple or a solo traveler, you may want to stay on weekdays.  There are many families with children on the weekend.  The property would be nice for family, couples, or groups, but not solo travelers.
Is the location easy to access?
It would be easy from Izu-Inatori Station.  A free shuttle service is available.  It takes 5min by car.  You need to book it in advance.
Rooms I would recommend?
If you are going to stay here, I would recommend corner rooms with private outdoor hot springs.  You can fully enjoy a beautiful sunset while soaking in your private bath with a beer in hand.  Drinking beer on a balcony is truly exceptional while listening to the sound of waves.  That's precious time.  Then some rooms were renovated in 2016, but some were not.  You may want to book renovated rooms.  Then if you don't want to sleep on Japanese-style mattresses in tatami rooms, you should book rooms with twin beds.
How about toiletries & in-room amenities?
All of the amenities are taken care of including enough toiletries, yukatas, pajamas, a coffee machine, sweets, and tea bags.  There are L'Occitane amenities in the bathroom.  Room service is not available.  There is no convenience store nearby within walking distance.  There are vending machines for soft drinks and ice cream.  The Free Wi-Fi reception was good in the property.   Then this is child-friendly.  Staff can provide yukatas, meals, tableware, etc. if you request in advance.
  TOP5 Hotels & Ryokans for Families in Izu & Atami

How about In-house Facilities?
There are wonderful indoor and outdoor communal hot springs.  The view of the blue ocean was indescribably beautiful in good weather.  The spring quality wouldn't be special, though.  They are open from 4:00-10:00, 15:00-25:00.  Also, there are two private family hot springs.  You can use one of them for free.  The other costs JPY2,500 for 50min.  You need to book if you want to use the private family hot springs.  Two of them are open from 6:00-10:00, 15:00-23:00.  *If you have tattoos, you may not be permitted to use the communal bathing area.  You may want to book a room with a private one instead, or use reserved family ones.  Then Hamanoyu is a perfect universal design.  There are some western rooms for wheelchair users.  Wheelchairs are available for borrowing.
  TOP5 Accessible Hotels & Ryokans in Izu & Atami

How about meals?
The fresh seafood experience was simply wonderful.  All local ingredients were high-end, including abalone, crab, lobster, and golden eye snapper, etc., and dynamic presentation.  If you are a gourmet, you must be excited.  All meals are served in your room, a private room in a dining area, or a dining room.  If you have any preference for venues of meals, you may want to inform the staff in advance.   *Please note that inform the staff when you book a room with meals if you have any food allergies.  Then, as far as I know, there wouldn't be nice restaurants around here, so you may want to book a room with meals.  The location is out of the way.
  TOP5 Gourmet Hotels & Ryokans in Izu & Atami

My impressions
All staff is sophisticated, welcoming, and gracious.  They are the loveliest group.  If you want to experience signature Japanese hostility, Hamanoyu would be perfect.  Overall, the property has great value for money if you love fresh seafood.  Actually, there are many return guests all year round.  If you plan to stay here, you may want to book a room on weekdays as much as possible.  At last, don't forget to check the weather forecast before booking a room.  That's the most important.  Have a nice trip!  Welcome to receive any questions about Hamanoyu from the below space.  *Due to the coronavirus, the property is temporarily closed until the 14th of May, 2020.  Check Availability and Pricing for the property on Booking.com
Info about Hamanoyu
Style

Modern Onsen Ryokan

Check-in and out times

15:00/10:00


Estimated Price

50,000 JPY for 2 adults per room

Contact

Fill the form in 

Internet Connection

Free WiFi in the ryokan

Facility Information

Wheelchairs are available
Pets are not allowed
The free parking lot is available


Location

Hamanoyu's MAP

Access

Free pick-up service from Izu-Inatori Station


Address and TEL

Inatori, Higashi Izu-chō, Kamo-gun,
Shizuoka 413-0411 Tel +81 557-95-2151 

Official Homepage

Hamanoyu's HP
*All information above is as of the date that I posted on my blog.