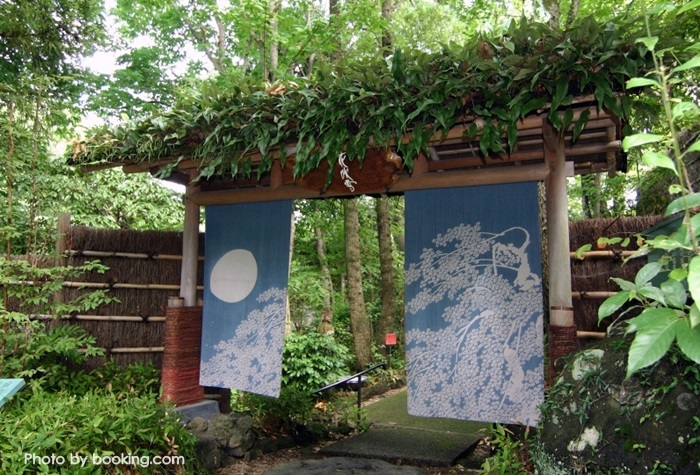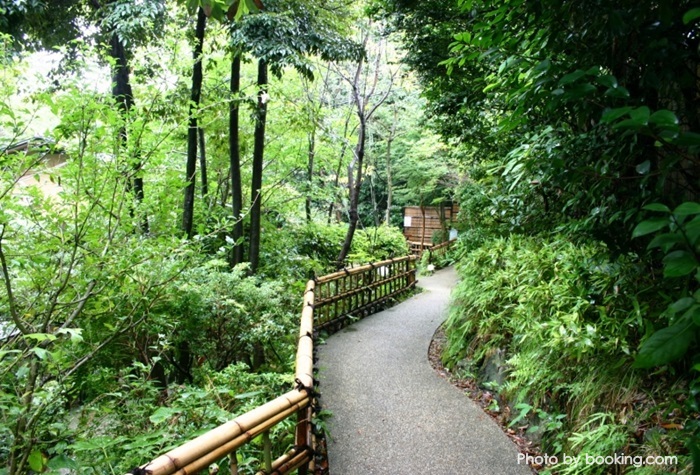 This is my cup of tea.  HANAFUBUKI is like a secret hideaway for adults.  The property is located in the national park.  If you are looking for small authentic ryokans in Izu, I would highly recommend it.  There are 17 rooms only.  It's like you're in another world.  The ambiance is very charming, quaint, and lovely.  Just hanging around the large site must be so excited.  Also, the large garden is illuminated at night.  We absolutely felt unique Japanese sensitivity while taking a walk in the property.  The property would be great for couples, solo travelers, family, or small groups. 

This wouldn't be child-friendly

.  Staff wouldn't be able to prepare food, amenities, or futons for small children.  Then if you are going to stay here, I would highly recommend booking a corner room on 1F.  You can view a beautiful forest while chilling out at the terrace.  The décor is Japanese minimalist but truly relaxing.  Facilities tend to be the latest.  You wouldn't get stressed at all even if this is your first stay at ryokans.  Also if you are a light sleeper, you should book a room on 2F.  It seems that the building has no latest soundproofing.  Your ear sometimes may catch some footsteps from upstairs if you stay on 1F.  Then if you don't want to sleep on Japanese-style mattresses in tatami rooms, you may want to find others.  There is a small western room with twin beds in the property, but the room wouldn't be special.  Then all of the amenities are taken care of including enough toiletries, yukatas, bottled water, and a Japanese tea set.  Room service is not available.  There is no convenience store within 5min walk distance.  You may want to buy your necessities before coming here.  Then f

ree WiFi reception was bad in our room

.  We could connect to the internet in the lobby only when we stayed in 2018.  Then there are 7 wonderful private family hot springs in-house which you can use for free whenever they are not occupied.  They are open for 24H.  You should try all of them during your stay.  The spring quality is very soft, moist, and like a skin location.  The water temperature tends to be

lukewarm

.  Then

HANAFUBUKI is not universal design

.  There are some steps and slopes on-site.  I wouldn't recommend the property if you bring people with weak feet.  A wheelchair is available for borrowing, though.  Then kaiseki food experience was just divine.  The food tends to be sophisticated.  If you are a gourmet, you should try it.  All meals are served in a dining room.  Basically dinner starts at 17:30.  You need to check-in by 19:00 if you have dinner on the property.  Breakfast starts from 8:00 or 9:00.  *Please note that inform the staff when you book a room with meals if you have any food allergies.  They probably wouldn't be able to prepare alternative food if you request on that day.  Then, as far as I know, there is no nice restaurant for dinner around the property.  Local papa-mama shops are closing early.  You may want to book a room including meals unless you have a car.  Then all staff is so welcoming, helpful, and warm, however, be mindful and respectful of the Japanese traditions here as it's a traditional accommodation.  Overall, the property has good value for money.  It's worth every penny.  The location is near

Izu-Kogen Station

.  It takes 10min on foot.  A free shuttle service is not available.  Then, the best season to stay here would be except for the summer season.  There would be many bugs around outdoor hot springs in summer.  It's surrounded by rich nature.  It cannot be helped.  At last, don't forget to check a weather forecast before booking a room.  If it's rainy, you may feel reluctant to move around outside in the property.  Then, you should take a walk around the Jōgashima coast in good weather.  You can see an amazing blue ocean.  You can get a map at the front desk.  Have a nice trip!  Welcome to receive any questions about HANAFUBUKI from the below space.  *All information is as of the date that I posted on my blog.  **Check-in and out times 15:00/11:00  You need to inform staff of your expected arrival time in advance.  You need to show a photo ID and credit card upon check-in. 
***

Due to the coronavirus, the property is temporarily closed until the 20th of May, 2020

.  Check Availability and Pricing for the property on Agoda or Booking.com
Info about HANAFUBUKI
Style

Traditional Japanese Ryokan

Guest Rating

Superb 9.3

Estimated Price

46,000 JPY for 2 adults per room

Contact

Internet Connection

Free wifi at the lobby only

Facility Information

Wheelchairs are not available




Pets are not allowed


The free parking lot is available


Location

Hanafubuki's MAP

Access

10min walking from Izu-Kogen station

Address and TEL

Tel +81

Official Homepage

Hanafubuki's HP
You may be interested in other places near Izu, Shizuoka.