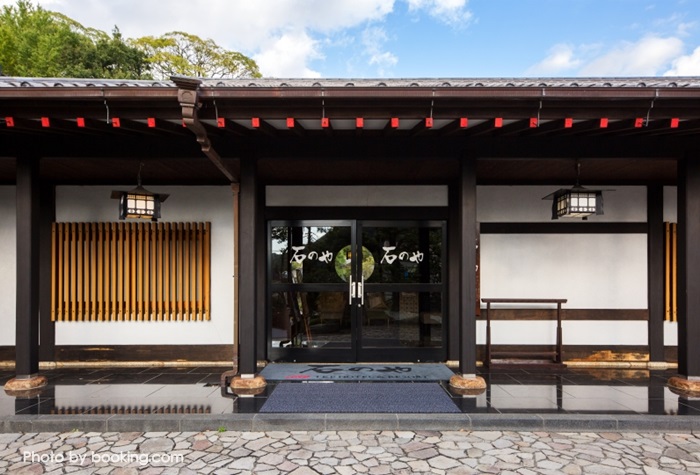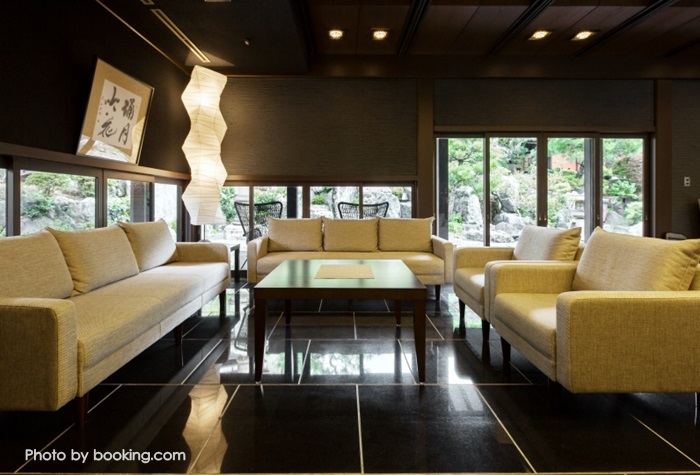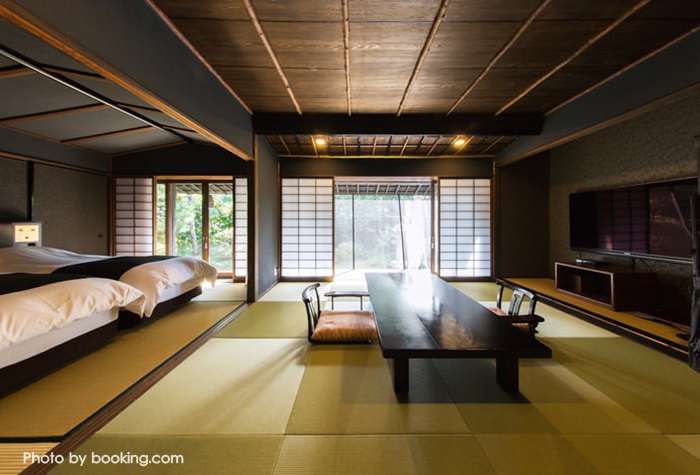 If you are looking for small modern ryokans with traditional Japanese gardens, you should stay at Ishinoya.  Perhaps, if you are looking for modern tatami rooms with private hot springs, I would highly recommend it.  Each room has a private hot spring.  Ishinoya wouldn't be luxury, but truly relaxing.  The ambiance is serene, tranquil, and friendly.  There are 22 rooms only.  The property would be great for couples, families, small groups, or solo travelers.  If you are going to stay here, I would highly recommend booking a room with a private outdoor hot spring and a Japanese cypress wood bathtub.  We spent a lot of time jumping in and out of our private one until check-out time.  The spring quality is soft, smooth, and moist.  The water temperature tends to be so high.  We added tap water to adjust the water temperature.  The building tends to be aged, but well maintained.  Facilities are not the latest, but the housekeeping was good.  All of the amenities are taken care of including enough toiletries, yukatas, pajamas, samue outfits, bathrobes, bottled water, and a Japanese tea set.  There are some colorful yukatas for women which you can choose.  Also, a DVD player, a Blu-Ray, and an air cleaner were placed in our room. 

Free Wifi reception was good in the property

.  Complimentary coffee, beer, fruit juice, and snacks, etc., were available at the library.  Room service is available.  There are many dishes on the menu, such as sushi, sirloin steak, eel rice box, deep-fried fish, shabu-shabu, stewed diced pork, and fried chicken, etc.  Also, there is a convenience store nearby.  Then

Ishinoya is not a universal design

.  There are many steps in-house.  Overall it's darker than others.  If you bring people with weak feet, I wouldn't recommend Ishinoya.  Then there are indoor and outdoor communal hot springs.  They are open from 6:00-11:00, 15:00-24:00.  *

If you have tattoos, you may not be permitted to use the communal bathing area

.  Then the Japanese food experience wouldn't be special.  If you are a gourmet, I wouldn't recommend it.  All meals are served in a private room.  The portion tends to be small.  *Please note that inform the staff when you book a room with meals if you have any food allergies.  They probably wouldn't be able to prepare alternative food if you request on that day.  Alternatively, you can go out for meals.  There are some local restaurants for lunch and dinner near Izu-Nagaoka Station.  If you don't feel like going out, you can request

for room service. 

Then the staff tends to be not sophisticated, but friendly.  I guess it's OK.  This is Shizuoka prefecture.  If you cannot find English speakers, you might want to write on paper what you want to say.  Most of the young staff would understand English sentences.  I hope you don't mind.  Overall, the hardware would be nice including the traditional beautiful garden and the private hot spring.  The property has good value for money.  If relaxation is your main purpose, the property would be a great venue.  Then access to the property would be easy from

Izu-Nagaoka Station

.  Free shuttle service is available from the station at 14:15, 15:00, 15:55, or 16:40.  You need to book it in advance.  If you walk from the station, it takes 10min.  If you take a taxi from the station, it costs JPY1,100.  Alternatively, you can take an

express bus *

Izu Hakone Bus from

North Exit of

Mishima Station and get off at Izunokuni Shiyakusho Bus Stop. 

Refer to the info

.  It takes 25-30min by bus.  Then just 10min walk from the bus stop to the property.  If this is your first visit Izu, you may be worried where you should get off, so you may want to show the below Japanese sentence to a bus driver when you get on a bus.  Then you wouldn't miss the bus stop even if you fall asleep.

伊豆の国市役所のバス停に着いたら、教えて下さい。
Please let me know when you reach "Izunokuni Shiyakusyo Bus Stop".

Have a nice trip!  Welcome to receive any questions about Ishinoya from the below space.  *All information is as of the date that I posted on my blog.  **

Check-in and out times 15:00/11:00

  Check Availability and Pricing for the property on Agoda or Booking.com
Info about Ishinoya
Style

Modern Japanese Ryokan

Guest Rating

Superb 9.1

Estimated Price

45,000 JPY for 2 adults per room

Contact

Call at 055-947-0733

Internet Connection

Free wifi in the ryokan

Facility Information

Wheelchairs are not available




Pets are not allowed


The free parking lot is available


Location

Ishinoya's MAP

Access

Free shuttle bus from

Izu-Nagaoka station


at 14:15, 15:00, 15:55 or 16:40
Need to book in advance

Address and TEL

410-2211 Nagaoka192, Izunokuni-shi,
Shizuoka  Tel +81 55-947-0733
Open *9: 00-19: 00 JST

Official Homepage

Ishinoya's HP
You may be interested in other places near Izu, Shizuoka.