What kind of onsen ryokan is Musouan Biwa?
This is a traditional Japanese house-style ryokan in Izu.  If you are looking for ryokans with amazing outdoor private hot springs and peaceful ocean views, you should stay here.  Each room has a wonderful outdoor hot spring and a nice blue ocean view.  This is like a hideaway for adults.  There are 8 rooms only.  We didn't see other guests during our stay.  This is a spectacular place to stay with attention to every detail.  Traditional architecture, interior, decorations, and ambiance are very unique.  Once we entered the property, we felt that we were being pulled into old-Japan.  It's like you're in another world.  We fully enjoyed chilling out at the large terrace in our room with a beer in hand while viewing an idyllic scene in good weather.  It's like we're frozen in time.  Also, we were overwhelmed with the beauty of the picturesque sunset.  The ambiance is serene, charming, and quaint.  The property would be great for couples, families, small groups, or solo travelers.
Is the location easy to access?
The location is out of the way.  It would be a bit inconvenient.  You can take a TOKAI BUS from Shuzenji Station and get off at Doi Onsen Bus Stop.  It takes 50min and the bus fare is JPY1340.  Alternatively, you can take an express bus *TOKAI BUS from the South Exit of Mishima Station and get off at the bus stop.  It takes 75min and the bus fare is JPY1780.  The free shuttle bus is available from Doi Onsen Bus Stop.   You need to book it in advance.  There are some steep slopes around the property from the bus stop.  If this is your first visit to Izu, you may want to show the below Japanese sentence to a bus driver when you get on a bus.  You wouldn't miss the bus stop even if you fall asleep.
土肥温泉のバス停に着いたら、教えてください。
Kindly let me know when you reach "Doionsen Bus Stop"
Rooms I would recommend?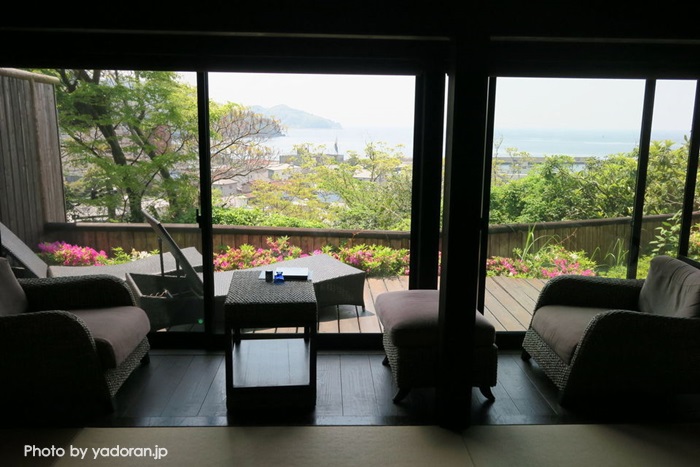 If you are going to stay here, I would recommend booking flat-type rooms.  The property has maisonette-type ones as well, but they are not so user-friendly.  Overall, it tends to be dark in the property.  Facilities tend to be worn-out as it opened in 2005, but the housekeeping was excellent.  If you are a light sleeper, you should request a room in an annex at an additional charge, JPY3,300 per adult.  The traditional building has no soundproofing system.  I sometimes heard slamming doors or children taking in the hallways.
How about toiletries & in-room amenities?
The free Wi-Fi reception was good in the property.  All of the amenities are taken care of including enough toiletries, yukatas, bathrobes, samue outfits, pajamas, a coffee machine with many capsules, sweets, bottled water, and tea bags, etc.  A DVD player, a CD player, and a humidifier were placed in our room.  Room service is not available.  There is no convenience store nearby, so you may want to buy your necessities before coming here.  Then this property wouldn't be child-friendly.  Staff wouldn't be able to provide amenities, cots, or toys, but complimentary Japanese cheap sweets are available in the lobby.  Children must be excited.

How about In-house Facilities?
Musouan Biwa is not a universal design.  Wheelchairs are not available for borrowing.  There are many steps on the property.  I wouldn't recommend it if you bring people with weak feet.  Then there are two private family hot springs which you can use for free, but you need to book in advance at the front desk if you want to use them.  All of them are open from 15:00-18:00, 21:00-8:00 the following morning.  Complimentary coffee milk is available around the private family baths area.  Unluckily there is no communal hot spring.
  TOP5 Accessible Hotels & Ryokans in Izu & Atami

How about meals?
The local food experience for dinner and breakfast was wonderful.  The portion tends to be big.  Don't forget to bring your empty stomach.  All meals are served in a private room. Dinner starts at 18:00.  Breakfast starts at 8:00. If you have dinner on the property, you need to check-in by 19:00.  *Please note that inform the staff when you book a room with meals if you have any food allergies.  Then, as far as I know, there wouldn't be nice restaurants around here, so you may want to book a room with meals.
  TOP5 Gourmet Hotels & Ryokans in Izu & Atami

My impressions
The staff tends to be not sophisticated, but friendly, welcoming, and gracious.  Overall, the property has great value for money if compared to other luxury ryokans in Izu. There are many return guests all year round.  If you plan to stay here on weekends, you may want to book a room as soon as possible.  Then if you are metropolitan, you should avoid staying here in the summer season as there would be many bugs around outdoor baths.  At last, don't forget to check a weather forecast before booking a room if you want to view beautiful ocean views.  Have a nice trip! Welcome to receive any questions about Musouan Biwa from the below space.   Check Availability and Pricing for the property on Agoda or Booking.com
Info about Musouan Biwa
Style

Traditional Japanese House-Style Ryokans

Check-in and out times


14:00/11:00

Estimated Price

60,000 JPY for 2 adults per room

Contact

Call at

Internet Connection

Free WiFi in the ryokan

Facility Information

Wheelchairs are not available
Pets are not allowed
The free parking lot is available


Location

Musouan Biwa's MAP

Access

Free shuttle bus from Doi Onsen Bus stop
Need to book in advance

Address and TEL

Tel +81

Official Homepage

Musouan Biwa's HP

 
*Japanese only
*All information above is as of the date that I posted on my blog.