What kind of resort ryokan is Rendaiji Onsen Seiryuso?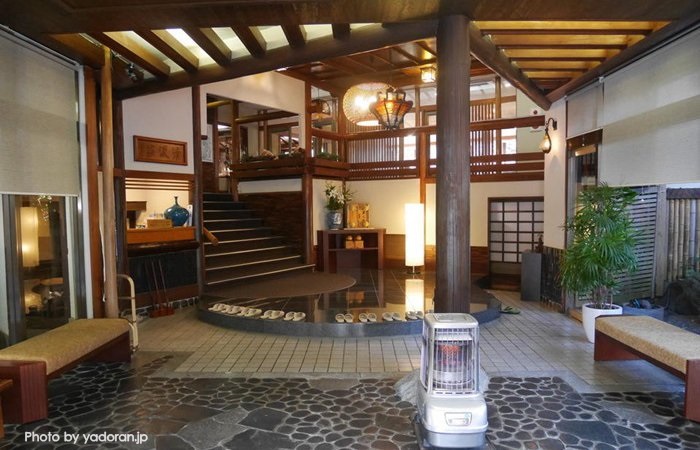 This is a luxury authentic ryokan.  If you are looking for Japanese-style boutique resort ryokans in IZU, you should stay here.  There are 26 rooms only.  Perhaps, if you fully enjoy outdoor hot springs and swimming pools using hot spring water with saunas, I would recommend it.  Absolutely, this is a perfect venue to visit for relaxation.   Rendaiji Onsen Seiryuso has a long history.  Everything, such as architecture, interior, decorations, and large garden, etc., is elegant, charming, and luxurious.  Facilities tend to be outdated, but the housekeeping was excellent.  Also, there is a large well-kept traditional garden.  You can appreciate the old-world beauty of the garden while taking a walk.  If you are a connoisseur of Japan, it well worth a visit.  The property would be great for couples, families, small groups, or solo travelers.

Is the location easy to access?
It would be a bit inconvenient.  Free shuttle service is available from Rendaiji Station or Izukyū-Shimoda Station.  It takes 5min on foot from Rendaiji Station, though.  You need to book it in advance.
Rooms I would recommend?
If you are going to stay here, I would recommend western Japanese-style rooms.  There are twin beds on tatami mats.  The rooms are comfortable, spacious, and Japanese minimalistic.  If you love hot springs, you should book a room with an outdoor private one.

How about toiletries & in-room amenities?
The free Wi-Fi reception was good around the lobby only.  I noticed that a PC was placed to use someone.  Then all of the amenities are taken care of including enough toiletries, yukatas, bathrobes, pajamas, sweets, bottled water, and tea bags, etc.  There are skincare products in the bathroom.  Room service is not available.  There is no convenience store nearby.  You may want to buy your necessities before coming here.  Also, this is child-friendly.  There is a wonderful pool using hot spring water for children too.  They must be excited.  Staff can provide meals, amenities, and yukatas for children if you request in advance.
  TOP5 Hotels & Ryokans for Families in Izu & Atami
How about In-house Facilities?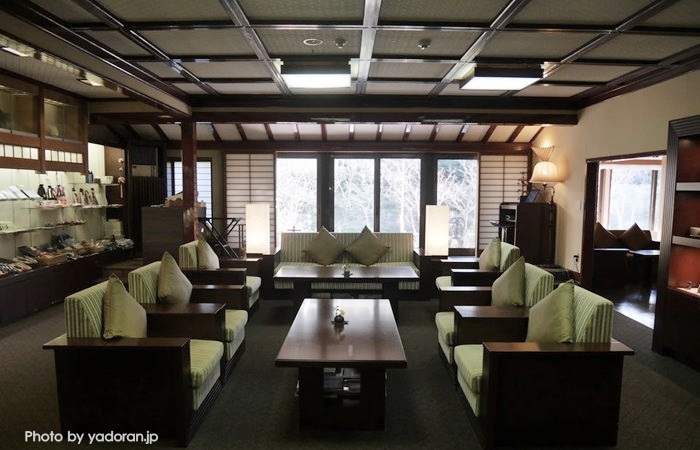 There are wonderful indoor and outdoor communal hot springs in-house.  They are open from 14:00 to 11:00 the following morning.  On top of that, there are two private family hot springs.  They are open from 8:00-22:00.  They cost JPY1620 for 50min.  You can use two of them for free whenever they are not occupied between 23:00-7:00.  Then Rendaiji Onsen Seiryuso is almost a universal design.  There are some steps, though.  There are some rooms for wheelchair users.  If you bring people with weak feet, you should inform staff in advance and book a western Japanese-style room with twin beds and private hot springs.  Once you enter your room, you wouldn't need to move around.  Also, two wheelchairs are available for borrowing.  The staff would be happy to help you.  Then there are swimming pools for adults and children using hot spring water, so they are open all year round.  On top of that, there are unique saunas.  We spent a lot of time around the swimming pool area.  There are plenty of public facilities on the property.  You may want to check in earlier.  Swimwear, goggles, swim rings are available for rent, but availability and sizes may be limited.  You may want to bring your own.
  TOP5 Accessible Hotels & Ryokans in Izu & Atami

How about meals?
The kaiseki seafood for dinner was great.  If you love seafood, you should try it.  All meals are served in a dining room or your room.  If you bring children, they may be served in a private room in a dining area.  If you don't like seafood, you may want to go out for dinner.  There are some local restaurants around Izukyū-Shimoda Station.  You need to take a taxi, though.  It takes 10min by car and costs around JPY1,500.  Alternatively, food delivery may be available if you request.  You should ask staff if this is your first visit Rendaiji Onsen area.
My impressions
All staff tends to be friendly, welcoming, and warm.  If you want to experience signature Japanese hospitality, you should stay here.  Overall, the price range would be reasonable.  If your main purpose is relaxation, it's well worth staying here.  Have a nice trip!  Welcome to receive any questions about Rendaiji Onsen Seiryuso from the below space.  *Due to the coronavirus, the property is temporarily closed until the 6th of May, 2020.  Check Availability and Pricing for the property on Agoda
Info about Rendaiji Onsen Seiryuso
Style

Traditional Japanese Ryokan

Check-in and out times


14:00/11:00

Estimated Price

50,000 JPY for 2 adults per room

Contact

info@ryokancollection.com  

Internet Connection

Free WiFi is available in the lobby only.

Facility Information

Wheelchairs are available
Pets are not allowed
The free parking lot is available


Location

Rendaiji Onsen Seiryuso's MAP

Access

Free Shuttle bus from
Izukyū-Shimoda Station or Rendaiji Station
Need to inform in advance upon request.

Address and TEL

〒415-0011 Shizuoka Shimoda,
Kouchi, 2−2   Tel +81 558-22-1361

Official Homepage

Rendaiji Onsen Seiryuso's HP
*All information above is as of the date that I posted on my blog.