What kind of ryokan is Sanyo-so?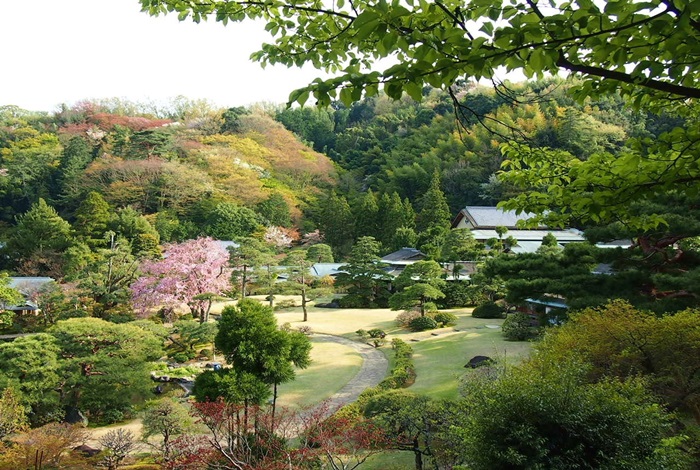 This is like a SAMURAI residence.  If you love Japanese culture, I would recommend Sanyo-so.  The property must leave a lasting impression.  If you are a connoisseur of Japan, you should stay here.  We truly felt the luxury and authenticity at once.  Perhaps, if you are looking for luxury authentic ryokans with large traditional Japanese gardens in Izu, Sanyo-sou would be a perfect venue.  The view of the garden is truly amazing.  It's well worth a visit.  This is one of the registered tangible cultural properties.  On the other hand, if you are not so keen on Japanese culture, you may want to find others.  The ambiance is serene, elegant, and tranquil.  The property would be great for couples, families, groups, or solo travelers.
  TOP5 Authentic Ryokans in Izu
  TOP5 Ryokans with Traditional Gardens in Izu

Is the location easy to access?
It would be easy from Izu-Nagaoka Station.  Free shuttle service is available until 17:00.  You need to book it in advance.  It takes just 5min by car.  Alternatively, you can get a taxi from the station.  It costs around JPY800.
Rooms I would recommend?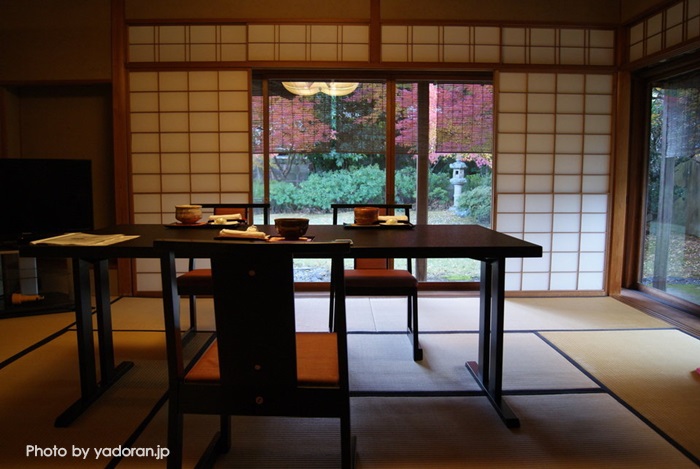 if you are going to stay here, I would recommend rooms with indoor private hot springs in the new building.  Most of the rooms in the new building were renovated in July 2019.  Facilities tend to be the latest.  The rooms tend to be spacious.  The private hot spring was excellent.  The spring quality was creamy, thick, and soft.  Then, if you want to see a beautiful garden while chilling out in your room, you should stay in rooms in the main building.  Then, if you don't want to sleep on Japanese-style mattresses in tatami rooms, you should stay in rooms with twin beds on tatami mats in the new building.
How about toiletries & in-room amenities?
All of the amenities are taken care of including minimum toiletries, yukatas, and a green tea set, etc.  There is no skincare product.  There are bath amenities in the bathroom only.  Room service is not available.  There is no convenience store nearby.  You may want to buy your necessities before coming here.  Also, the free WiFi reception was bad.  I couldn't connect to the internet in my room when I stayed in 2017.  Then this is child-friendly.  There is a kids' playroom.  Staff can provide baby cots, amenities, and yukatas if you request in advance.
How about In-house Facilities?
Sanyo-so is not a universal design.  This is like a maze.  There are some steps.  It would be hard to move around for wheelchair users.  I wouldn't recommend staying here if you bring people with weak feet.  Nevertheless, if you bring them, you may want to inform the staff in advance as they can arrange a room near the entrance.  Wheelchairs are available for borrowing.  Also if you have a lot of luggage, you may want to request a room near the entrance as much as possible.  The property is really big.  Then there are wonderful large indoor and outdoor communal hot springs in-house.   They are open from 15:00-10:00 the following morning.  *If you have tattoos, you may not be permitted to use the communal bathing areas.  You may want to book a room with a private hot spring.  Then this is pet-friendly.  Only small dogs *up to 10 kilograms that are potty trained and do not bark are allowed in specific rooms.  When you are in public areas, make sure your dog is caged.
  TOP5 Accessible Hotels & Ryokans in Izu & Atami

How about meals?
The kaiseki food experience for dinner and breakfast wouldn't be special.  The standard course dish wouldn't be special.  If you love seafood, the Tsuru course dish would be great.  All ingredients are high-end, such as abalone, lobster, and sea urchin, etc.  If you love wagyu-beef, the Matsu course dish would be great.  The sirloin steak was so tasty.  You need to pay additional charges if you order special meals except for the standard course dish.  Basically, all meals are served in a large banquet room.  You can request meals served in the room.   *Please note that inform the staff when you book a room with meals if you have any food allergies.  They probably wouldn't be able to prepare alternative food if you request on that day.  Also if you want to order Tsuru or Matsu course dishes, you may want to inform the staff in advance.  Dinner starts between 18:00 and 19:15.  You need to check-in by 19:00 if you have dinner on the property.  Breakfast starts from 8:00 or 8:30.  Alternatively, you can go out for meals.  There are some local restaurants around the property.
My impressions
The staff is elegant, but it seems that there would be a shortage of staff.  If you expect 5-star hotel service, this is not.  Overall, the property has great value for money if you love traditional architecture, interior, garden, and ambiance.  The best season to stay here would be in spring or fall.  You can take a walk in the garden while seeing breathtaking views.  You should join a complimentary garden tour from 9:00 AM after breakfast.  Have a nice trip!  Welcome to receive any questions about Sanyo-so from the below space.  *Due to the coronavirus, the property is temporarily closed until 31st of May, 2020.  Check Availability and Pricing for the property on Agoda or Booking.com
Info about Sanyo-so
Style

Traditional Japanese Ryokan

Check-in and out times

15:00/11:00


Estimated Price

40,000 JPY for 2 adults per room

Contact

Call at 055-947-1111

Internet Connection

NO free wifi in the ryokan

Facility Information

Wheelchairs are available
Pets are allowed
The free parking lot is available 

Location

Sanyo-so's MAP

Access

Free shuttle bus from


Izu-Nagaoka Station

until 17:00
Need to book in advance

Address and TEL

270, Mamanoue, Izunokuni-shi
Shizuoka 410-2204  Tel +81 55-947-1111

Official Homepage

Sanyo-so's HP
*All information above is as of the date that I posted on my blog.