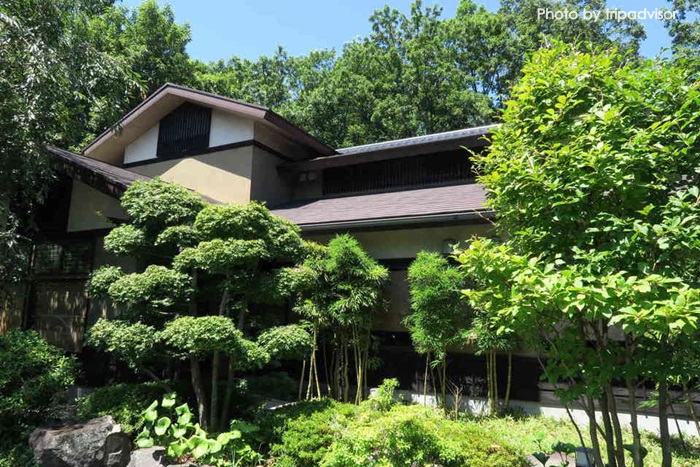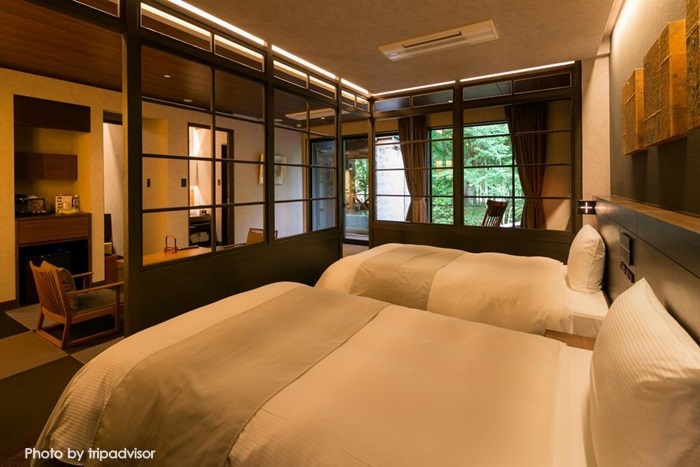 If you are looking for luxury modern ryokans in Izu, I really think you should stay at Ufufu.  Perhaps if you are looking for a room with an outdoor private hot spring, I would highly recommend it.  Each room has a wonderful outdoor private hot spring.  This is like a hideaway for adults.  The property completely emphasizes private experiences for each guest.  There are 7 rooms only.  Perhaps, if you are a foodie, you should stay here.  This is one of the best gourmet ryokans in Izu.  On the other hand, if you are looking for luxury authentic ryokans, this wouldn't be.  Ufufu would be great for couples, small groups, or solo travelers.  *A minimum age requirement of 12 applies.  Overall, the property is amazingly sophisticated.  Everything, such as furniture, interior, decoration, etc., is impeccable.  Once we arrived at the property, the staff immediately escorted us to a beautiful stylish room.  If you are going to stay here, you should check in earlier and relax in a room.  We fully enjoyed our private hot spring while viewing a small bamboo forest.  That's precious time.  The spring quality wouldn't be special, though.  There is no communal hot spring, no lounge, and no library, etc., in-house.  Facilities tend to be the latest.  The housekeeping was excellent.  The free Wifi reception was great.  The room is modern, user-friendly, and functional.  A DVD player, an audio amplifier for Bluetooth, a BOSE speaker, a humidifier, floor heating, and a towel warmer were placed in our room.  All of the amenities are taken care of including enough toiletries, pajamas, bathrobes, samue outfits, a coffee machine with many capsules, water bottle, a complimentary minibar including beer, Japanese sake, champagne, and green tea bags, etc.  Also complimentary coffee and tea are available in the lobby.  Room service is not available.  There are HABA skincare products in the bathroom.  There is no convenience store nearby.  You may want to buy your necessities before coming here.  Then Ufufu is a universal design.  Wheelchairs are available for borrowing.  If you bring people with weak feet, you may want to inform the staff in advance they can arrange a room near the reception.  Then kaiseki food experience was just divine.  The food is also sophisticated.  It's equivalent to Micheline 1 or 2 stars.  They use seasonal ingredients just right for that season.  We were overwhelmed by each dish.  All meals are served in a beautiful dining room.  *Please note that inform the staff when you book a room with meals if you have any food allergies.  They probably wouldn't be able to prepare alternative food if you request on that day.   Alternatively, you can go out for dinner as there are some local restaurants around Shuzenji Station.  You may need to take a taxi.  Then all staff is professional, proactive, and attentive.  If you want to experience signature Japanese hospitality with a personal touch, you should stay here.  Overall, the price range would be reasonable.  If your main purpose is relaxation, it's well worth staying at Ufufu.  We definitely come back again next year.  Then access to the property would be easy from Shuzenji Station.  Free shuttle service from the station is available at 14:30, 15:30, or 16:30.  You need to book it in advance.  Alternatively, you can take a TOKAI Bus at the number 5 bus stop in front of Shuzenji Station.  Then get off at Tsukigase Hot Spring Bus Stop and just a 3min walk to the property.  If this is your first visit Shuzenji Onsen, you may be worried where you should get off.  You may want to show the below Japanese sentence to a bus driver when you get on a bus.
月ヶ瀬温泉バス停に着いたら、教えてください。
Please let me know when you reach "Tsukigase Hot Spring Bus Stop"
At last, the property would be very popular, so you may want to make a reservation as soon as possible if you stay on the weekend.  Have a nice trip!  Welcome to receive any questions about Ufufu from the below space.  *All information is as of the date that I posted on my blog.  **Check-in and out times 3:00 PM/11:00 AM You need to inform staff of your expected arrival time in advance.  If you check-in after 19:00, you need to inform the staff in advance.  ***

Due to the coronavirus, the property is temporarily closed until the 6th of May, 2020

. 

The temporary closure has been extended until the 20th of May

.  Check Availability and Pricing for the property on Agoda or Booking.com
Info about Ufufu
Style

Modern Japanese Ryokan

Guest Rating

Superb 9.3

Estimated Price

76,000 JPY for 2 adults per room

Contact

contact@ufufu.co.jp

Internet Connection

Free wifi in the ryokan

Facility Information

Wheelchairs are available
Pets are not allowed
The free parking lot is available


Location

Ufufu's MAP

Access

20min by TAXI from Shuzenji Station
Free shuttle service at 14:30, 15:30, or 16:30

Address and TEL

499-1 Tsukigase, Izu city, Shizuoka, 410-3215
Tel +81 558-85-0230

Official Homepage

Ufufu's HP  *Japanese only
You may be interested in other places near Izu, Shizuoka.