What kind of onsen ryokan is Yagyu no Sho?
This is like a high-ranking samurai residence.  If you stay here, you may feel like a samurai.  The onsen ryokan is one of the best small luxury authentic ryokans in Japan.  We were tremendously impressed with everything, such as architecture, interior, furniture, a traditional garden, a beautiful bamboo forest, hot springs, Japanese kaiseki food, and warm hospitality.  Words cannot describe this place.  If you are a connoisseur of Japan, I would recommend it.  There are 15 rooms only.  We didn't see other guests during our stay even though it would be fully booked.  The ryokan completely emphasizes private experiences for each guest.  The ambiance is serene, charming, and quaint.  The property would be great for couples, solo travelers, family, or small groups.
  TOP5 Hotels & Ryokans with Private Onsen in Izu & Atami
  TOP5 Authentic Ryokans in Izu

Is the location easy to access?
It would be easy even if this is your first visit to Shuzenji Onsen.  The location is 10min by TAXI from Shuzenji Station.  It costs around 1,000JPY.  A free shuttle service is not available.  It takes 150min from Tokyo Station.
Where is the best accommodation for anniversary?
If you are looking for venues for special occasions, the property would be one of the best. The staff arranges cakes to celebrate an anniversary at an additional charge if you request in advance.
Rooms I would recommend?
If you are going to stay here, I would recommend rooms with private outdoor hot springs and views of a bamboo forest.  You can fully enjoy your private bath while viewing a breathtaking traditional view.  That's precious time.  Also, I would recommend staying in a room in the annex.  You can appreciate the old-world beauty of the garden while chilling out in the room.  Then there is no room with western beds.  If you don't want to sleep on Japanese-style mattresses in tatami rooms, you may want to find others.
How about toiletries & in-room amenities?
All of the amenities are taken care of including enough toiletries, yukatas, pajamas, bottled water, and a Japanese tea set.  Humidifiers and DVD players are available if you request.  Room service is not available.  There wouldn't be a convenience store nearby.  You may want to buy your necessities before coming here.  Then free wifi reception was around the public area only.  We couldn't connect to the internet in our room.  Also, this is child-friendly.  Staff can provide chairs, yukatas, and meals.
How about In-house Facilities?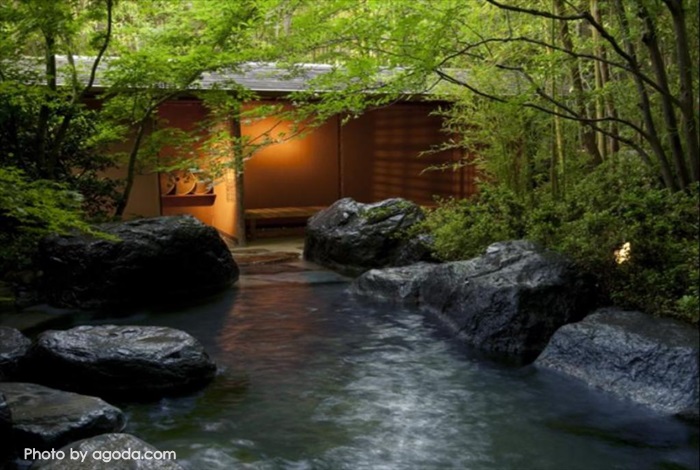 Yagyu no Sho is not a universal design.  There is a lift.  There are some steps.  If you bring people with weak feet, you may want to inform staff as they can arrange a room near the entrance on 1F.  Then there are amazing outdoor and indoor communal hot springs in-house.  You should try them.  The water temperature tends to be high.  The spring quality tends to be very soft, moist, and creamy.  They are open from 14:00-10:00 the following morning.  *If you have tattoos, you may not be permitted to use the communal bathing area.
  TOP5 Accessible Hotels & Ryokans in Izu & Atami

How about meals?
The kaiseki food experience for dinner and breakfast was just divine.  This is one of the auberge ryokans.  The food tends to be authentic, but sophisticated.  It's truly worth trying it if you are a gourmet.  The portion tends to be small.  I requested some rice balls for a night snack.  All meals are served in your room.  Then don't forget to visit the lounge bar after dinner.  The ambiance is cozy for adults.  *Please note that inform the staff when you book a room with meals if you have any food allergies.  They probably wouldn't be able to prepare alternative food if you request on that day.  Then, as far as I know, there is no nice restaurant for dinner around the property.  Local papa-mama shops are closing early.  If you go out for meals, you need to go around Shuzenji Station by TAXI.
My impressions
All staff is so professional, exquisite, and elegant.  Overall, the property tends to be pricey, but absolutely it's worth every penny.  The experience is pure Japan and should definitely be tried.  The best season to stay at the property would be in spring or fall.  You would be overwhelmed by the beauty of the traditional garden.  Have a nice trip!  Welcome to receive any questions about Yagyu no Sho from the below space.  Check Availability and Pricing for the ryokan on Agoda
Info about Yagyu no Sho
Style

Luxury Authentic Ryokan

Check-in and out times

14:00/10:00


Estimated Price

90,000 JPY for 2 adults per room

Contact

Send E-mail

Internet Connection

Free wifi around the public area only

Facility Information

Wheelchairs are not available


Pets are not allowed
The free parking lot is available


Location

Yagyu no Sho's MAP

Access

10min by TAXI from 

Shuzenji Station

Address and TEL

Tel +81

Official Homepage

Yagyu no Sho's HP
*All information above is as of the date that I posted on my blog.