What kind of ryokan is Yamaha Resort Katsuragi Kitanomaru?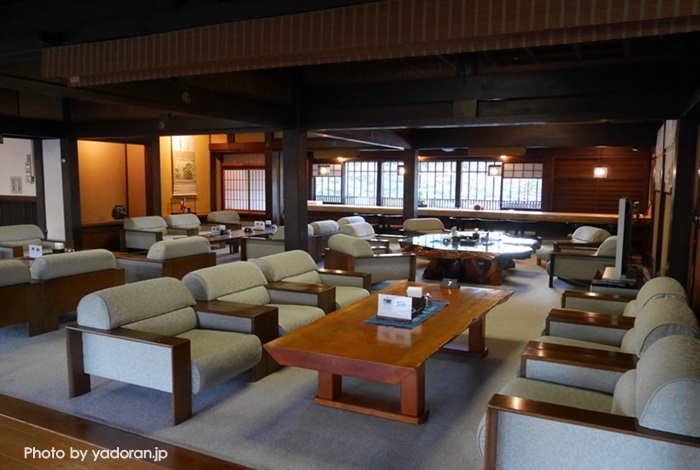 This is like a magnificent samurai residence.  The property is a spectacular place to stay with attention to every detail.  The architect who designed this thought of every element to bring a beautiful harmony to each room.  Once we entered the property, we felt the luxury and authenticity at once.  If you are a connoisseur of Japan, you should stay here.  Perhaps, if you are looking for luxury authentic ryokans, this would be a perfect venue.  On the other hand, if you are a hot spring freak, this is not.  Unluckily, there is no hot spring on the property.  There are amazing outdoor and indoor communal baths, though.  Then the ambiance is serene, tranquil, and relaxed.  The property would be great for couples, solo travelers, family, or groups.  *A minimum age requirement of 18 applies.
  TOP5 Ryokans with Traditional Gardens in Izu

Is the location easy to access?
Yes, the location is 25min by car from Kakegawa Station.  Free shuttle service is available from Kakegawa Station South Exit.  You need to book it by 3 days before the check-in date.  Refer to the below time table.  It would be easy from Tokyo, Nagoya or Osaka, etc., by Bullet train called Shinkansen.
Kakegawa Station to Ryokan
11:20 → 11:50
15:20 → 15:55
17:20 → 17:55
Ryokan to Kakegawa Station
8:20 → 8:55
10:20 → 10:55

Rooms I would recommend?
If you are going to stay here, I would recommend booking a deluxe room with views of the garden in Fujidono Wing or Hagidono Wing.  It's well worth staying here.  You can chill out in the room while seeing a beautiful traditional garden.  That's precious time.  On the other hand, I wouldn't recommend staying in standard rooms as they tend to be cramped.  Also if you don't want to sleep on Japanese-style mattresses in tatami rooms, you should book a room with twin beds in Fujidono Wing.  Overall, facilities tend to be a bit outdated, but well-maintained.  The housekeeping was excellent.
How about toiletries & in-room amenities?
The free Wifi reception was good.  All of the amenities are taken care of including enough toiletries, samue outfits, a green tea set, a complimentary mini-bar including German beer and wine, and welcome sweets, etc.  A coffee machine with capsules, a DVD player, and an air cleaner were placed in our room.  There are L'Occitane amenities in the bathroom.  Room service is not available.  There is no convenience store nearby.  You may want to buy your necessities before coming here.
How about In-house Facilities?
The property is not a universal design.  Wheelchairs are available for borrowing, though.  There is no lift.  There are some steps.  If you bring people with weak feet, you may want to request a room on 1F near the entrance.  Then there are wonderful indoor and outdoor communal baths.  They are not hot springs, but the ambiance is surprisingly charming and quaint.  Also, there are mist saunas.  All of them are open from 6:00-9:00, 15:00-23:30.  *Please note that if you have tattoos, you may not be permitted to use the communal bathing area.  Then there is a swimming pool in the garden.  It's available between late July and late Aug.  Swimwear, swim cap, and swimming ring, etc., are not available for rent.  You need to bring your own.
  TOP5 Accessible Hotels & Ryokans in Izu & Atami
How about meals?
The Japanese kaiseki food experience was wonderful.  All ingredients were so fresh, tasty, and exquisite.  The portion tends to be average.  Then western Japanese buffet-style breakfast was good, but not so extensive.  All meals are served in a dining area or a private room.  You can have meals while viewing a peaceful garden.  Dinner starts between 17:30 and 19:00.  Breakfast time is from 6:50 to 10:00.  *Please note that inform the staff when you book a room with meals if you have any food allergies.  They probably wouldn't be able to prepare alternative food if you request on that day.  Then there is no restaurant around the property.  The location is out of the way.  You may want to book a room including meals.  Then, after dinner, don't forget to visit Yamaha's high-end audio lounge.  There are great sound facilities.  You can bring your favorite CDs and records.  Relax here while listening to music.  Then after breakfast don't forget to take a walk in the large garden.  Beauties show up in each season on-site.
My impressions
Overall, the property has great value for money if you are keen on Japanese culture.  You may feel like a lord while taking a walk on the property.  You will have an unforgettable time in your life.  Have a nice trip!  Welcome to receive any questions about Yamaha Resort Katsuragi Kitanomaru from the below space.  *Due to the coronavirus, the property is temporarily closed until the 31st of May.  Check Availability and Pricing for the property on Agoda or Booking.com
Infor about Yamaha Resort Katsuragi Kitanomaru
Style

Modern Japanese Ryokan

Guest Rating

15:00/11:00

Estimated Price

50,000 JPY for 2 adults per room

Contact

Call at 0538-48-6118

Internet Connection

Free wifi in the ryokan

Facility Information

Wheelchairs are available


Pets are not allowed
The free parking lot is available 


Location

Yamaha Resort Katsuragi Kitanomaru's MAP

Access

Free shuttle bus from Kakegawa station
You need to book by 3 days before check-in date


Address and TEL

2505-2 Ugari, Fukuroi-City, Shizuoka 437-0121
Tel +81-538-48-6118

Official Homepage

Yamaha Resort Katsuragi Kitanomaru's HP
*All information above is as of the date that I posted on my blog.