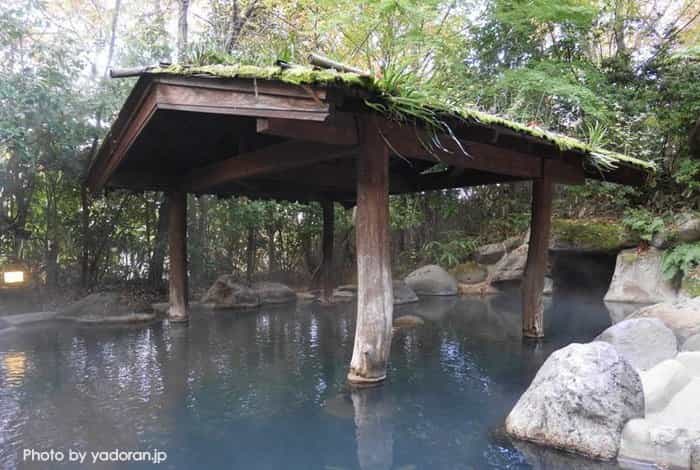 This is my cup of tea.  If you are looking for a rejuvenating and refreshing oasis in Kurokawa Onsen, I think you should stay at Ryokan Kono-Yu.  Perhaps if you are looking for rooms with large private hot springs, I would highly recommend it.  Also,

this is child-friendly

.  If you bring small children or elderly people, you should stay here.  Most of the ryokans in Kurokawa Onsen tend to have many steps, but Ryokan Kono-Yu has some universal design rooms of the single-story type with large private hot springs.  The rooms are very cozy.  On the other hand, if you want to enjoy hanging out around the onsen town in Yukata whenever you like, this is not.  The property is 5min drive away from the center of Kurokawa Onsen.  Free shuttle service is available, though.  The ambiance is family-oriented, tranquil, and friendly.  The property would be great for a family with children, small groups, or couples.  If you are going to stay here, you may want to book a superior room of the single-story type.  The décor is "Japan minimalistic", but truly relaxing.  There is a large private hot spring with peaceful village views.  We spent a lot of time jumping in and out of our private one.  You can relax in the bath while viewing the countryside landscapes.  Other rooms of the Maisonette type wouldn't be special.  Then all of the amenities are taken care of including enough toiletries, yukatas, pajamas, drip coffee bags, a green tea set, and Japanese sweets, etc.  A massager, a DVD player, and a humidifier were placed in our room.  Also, staff can provide baby cribs, meals, yukatas, and amenities for small children if you request in advance.  

Free WiFi reception was available in the lobby only

.  There is a vending machine for drinks on-site.  There is no convenience store nearby.  You might want to buy your necessities before coming here.  Then there are some amazing large communal hot springs in-house.  They are open from 7:00-22:00.  On top of that, there is an awesome outdoor private family hot spring with nice views.  You need to book it in advance.  You might want to check in earlier for better time selections if you want to use it.  "First come, First served"  It's complimentary.  It's open from 7:00-9:00, 15:00-22:00.  The spring quality in jade green color is simply wonderful.  *

If you have tattoos, you may not be permitted to use the public bathing area

.  Then kaiseki food using a lot of local ingredients was simply wonderful.  The portion tends to be big.  Don't forget to bring your empty stomach.  All meals are served in a dining area.  If you bring small children, basically they are served in a private room.  *

Please note that inform the staff when you book a room with meals if you have any food allergies

.  They probably wouldn't be able to prepare alternative food if you request on that day.  Then, as far as I know, there wouldn't be restaurants for dinner around the property.  The location is out of the way.  You may want to book a room including meals.   Then all staff is very warm, helpful and proactive.  We were so impressed with their hospitality.  Overall the property has good value for money.   It was a very pleasant stay.  Then the best season to stay here would be in spring or fall.  You can see awesome views while soaking in the hot springs.  On the other hand, I wouldn't recommend staying in the summer season as there would be many bugs around the outdoor hot springs.  Ryokan Kono-Yu is surrounded by rich nature.  It cannot be helped.  At last, the property has 9 rooms only and there are many return guests all year round.
  If you want to relax in a tranquil atmosphere, you might want to avoid staying during Lunar New Year, late April to early May, weekends in Oct & Nov, and the end of the year and New Year holiday.  Have a nice trip!  Welcome to receive any questions about the property from the below space.  *All information is as of the date that I posted on my blog.  **

Check-in and out times 3:00 PM/10:00 AM

You need to inform staff of your expected arrival time

.  ***Free shuttle service is available from Kurokawa Onsen Bus Stop.  You need to book it in advance.  
Check Availability and Pricing for the ryokan on

Booking.com

or

Agoda
Info about Ryokan Kono-Yu
Style

Villa-style ryokan

Guest Rating

Superb 9.3

Estimated Price

48,000 JPY for 2 adults per room

Contact

Call at 81 967 48 8700 from overseas
Call at 0967 48 8700 domestic Japan


Internet Connection

Free wifi at the lobby only

Facility Information

Wheelchairs are available in some rooms
Pets are not allowed


The free parking lot is available




Location

Ryokan Kono-Yu's MAP

Access

Free shuttle service from Kurokawa Onsen bus stop.


Address and TEL

6784, Manganji, Minamioguni-machi Aso-gun
Kumamoto 869-2402  Tel +81 967 48 8700

Official Homepage

Ryokan Kono-Yu's HP
You may be interested in other places near Kurokawa Onsen.