What kind of onsen ryokan is Takefue?

This is definitely one of the best in the world.  No doubt this is top-notch.  It's like you're in another world.  An architecturally distinguished property with bamboo forests is amazingly unique.  If you want to experience authenticity and luxury at once, you should stay here.  On the other hand, if you want to enjoy hanging out around Kurokawa Onsen in Yukata whenever you like, this is not.  The location is a 10min drive away from the center of the onsen town.  The property would be great for couples, solo travelers, family, or small groups.  There are 12 rooms only.  Each room has an impressive private hot spring.  The spring quality is really awesome, like skin lotion.  We never met other guests even though the property was fully booked.  Absolutory it completely emphasizes private experiences for each guest.
  TOP5 Ryokans with Private Onsen in Kurokawa Onsen

Is the location easy to access?
Free shuttle service is available from Kurokawa Onsen Bus Stop.  You need to book it in advance.
Rooms I would recommend?
If you are going to stay here, I would recommend rooms called "Tenku", "Sayo", or "Yutukiyo".  You can view quite mysterious bamboo forests from the rooms all day.  Everything, such as furniture, interior, and décor are amazingly sophisticated.  Facilities including home appliances are the latest.  Free Wifi reception was good when we stayed in 2017.
How about toiletries & in-room amenities?
All of the amenities are taken care of including enough toiletries, yukatas, samue outfits, bathrobes, a complimentary mini-bar including beer, a coffee machine with capsules, and a green tea set, etc.  There are L'Occitane and HERMES amenities in the bathroom.  A DVD player, a Blu-Ray player, and a tablet were placed in each room.  Also, there are colorful yukatas that you can choose from.  On top of that, complimentary milk, ice cream, and Japanese sprite, etc., were available.  It couldn't be better.  Room service is available until 22:00.  Also, this is child-friendly.  Staff provides meals, yukatas, and amenities for small children.
How about In-house Facilities?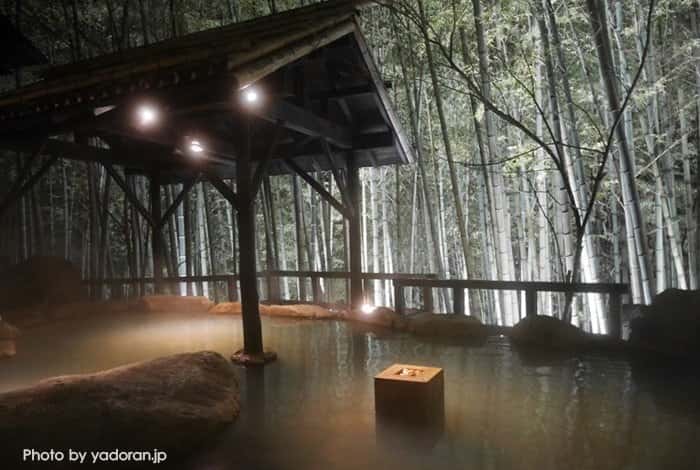 There are a lounge and a bar.  Then you have free access to three private family hot springs.  You need to book them in advance.  There is no communal hot spring.  All of them are open from 8:00-24:00.  Then the property is not a universal design.  If you bring people with weak feet, I wouldn't recommend it.  There are many steps in-house.  Then there is no convenience store nearby.  You might want to buy your necessities before coming here.
  TOP5 Accessible Ryokans in Kurokawa Onsen

How about meals?
Kaiseki food for dinner and breakfast was just divine.  All ingredients were very high-end including fish, beef, vegetables, and beautiful presentation.  The portion tends to be big.  After dinner, some rice balls for a night snack were served.  Then you can choose either Western or Japanese cuisine for breakfast.  You need to inform staff in advance if you request western cuisine.  All meals are served in your room.  Dinner starts from 18:00, 18:30, or 19:00.  Breakfast starts from 8:00, 8:30, or 9:00.  They can also prepare for lunch if you order in advance.  *Please note that inform the staff when you book a room with meals if you have any food allergies.  They probably wouldn't be able to offer alternative food if you request on that day.  Then there is no restaurant around the property.  The location is out of the way.  You may want to book a room including meals.  Then after dinner, don't forget to join a night concert at the courtyard illuminated.
My impressions
All staff is very warm, exquisite, and proactive.  The high-quality customer service touched our hearts.  If there were 10 stars to rate this property, Takefue would get 10.  A one-night stay wouldn't be enough.  Visiting the property will be something that you remember for the rest of your life.  Then it wouldn't be easy to book rooms all year round, especially weekends.  If it's fully booked, I would also recommend Kurokawa Onsen Gosyo Gekkoujyu.  Have a nice trip!  Welcome to receive any questions about the property from the below space.   Check Availability and Pricing for the ryokan on HP
Info about Takefue
Style

Modern Japanese Ryokan

Check-in and out times

15:00/10:30 or 11:00


Estimated Price

200,000 JPY for 2 adults per room

Contact E-mail


info@takefue.com 

Internet Connection

Free WiFi reception in the property


Facility Information

Wheelchairs are not available
Pets are not allowed
The free parking lot is available
Valet Parking is not available


Location

Takefue's MAP

Access

Free pick-up service from Kurokawa Onsen Bus Stop
Need to book it in advance. 

Address and TEL

5725-1 Manganji Minamiogunicho Asogun
Kumamoto 869-2402  Tel +81 570-064-559

Official Homepage

Takefue's HP
*All information above is as of the date that I posted on my blog.
You may be interested in other places near Kurokawa Onsen.