What kind of onsen ryokan is Yamashinobu?
This is my cup of tea.  If you are looking for very cozy mountain huts with hot springs, you should stay here.  The location is deep in the mountains.  The surrounding neighborhood would be so quiet even though there are so many tourists in Kurokawa Onsen.  The location is a 5-minute drive away from the center of Kurokawa Onsen.  Once we entered the property, we felt that we were being pulled into old-Japan.  Then the staff was very warm, helpful, and friendly.  Sincere and wonderful hospitality greeted us the moment we started parking our car.  We were escorted to a beautiful tatami room with a small garden, and then Ohagi *rice ball coated with sweetened red beans with Japanese green tea was served.  The ambiance is serene, charming, and quaint.  Yamashinobu would be great for couples, solo travelers, small groups, or family.
TOP5 Ryokans with Private Onsen in Kurokawa Onsen
TOP5 Authentic Ryokans in Kurokawa Onsen

Is the location easy to access?
Free shuttle service is available from Kurokawa Onsen Bus Stop or Tsuedate Onsen Bus Stop.  You need to book it in advance.
Rooms I would recommend?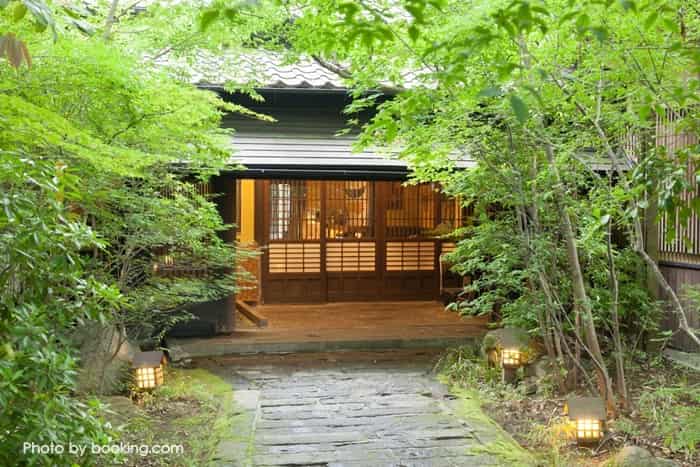 If you are going to stay here, I would recommend cottage rooms with private indoor and outdoor hot springs.  The rooms are very spacious, Japanese minimalistic, and relaxed.  You can chill out at the private baths while viewing a lovely small garden whenever you like.  If this is your first time staying at the ryokans, you may want to stay rooms in the new building as facilities tend to be the latest.  Also if you bring small children, I would recommend rooms with small kitchens installed in the new building.  Then if you are a light sleeper, you may want to stay in a cottage room as it would be quiet.  The wooden building has no soundproofing system.  Your ear may catch some noise from next door.  Also, there is no room with western beds.  If you don't want to sleep on Japanese mattresses called futon, you may want to find others.
How about toiletries & in-room amenities?
Free WiFi reception was good in the property when we stayed in Aug 2019.  All of the amenities are taken care of including minimum toiletries, tea bags, pajamas, yukatas, a drip coffee set, and a Japanese tea set.  The housekeeping is excellent.  Also, this is child-friendly.  Staff provides yukatas, meals, and amenities for small children if you request.  Room service is not available.
TOP5 Ryokans for Families in Kurokawa Onsen

How about In-house Facilities?
There are great indoor and outdoor communal hot springs.  Also, there are 3 private family hot springs that you can use whenever they are not occupied.  All of them are open for 24H.  You should try all of them.  The spring quality is truly amazing, very creamy, smooth, and moist.  *If you have tattoos, you may not be permitted to use the public bathing area.  Then there is no convenience store nearby.  You may want to buy your necessities before coming here.   Also, there is a very cozy library, a fireplace, and an observatory.  Then Yamashinobu is almost universal design.  Wheelchairs are available for borrowing.  If you bring people with weak feet, you may want to inform the staff in advance as they can arrange a room near the lobby.
TOP5 Accessible Ryokans in Kurokawa Onsen

How about meals?
The local food experience for dinner and breakfast was wonderful.  All local ingredients are so fresh, tasty, and exquisite.  After dinner, some rice balls were served in our room for a night snack.  The portion size tends to be average.  All meals are served in a dining room.  Dinner starts from 18:00 or 18:30.  You need to check-in by 18:00 if you have dinner on the property.  Breakfast starts at 8:30 or 9:30.  *Please note that inform the staff when you book a room with meals if you have any food allergies.  They probably wouldn't be able to prepare alternative food if you request on that day.  Then, as far as I know, there is no restaurant around the property.  Local papa-mama shops are closing early.  You may want to book a room including meals.  Then after dinner, don't forget to visit the fireplace.  Complimentary Japanese sake and roasted green tea are available from 19:00-22:00.  The ambiance was great for adults.  Also, don't forget to visit the observatory to watch a sky full of stars from 21:00 in good weather.  There is a stargazing party by using an astronomical telescope every night.
My impressions
All staff is excellent.  If you want to experience a signature Japanese hospitality in Japan, you should stay here.  Overall, the price range would be reasonable.  The venue would be a perfect place if you want to escape the hustle and bustle of city life.  We would return again.  At last, there are many narrow mountain roads.  There is no traffic light.  There are few street lights around here.  I would recommend using public transportation instead of a personal car.  Have a nice trip!  Welcome to receive any questions about Yamashinobu from the below space.   *The maximum length of stay is 2 nights.  **If you check-in after 17:00, you need to inform the staff in advance.  Check Availability and Pricing for the ryokan on Booking.com or Agoda
Info about Yamashinobu
Style

Traditional Japanese

mountain hut

Check-in and out times


15:00/10:00

Estimated Price

36,000 JPY for 2 adults per room

Contact E-mail

 Fill in the form

Internet Connection

Free wifi in the ryokan

Facility Information

Wheelchairs are available




Pets are not allowed




The free parking lot is available

Location

Yamashinobu's MAP

Access

Free pick-up service from

Kurokawa Onsen Bus Stop

Address and TEL

Official Homepage

Yamashinobu's HP
*All information above is as of the date that I posted on my blog.