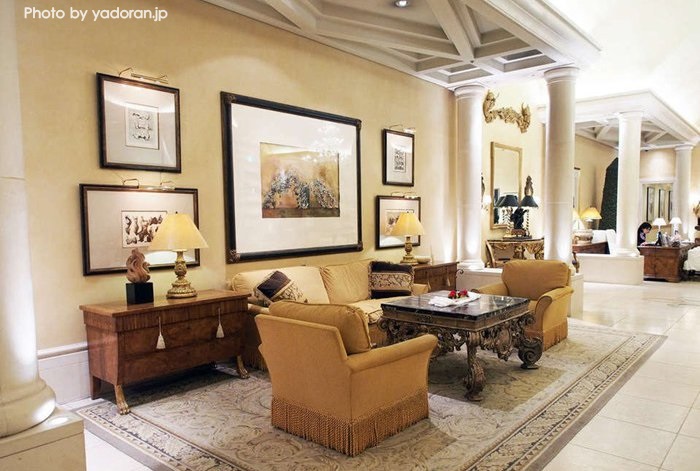 A luxurious hotel that reminds you of a European residence in the Medieval Ages. The hotel is conveniently located in the bustling retail and commercial district of Umeda in Osaka City.  The hotel's design concept is based on the luxurious mansions of old Europe and this is reflected in the sumptuous hotel decor and gives each guest room the same qualities of a suite.
This wouldn't be luxury, but the ambiance would be very cozy. The building including facilities tends to be dated. If you are going to stay here, I would highly recommend booking luxury rooms on the Luxury floors, on 32F or higher floors.  They were renovated in June 2018.  That's amazing. If you stay here during slow seasons, the property really has a good value of money.  That's why the hotel is very popular among local people staying for refreshments.  The ambiance tends to be very lively in the lobby.  Also, there is no special service, no gym, no club lounge, no spa, no swimming pool unless you pay for an extra charge.  However, we got high satisfaction without any additional ones when we recently stayed here.  Because a room on 32F had a nice view, the latest facilities, and new furniture set up everywhere. Also, the food experience for breakfast was wonderful. There was a great selection of dishes.  *If you have specific requests, you might want to inform staff in advance before you arrive here.  The location tends to be inconvenient from

JR Osaka station

.  If you are the first time to visit here, you might want to take a taxi from the station as you may get lost on the way to go.  It wouldn't be easy to find an entrance to the property.  Taxi fare is just around 700yen.  Then, there are a lot of local restaurants around the hotel.  You must visit "

Kappa Yokocho

" nearby where there are unique local restaurants.
Anyway if you expect a 5-star service with wonderful facilities in-house, I would rather recommend staying at

The Rize Carlton Osaka

.  Maybe Hotel Hankyu International would be a 4-star. T hen please note that the accommodation fee would be ridiculously high during busy seasons. Don't book a room during the seasons.  Then the best season to stay in Osaka would be except the summer season, in early July to mid-Sep.  You won't be able to go out for sightseeing in the daytime during the season.  The temperature in Osaka often rises to nearly 40 degrees. If you bring small kids or elderly people, absolutory I wouldn't recommend visiting here during summer.  It would be very hard to walk outside under the blazing sun.  On top of that, it's typhoon season in late Aug to mid-Sep.  That's why, if you plan to visit Japan during the season, I would rather recommend going to summer resorts near Osaka, such as

Nagano

,

Arima Onsen

,

Takayama

, etc., You would be able to chill out at the resorts in rich nature more than you stay in Osaka city.  Have a nice trip!  Welcome to receive any questions about the property from the below space.  *All information is as of the date that I posted on my blog.  Check Availability and Pricing for the hotel on Booking.com or Agoda
You may be interested in other places near Osaka.