What kind of hotel is Hilton Tokyo Odaiba?
This is a resort-style hotel with amazing ocean views in Tokyo.  I was impressed to see the breathtakingly beautiful and sparkling cityscape of Tokyo, Tokyo Tower, and Rainbow Bridge at the same time.  There are some luxury hotels in the Odaiba area, but the hotel would be the best.  Because the night views would be much more beautiful than from any other hotels.  On top of that, this is probably only the luxury hotel in the Odaiba area that has all rooms with balconies.  It's great to be able to relax on the balcony with a glass of champagne in hand while enjoying the night view.
  TOP5 Luxury Hotels with Great Views in Tokyo
  TOP5 Luxury Hotels with Balconies in Tokyo

Then if you want to enjoy shopping in Tokyo, the property would be convenient.  There are some big shopping malls around here.  The ambiance is cozy.  It would be a perfect venue if you hang out around there while viewing a beautiful Rainbow Bridge.  Also if you plan to visit Tokyo Disney Land, I would recommend staying here as a free shuttle service is available.

On the other hand, if you have a lot of plans or are staying in Tokyo for business, this is not for you.  Access to Tokyo Station, Shinjuku, Shibuya, etc. would be a bit inconvenient.  It takes 30min from Tokyo Station, 40min from Shinjuku Station, 35min from Shibuya Station.
Overall the property has great value for money, so it would be popular all year round.  The hotel wouldn't be luxurious, but very cozy.  It would be great for families with children, groups, or couples.
Is the location easy to access?
The location is near Daiba Station, just a 5min walk.  The property is connected to the station.  Free shuttle service is available from Tokyo Teleport Station.  It takes 10min on foot from the station. 
Then the airport limousine bus from Haneda or Narita airport to Hilton Tokyo Odaiba is available.  It takes 20min from Haneda Airport and 75min from Narita Airport. 
Then, a free shuttle service is available from the hotel to Tokyo Disneyland.  You need to book it at the reception by 1 day in advance.
Where is the best accommodation for anniversaries?
If you are looking for a good place for a special occasion in Tokyo, the property would be one of the best. The staff arranges flowers and cakes to celebrate an anniversary at additional charges if you request in advance.  Then it seems that there are many families with children on weekends and Japan's public holidays.  If you are a romantic couple, you might want to stay on weekdays.
  TOP5 Romantic Luxury Hotels in Tokyo

Rooms I would recommend?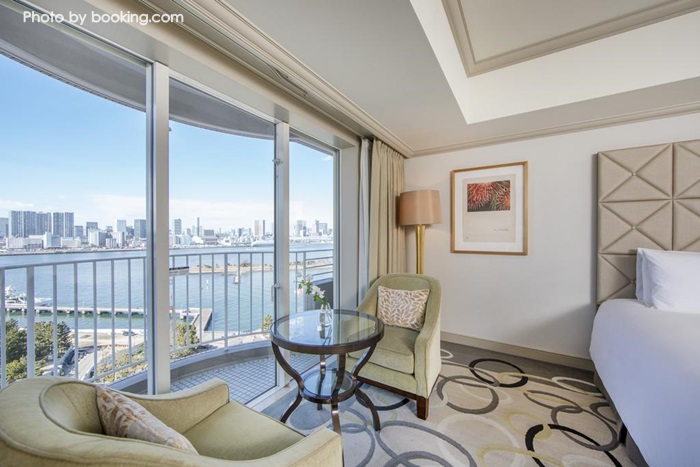 If you are going to stay here, I would recommend an executive room with views of Tokyo Bay & Rainbow Bridge, and access to the executive lounge on 3F.  If you have access to the lounge, you can check-in and out here.  You wouldn't need to make a line when you check-in and out, and when you have breakfast at Seascape Terrace & Dining on 2F. 
On the other hand, I wouldn't recommend the rooms on the Shiokaze Park and Shinagawa-Ohi side because they don't have nice views.
How about the executive lounge on 3F?
If you stay in an executive, suite room or a member of Hilton Honors diamond, you can get access to the lounge.
Once we arrived at the property, we were escorted to the lounge on 3F and smoothly checked in.  It seems that the reception is often crowded. 
Also, the lounge has beautiful ocean views in good weather.  You can chill out here while having coffee and cake.  That's precious time.
It's Open between 6:30 and 21:00
Breakfast  6:30-10:00 weekdays, 6:30-10:30 weekends and public holidays
Afternoon tea  14:30-17:00
Cocktail Time  17:30-19:30
Overall, the food presentation wouldn't be special and not so extensive if compared to other 5-star hotels but the lounge has a wonderful large terrace.  We love the place. It's well worth a visit.

Then you can choose from the lounge or the restaurant on 2F for breakfast.
Complimentary coffee, Ronnefeldt tea, apple tart, raspberry cake, dry fruit, and chocolate chip muffin, etc., are available for afternoon tea. 
Complimentary beer, wine, shochu, whiskey, cocktail, gin, vodka, brandy, coffee, fresh juice, salad, camembert cheese, cracker, vegetable chips with 6 kinds of dipping sauces, Spanish omelet, Lasagna, fish stew and finger food, etc., are available for the Cocktail time. 
The lounge feels like a different place at night.  The nighttime view is gorgeous, romantic, and awesome.
  TOP5 Luxury Hotels with Club Lounges in Tokyo

Is this child-friendly?
Yes, staff provides amenities, pajamas, cribs, bed rails, and toys, etc., if you request in advance.  Also, staff warms up baby food if you bring it at the reception.  *One child (ages 5 and under) per adult will be free of charge for co-sleep.
  TOP5 Luxury Hotels for Families in Tokyo

How about toiletries & in-room amenities?
All of the amenities are taken care of including enough toiletries, pajamas, bathrobes, a coffee machine with 3 capsules, welcome fruit and chocolates, bottled water, cup noodles, and a green tea set.  There were KOSE skincare products in our bathroom.  You can borrow humidifiers, cell phone chargers, power transformers, DVD and CD players, etc.  Room service is available from 6:00-25:00.  There is a convenience store nearby. 
If you register for Hilton Honors, you can use the Wi-Fi reception for free.  You need to get a password on 2F.  The procedure was a bit troublesome when I stayed.  On top of that, the reception was so slow.  Apart from this, Odaiba free wifi is available.  Refer to the info.

How about In-house Facilities?
Overall, facilities tend to be outdated, but the housekeeping was good. 
There is an indoor swimming pool, indoor and outdoor Jacuzzis, saunas, and a gym, etc., on 5F.  They cost 3,000JPY.  All of them are open between 10:00 and 23:00.  Only the gym is open for 24H and all hotel guests can use it for free.  You can rent swimwear, swim caps, swim goggles, sportswear, and shoes, etc.
Then this is pet-friendly.  If you bring your dogs or cats, you need to inform the staff in advance.  There are some conditions.  Pet concierges are available.  *Please note that you cannot use the executive lounge with them.  **Up to 34 kilograms
  TOP5 Dog-Friendly Luxury Hotels in Tokyo

Then this is a perfect universal design.  There are some accessible rooms.  Wheelchairs are available for borrowing.  If you bring someone with weak legs, you may want to inform the staff in advance as they can arrange a room near the lift.
  TOP5 Accessible Luxury Hotels in Tokyo

My impressions
Overall the hardware is good, but the software would be patchy.  Some staff looked tired.  It seems that there is a shortage of staff during the busy season.  If you expect 5-star hotel service, this is not. 
Then if you plan to stay here, you might want to avoid during Lunar New Year, late April to early May, the Mid-autumn festival, and the end of the year and New Year holiday.   The property would be so busy during the above periods. 
At last, don't forget to check the weather forecast before booking a room.  If it's fine, just go ahead.  Have a nice trip!  Welcome to receive any questions about Hilton Tokyo Odaiba from the below space.  Check Availability and Pricing for the hotel on Booking.com or Agoda
Info about Hilton Tokyo Odaiba
Style

Resort-Style Hotel

Check-in and out times


15:00/12:00

Estimated Price

30,000 JPY for 2 adults per room

Contact E-Mail Address


Fill the form in




Internet Connection

Free Wifi in the hotel
if you register for Hilton Honors

Facility Information

Wheelchairs are available


Pets are allowed
The parking lot is available at 1,600JPY per day


Location

Hilton Tokyo Odaiba's MAP

Access

connected

Daiba Station




Address and TEL

+

81 Tel

Official Homepage

Hilton Tokyo Odaiba's HP
*All information above is as of the date that I posted on my blog.