What kind of hotel is HOSHINOYA TOKYO?
This is very unique.  I think there are different tastes. Some people will like it, some people will not.  If you are looking for a luxury modern ryokan adventure in Tokyo, I would recommend it.  Perhaps, if you get tired of staying at typical luxury 5-star hotels in Tokyo, you may want to stay here.  This is not "Pure Japan", but it's much more unique, creative, and like a Japanese-style contemporary art museum. 
Then we took off our shoes at the entrance and the staff put them in a shoe locker which is made from bamboo.  This is the same way as Ryokans.  That's interesting.
  TOP5 Luxury Modern Japanese-Style Hotels in Tokyo

On the other hand, if you want to see dynamic Tokyo city views from hotels, this is not for you.  The building tends to be low if compared to others.
  TOP5 Luxury Hotels with Great Views in Tokyo

The location is near the Imperial Palace, Marunouchi, Tokyo Station, Ginza, etc.
  TOP5 Luxury Hotels near Tokyo Station and Marunouchi
The hotel would be great for business persons, solo travelers, or couples, but not families with small children.
Is the location easy to access?
Yes, it takes just 3min on foot from Exit A1 or C1 of Otemachi Subway Station.  Alternatively, it takes 20min on foot from Tokyo Station.  It takes 10min by TAXI from the Marunouchi Central Exit of Tokyo Station.  It costs around JPY1,000.  *Please note that if you take a taxi, go to Otemachi Financial City Grand Cube on the B2 floor.  You can find a porte-cochere of the hotel.  The B2 floor of this building is connected to Hoshinoya Tokyo.  Most of the taxi drivers may not know it. 
Then the parking lot on B2 Floor of Otemachi Financial City Grand Cube is available at 5,500JPY per day.

How was our room?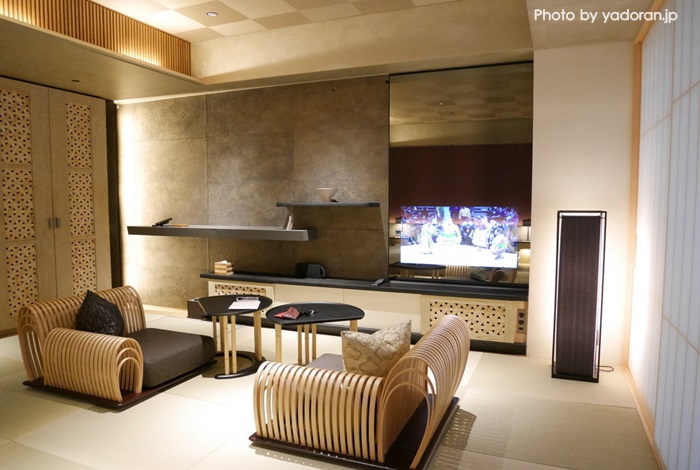 The ambiance was serene, sophisticated, and stylish.  The modern interior made from bamboo creates a mature impression.  It's overall darker which would be more suitable for couples.  TV is embedded in the mirror in front of the bed.  We didn't notice until we turned it on.  Facilities tend to be the latest.  The room tends to be cramped for this price range.  There is no view from the room because the building is covered by the Edo-komon motif of lattice windows.  Depending on the direction of the sun, the silhouette of the lattice suddenly appears on the wall of the room, like a shadowgraph.  What a magical place!  The room suddenly has a characteristic mysterious atmosphere.  If you are going to stay here, don't forget to check the weather forecast before booking a room.  If it's cloudy or rainy, you wouldn't be able to see interesting silhouettes while chilling out in your room.
How about toiletries & in-room amenities?
All of the amenities are taken care of including enough toiletries, pajamas, and kimono-style outfits, and a Japanese tea set, etc.  You can travel light.  Also, each floor has a Japanese-style lounge to relax while drinking complimentary Japanese sake, beer, wine, Japanese sweets, snacks, cup noodles, and popsicles, etc.  I saw several people working here.  Room service is available for 24H.  The Free Wi-Fi reception was excellent on the property.  There are some convenience stores nearby.
How about In-house Facilities?
There are some interesting activities available.  If time allows, you should join them.  Then, the indoor communal hot springs on 17F are available.  The water temperature tends to be lukewarm.  The spring quality was nice even though the location is in the center of Tokyo more than I expected.  All of them are open from 15:00-11:30 the following morning. 
*If you have tattoos, you may not be permitted to use the communal bathing area.  Unlikely, there is no room with private hot springs on the property. 
Then this is a universal design.  Wheelchairs are available for borrowing.  You might want to inform staff in advance if you bring someone with weak legs as they arrange a room near the lift.
  TOP5 Accessible Luxury Hotels in Tokyo

How about meals?
The food experience for breakfast was just OK.  Only some rice balls and miso soup were served at the lounge.  If you are a gourmet, or you want to have a proper breakfast, you should order room service for breakfast.  You can choose either Western or Japanese cuisine for breakfast.  Also, there are some room service menus for dinner as well. The hotel is located in the financial district.
Then if you have dinner at the Japanese restaurant on the property, you need to book a table by the day in advance.  The restaurant is reservation-only.  Alternatively, you can go out for meals as there are many restaurants and cafés around here. 
*Please note that most of them are closed every Saturday, Sunday, and Japan's public holiday.  You may want to go around Tokyo Station, Ginza or Hibiya, etc.  The hotel is located in the financial district.
My impressions
Overall, the hardware is outstanding, but the software, personnel, and service were not of the same class and still have a long way to go when we stayed in 2018.  Therefore, if you expect 5-star hotel service, you may feel a bit disappointed.  On top of that, it would be a bit pricey even though the location is in a boring business district. 
If you want to go to a hot spring resort close to Tokyo, such as Hakone, Atami, Izu, etc., but don't have the time to visit, in that case, I would recommend staying here. 
At last, the property is located near the Imperial Palace.  You should take a walk around there in the early morning. Check Availability and Pricing for the hotel on Agoda
Info about HOSHINOYA TOKYO
Style

Luxury Modern City Hotel

Check-in and out times


15:00/12:00

Estimated Price

90,000 JPY for 2 adults per room

Contact

Call at +81 3-6214-5151 from overseas
Call at 03-6214-5151  from domestic


Internet Connection

Free Wifi in the hotel

Facility Information

Wheelchairs are available




Pets are not allowed


The parking lot is available at 5,500JPY per day


Location

HOSHINOYA Tokyo's

MAP

Access

3min walk from Exit A1 or C1 of

Otemachi Subway Station


15min walk from Tokyo station


Address and TEL

+

81 50-3786-1144

Tel

Official Homepage

HOSHINOYA Tokyo's

HP
*All information above is as of the date that I posted on my blog.