What kind of hotel is Hotel Chinzanso Tokyo?
This is one of the best luxury classic Hotels in Japan.  If you are looking for a luxury hotel with a beautiful traditional garden view in Tokyo City, I would recommend it.  It's not as sophisticated and fancy as most new luxury hotels, but it's one of those great luxury hotels that has inherited its history and tradition in Tokyo.

Then this is a spectacular place to take a walk in the large garden.   Most of the guests look forward to the view of the garden, which shows the changing scenery with the seasons.  With cherry blossoms along the river in spring, fireflies in summer, autumn leaves from autumn to winter, it is an amazing garden to visit in any season.

Then the hotel creates "Tokyo sea of clouds" in the garden several times a day.  The veil of mist released and a lot of lights give the garden a magical atmosphere.  You would feel as if you've wandered into a world in the sky.  It's well worth a look.  If you are interested in Japanese-style gardens, I would recommend you to stay here.
  TOP5 Luxury Hotels with Traditional Gardens in Tokyo

On the other hand, if you have lots of activities or attractions in Tokyo city, you might want to stay near Tokyo Station, etc.  The hotel of the location is inconvenient unless you take a taxi.  It takes 10min on foot from Edogawabashi Station.  Also, there is a steep slope on the way to the property.  Then if you are looking for a luxury hotel with a spectacular Tokyo city view, this is not for you.  You won't get the night view of the skyscrapers that you're expecting.
  TOP5 Luxury Hotels near Tokyo Station and Marunouchi
  TOP5 Luxury Hotels with Great Views in Tokyo

The hotel would be great for couples, families, small groups, business persons, or solo travelers.
Is the location easy to access?
The location is near Mejiro Station.  It takes 10min by TAXI and costs around 1,000JPY.  Alternatively, it takes 10min on foot from Edogawabashi Station.  There are no cab stands at Edogawabashi Station, but you will probably be able to find a cab on the surrounding streets.  It costs JPY500.

Free shuttle service is available from West Gate Stop No. 7 of Ikebukuro Station every Saturday, Sunday, and Japan's public holidays ONLY.  If you take a taxi from the station, it takes 20min and costs JPY1,500.

JFYI, it takes 25min by taxi from Tokyo Station and costs JPY2,500.  It takes 60min by taxi from Haneda Airpot and costs around JPY8,000.
The parking lot is available at JPY1,000 per day.
Where is the best accommodation for anniversaries?
If you are looking for a good place for a special occasion in Tokyo, the property would be one of the best. The staff arranges flowers and cakes to celebrate an anniversary at additional charges if you request in advance.
  TOP5 Romantic Luxury Hotels in Tokyo

Rooms I would recommend?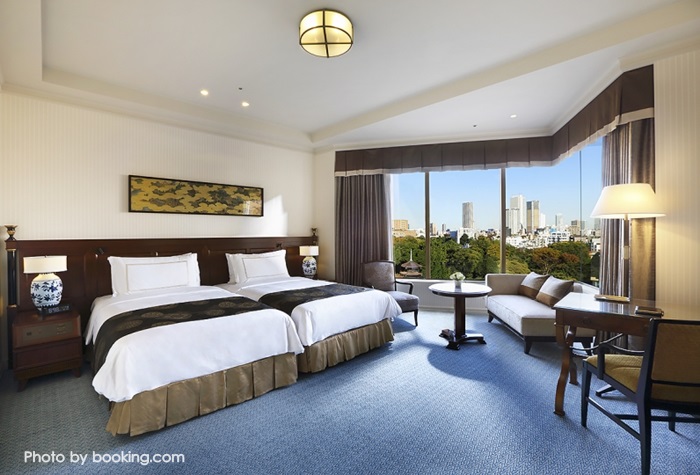 If you are going to stay here, I would recommend a room with garden views on the highest floor possible.  You can chill out in a room while viewing a beautiful garden.  Also, you can watch early in the morning as the mist of the sea of clouds is rising from the garden.  This is truly interesting!  On the other hand, I wouldn't recommend a room with city views as it is not special.
How about PAGODA lounge on 12F?
If you stay in a suite, you can access the lounge, but there is no food presentation and no staff.  Mineral water from around the world is displayed.  Also, some kinds of coffee are available. 
Is this child-friendly?
This is perfect child-friendly.  The staff offers cribs, extra beds, baby baths, baby food, baby snacks, toys, strollers, amenities, baby powder, picture books with crayons, etc., if you request in advance.  All of them are complimentary.  Availability is limited, though.  It couldn't be better.

The babysitter service is available at an additional charge. 
One child (ages 11 and under) per adult will be free of charge for co-sleep.
  TOP5 Luxury Hotels for Families in Tokyo

How about toiletries & in-room amenities?
All of the amenities are taken care of including enough toiletries, yukatas, samue outfits, bathrobes, a coffee machine with capsules and a Japanese tea set, etc.  There were L'Occitane bath amenities and KOSE skincare products in our bathroom.  You can travel light.  Room service is available for 24H.  Free Wi-Fi reception was good but it tends to be a bit slow between 7:00 and 10:00, 19:00, and 22:00 when we stayed in 2017.  Room service is available for 24H.  Turn down service is available.  The room comes with a free smartphone that you can do a lot on.  That includes order food and shut the blinds plus more.  Then there is no convenience store nearby.  You may want to buy your necessities before coming here.  *Please note that food and drink from outside are prohibited.

How about In-house Facilities?
There are nice indoor hot springs, a swimming pool, a jacuzzi, saunas, and a gym.  It costs 4,400JPY for adults, 2,200JPY for children.  If you use hot springs only, it costs JPY2,200.  Only the fitness gym is available for free.  *Please note that visible tattoos are not allowed in the spa area.  **A minimum age requirement of 4 applies

Then there is an amazing garden.  It's open from 10:00 to 21:30.  The hotel offers a complimentary garden tour on weekdays from 10:30 AM.  You should join it.  You need to book it 3 days in advance. 
Then there is a spa treatment shop.  If you have a treatment service, you need to make an appointment in advance.  It's open between 10:00 and 21:00.

*The above business hours are often changed, so please check each time.
This is a perfect universal design.  There are some rooms for wheelchair users and wheelchairs are available for borrowing.  If you bring someone with weak legs, you might want to inform the staff in advance as they arrange a room near the lift.
  TOP5 Accessible Luxury Hotels in Tokyo

Then the hotel is pet-friendly.  *Up to 7 kilograms  If you bring your dogs or cats, you need to inform the staff in advance by Email: info@hotel-chinzanso.com  There are some conditions.  I noticed that there was a small dog park in the garden.
  TOP5 Dog-Friendly Luxury Hotels in Tokyo

How about meals?
The food experience for breakfast at the restaurant called IE TEATRO on 3F was great.  You can enjoy the American breakfast while viewing the peaceful garden.  You can choose from western or Japanese cuisine for breakfast.  Alternatively, you can request room service for breakfast. 
Then there are some restaurants in-house, such as Italian, western, Teppanyaki, Sushi, and Kaiseki cuisine, Soba noodle, bar & lounge, etc.   As far as I know, there is no nice restaurant around the property unless you take a taxi.

My impressions
Overall, the hardware is clearly outstanding, but the software wouldn't be the same class.  It seems that there was a shortage of staff, especially on weekends and Japan's public holidays. 
The property is very popular for wedding parties and family gatherings among the locals all year round.  If you want to chill out at the hotel in a tranquil atmosphere, I would recommend staying on weekdays. 
Then please note that check-in time is from 3:00 PM, but it often gets crowded around 3:00 PM.  When I called about check-in, I was told I could check in at 2 pm if the room was ready.  I would recommend checking in early.  Also, the check-out time is until 12:00 PM, but it's crowded around 12:00 PM, so the flex check-out service is available.  You can just go through the check-out process in the morning and after that relax in your room until 12:00 PM.  Have a nice trip!  Welcome to receive any questions about Hotel Chinzanso Tokyo from the below space.  Check Availability and Pricing for the hotel on Booking.com or Agoda
Info about Hotel Chinzanso Tokyo
Style

Luxury Classical Hotel

Check-in and out times


15:00/12:00

Estimated Price

40,000 JPY for 2 adults per room

Contact E-Mail Address


info@hotel-chinzanso.com

Internet Connection

Free Wifi in the hotel

Facility Information

Wheelchairs are available




Pets are allowed


The parking lot is available
at 1,000JPY per day


Location

Hotel Chinzanso Tokyo's MAP

Access

Refer to the above


Address and TEL

+

81 3 3943-1111

Tel

Official Homepage

Hotel Chinzanso Tokyo's HP
*All information above is as of the date that I posted on my blog.