What kind of hotel is Marunouchi Hotel?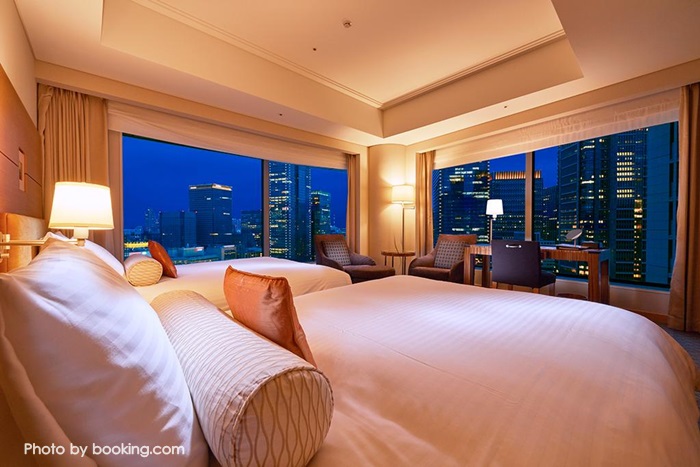 This is one of the best luxury business hotels near Tokyo Station.  If you are looking for a sophisticated business hotel in Tokyo, I would recommend it. 
The hotel is functional, comfortable, and convenient.  It's located near Marunouchi, Otemachi, Asakusa, and Ginza, etc.  If this is your first visit to Tokyo, you may want to stay here.  Access to the property would be very easy.  The location is amazingly perfect for sightseeing, shopping, and business.

In addition to that, the night views from a corner room and a suite are absolutely amazing.  If you are looking for a business hotel with a great night view, this one will meet your expectations. 
It is interesting to watch from above the many trains that are constantly passing through the valley of skyscrapers.  You don't have to be a train enthusiast to enjoy it.  We were very impressed with the wonderful night views that only Tokyo can offer. 
The property has great value for money if compared to others in Tokyo.  
The hotel would be great for solo travelers, couples, groups, or business persons.
  TOP5 Hotels for Solo Travelers in Tokyo
  TOP5 Luxury Hotels near Tokyo Station and Marunouchi
  TOP5 Luxury Business Hotels in Tokyo

Is the location easy to access?
Yes, it's directly connected to Tokyo Station.  It's just a 1min walk from Marunouchi North Exit of JR Tokyo Station, Exit B2b of Tokyo Metro Otemachi Station, or a 2min walk from Tokyo Metro Marunouchi Line Tokyo Station (North gate).  Refer to the info.

If you have a lot of luggage or you bring wheelchair users, you may want to visit JR Tokyo Station Marunouchi Underground North Gate on B1F.  Refer to the info.  Alternatively, you can take an airport limousine bus from Haneda or Narita airport.  The airport limousine buses stop in front of Marunouchi Hotel.
The reception is in Marunouchi OAZOP on 7F.

The parking lot is on B2 or B3 and costs JPY1,500 per day.
How about toiletries & in-room amenities?
All of the amenities are taken care of including enough toiletries, pajamas, bathrobes, samue outfits, a coffee machine, English tea bags, and a green tea set, etc.  A free smartphone was placed in our room.  You can request humidifiers, cell phone chargers, power transformers, and CD players, etc.  There are some types of pillows that you can choose from.  The Free Wi-Fi reception was excellent.  Room service is available between 7:00 and 22:00.
Is this child-friendly?
Yes, staff provides amenities, cribs, bed guards, and pajamas, etc., for children if you request in advance.  *One child (ages 6 and under) per adult will be free of charge for co-sleep.
How about In-house Facilities?
There is a small gym.  You need to bring your shoes, sportswear, T-shirts, etc. if you use the gym.  It's open for 24H.  The business center is available for 24H.  There are some functional meeting rooms, but there is no swimming pool, no sauna, no jacuzzi, no club lounge, no library, etc.  If you need a variety of amenities, this is not for you.

Then there is a nice spa treatment shop.  It's open between 15:00 and 23:30.  You need to make an appointment 1 day in advance by e-mail at gro@marunouchi-hotel.co.jp if you have a spa treatment service.

Then this is a perfect universal design.  There is one room for wheelchair users.  Wheelchairs are available for borrowing.
  TOP5 Accessible Luxury Hotels in Tokyo

How about meals?
There are Japanese, French, teppanyaki restaurants and a Cigar shop bar in the hotel.  Then there are some restaurants, shops, and convenience stores on basement floors.
I would recommend the French restaurant for meals called "Pomme d'Adam" on 8F.  This is one of the popular french restaurants around Tokyo station.  On top of that, the restaurant has good value for money.  The ambiance is lovely, cozy, and relaxed.  You might want to book a table with a nice view in advance.  If the weather is good, I would recommend a table on the terrace.  All ingredients were very fresh and well presented. 
Also, we had for buffet-style breakfast at the restaurant.  The breakfast was good but I believe a bit more selections of food should be available to this standard of hotel and price.  It is open between 6:30 and 10:00 for breakfast.  You can choose from the western buffet or Japanese cuisine for breakfast.  Alternatively, you can request room service.
My impressions
All staff tends to be sophisticated, professional, and informative.  Their hospitality is as good as a top hotel.

At last, staying at this hotel will make your stay in Tokyo more comfortable and efficient.  It is also a good choice for travelers who are on the move a lot or who arrive early in the morning or late at night.  Have a nice trip!  Welcome to receive any questions about Marunouchi Hotel from the below space.  Check Availability and Pricing for the hotel on Booking.com or Agoda
Info about Marunouchi Hotel
Style

Modern Business Hotel

Check-in and out times


15:00/12:00

Estimated Price

35,000 JPY for 2 adults per room

Contact

 

Fill the form in




Internet Connection

Free Wifi in the hotel

Facility Information

Wheelchairs are available


Pets are not allowed
The parking lot is available *1,500JPY per day


Location

Marunouchi Hotel's

MAP

Access

Refer to the info




Address and TEL

+

81 Tel

Official Homepage

Marunouchi Hotel's HP
*All information above is as of the date that I posted on my blog.