What kind of hotel is Mitsui Garden Hotel Jingugaien Tokyo Premier?
This is one of the best luxury business hotels that I want to stay at for refreshment, even though I live in Tokyo.  Because the hotel has great value for money.  On top of that, you can enjoy the unique night view of Tokyo while relaxing in rooms.  The environment around the hotel is full of greenery and sophistication, so it's fun to take a walk around. 
When we stayed here in the autumn season, we visited the Jingu Gaien Ginkgo Avenue near the hotel, which is often used for filming dramas.  It's one of the most beautiful avenues in Japan.  Don't forget to visit there if you are in Tokyo in the autumn season.  Also, if you are staying here during the spring season, you should visit Shinjuku Gyoen National Park near the hotel, a famous cherry blossom viewing spot.

Then if you are looking for a brand new hotel near Roppongi, Aoyama, Shinjuku, etc. I would recommend the hotel.  On the other hand, for those who don't have much time to stay in Tokyo, hotels near Tokyo Station would be more convenient.
If you are a solo traveler, couple, or group, the hotel would be great for you.
  TOP5 Luxury Hotels with Great Views in Tokyo
  TOP5 Luxury Business Hotels in Tokyo
  TOP5 Luxury Hotels near Tokyo Station and Marunouchi
  TOP5 Hotels for Solo Travelers in Tokyo
Is the location easy to access?
Yes, the location is a 1min walk from Kokuritsu-Kyogijo Station, a 5min walk from JR Sendagaya Station, or a 6min walk from Shinanomachi Station.  Refer to the info.

If you take a taxi at Tokyo Station Yaesu Central Exit, it costs around JPY2,500.  It takes 20min by car.  *Please note that in Tokyo, there is a possibility of traffic jams during rush hours.  You should avoid using a car during weekday rush hours.
Then if you take a taxi, you should show the below Japanese address.  The hotel is brand new.  Most of the taxi drivers may not know it.
三井ガーデンホテル神宮外苑の杜プレミア
〒160-0013 東京都新宿区霞ヶ丘町11−3
TEL 03 5786 1531

Where is the best accommodation for anniversaries?
If you are looking for a good place for a special occasion in Tokyo, you should book a Junior Suite Room with a nice private balcony.  The staff arranges flowers and cakes to celebrate an anniversary at additional charges if you request in advance.
Rooms I would recommend?
If you are going to stay here, I would recommend a Deluxe Twin room with a nice balcony and a National Japan Stadium view on a high floor possible.  You can fully enjoy a spectacular view while chilling out in your room.  Then some rooms tend to be cramped.  You should book a room that is as spacious as possible.

How about toiletries & in-room amenities?
All of the amenities are taken care of including enough toiletries, pajamas, English tea bags, a Japanese tea set, bottled water, etc.  Room service is not available.  There is a convenience store within 10min walking distance.  There are vending machines for drinks and snacks on 2F and 8F.  Turn-down service is not available.  The Free Wi-Fi reception was OK, but I noticed the slow wifi speed during times when many guests use it.  Then you can watch youtube on TV.  Netflix and Hulu are also available for free in rooms.

Is this child-friendly?
The staff arranges baby cots if you request in advance, but you need to bring amenities, pajamas, bath towels, etc. for children.  *One child up to 6 years old per adult will be free of charge for co-sleep.

How about In-house Facilities?
There are indoor communal baths, a gym, a bakery shop, a coworking space, and a laundromat.  The communal baths are open from 6:00-9:00, 15:00-25:00.  *If you have tattoos, you may not be permitted to use the communal bath areas.

The gym is open between 6:30 and 22:00.  You need to bring your own sportswear and shoes.  *A minimum age requirement of 16 applies.  Then the bakery shop is popular among the locals.  Also, there is an amazing terrace on the top floor.  The terrace is open between 8:00 and 22:00.  When the weather is good, the view is surprisingly amazing.  You can view Mt.Fuji.
Then the hotel is a perfect universal design. There is room for wheelchair users.  Wheelchairs are available for borrowing.  If you bring someone with weak legs, you may want to inform the staff in advance as they arrange a room near the lift.
How about meals?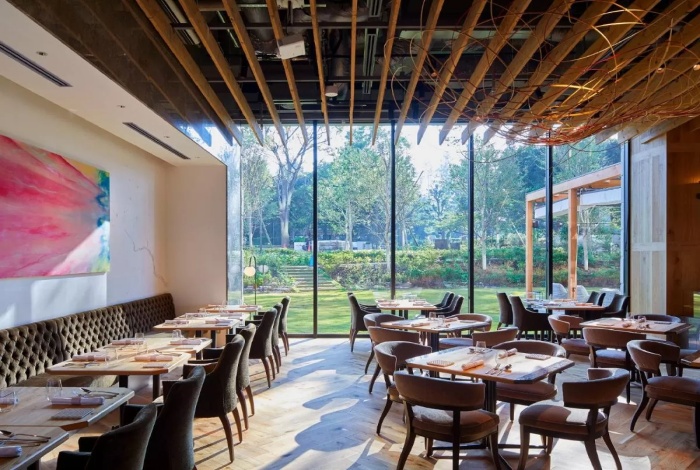 There is an Italian restaurant on-site.  We tried a western Japanese buffet for breakfast.  It costs JPY2,420 per adult.  The buffet is not extensive, but good.  Actually, there is no restaurant around the property unless you're traveling by cab or train.  The only option would be to eat in the hotel.  If you stay here in the spring or autumn season, you should have it on the garden terrace in the restaurant.  Then it would be crowded, especially on weekends, so you should go early in the morning.  The breakfast is open between 6:30 and 10:00. 
My impressions
Overall the hotel is very cozy, tranquil, and serene.  This is not a luxury 5-star hotel, but all staff is first class.  You can fully enjoy your time in a sophisticated hotel.  Have a nice trip!  Welcome to receive any questions about the property from the below space. Check Availability and Pricing for the hotel on Booking.com or Agoda
Info about Mitsui Garden Hotel Jingugaien Tokyo Premier
*All information the above is as of the date that I posted on my blog.