What kind of hotel is ONSEN RYOKAN YUEN SHINJUKU?
This is a Japanese-style business hotel in Shinjuku.  If you want to get "Onsen Ryokan Experience " in Tokyo city, it would be the best.  The property is probably the only place where you can experience a ryokan and hot spring in the middle of Tokyo. 
Perhaps, if you don't have time to go to a nearby hot spring resort, such as Hakone, Atami, Izu, etc. you should stay here. 
On the other hand, if you have already stayed at ryokans, I wouldn't recommend it.  This is only for those who are staying in a ryokan for the first time.

When you go through the dark blue curtain hanging at the entrance, you will feel a sense of tranquility that will make you forget the hustle and bustle of Shinjuku.  In the guest room, you take off your shoes to enter the room, just like ryokans.  It will provide a space for non-Japanese visitors to experience Japanese culture.
All rooms are equipped with originally designed yukatas, yukagos *basket when you go to hot springs, and getas *traditional shoes, so you can change into a ryokan-style outfit and go out in the city of Shinjuku.  That's really exciting.
The property would be great for solo travelers, business persons, or couples.
  TOP5 Luxury Business Hotels in Tokyo
 TOP5 Hotels for Solo Travelers in Tokyo
Is the location easy to access?
Yes, the location is a 10min walk from Shinjuku-Gyoemmae Station or Shinjuku-Sanchome Station.  If you have luggage, you may want to take a taxi from East Exit of Shinjuku Station.   It takes 5min and costs around JPY500.
Then if you take a taxi, you should show the below Japanese address.  The property opened in 2019.  Most of the taxi drivers may not know it.

ONSEN RYOKAN 由縁 新宿
〒160-0022 東京都新宿区新宿5-3-18
TEL 03-5361-8355

In my opinion, if you are in Tokyo and don't have much time I wouldn't recommend it.  The location is a bit inconvenient unless you take a cab.

Then there is no parking lot on-site.  You need to find a coin-operated parking area in the vicinity.
Rooms I would recommend?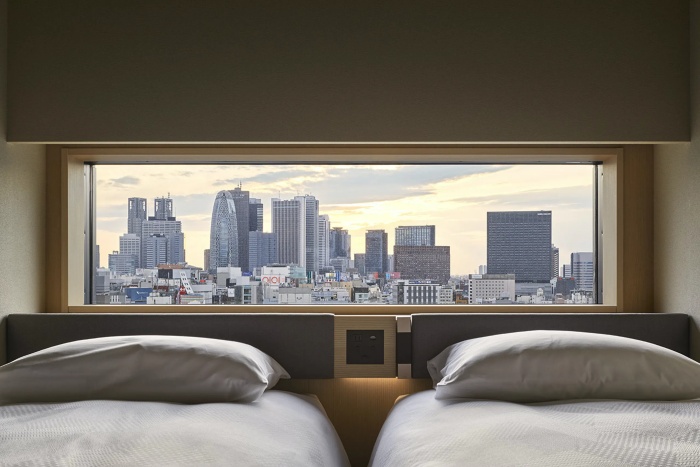 All rooms are functional, but most of them are really cramped and there wouldn't be space to open your suitcase.  You might be a little stressed.  If you are going to stay here, I would recommend a room called Yuen Suite Room on a high floor possible.  You can fully relax here while viewing a city view.  The area around the property was very quiet more than I expected.

How about toiletries & in-room amenities?
All of the amenities are taken care of including toiletries, yukatas, green tea bags, bottled water, a Japanese tea set, etc.  Room service is not available.  There is a vending machine for drinks.  There is a convenience store in front of the property.  The Free Wi-Fi reception was good.  Laundromats are available on 5F, 10F, and 15F.
Is this child-friendly?
Baby cots, meals, amenities, etc. for small children are not available.  *One child up to 5 years old per adult will be free of charge for co-sleep.

How about In-house Facilities?
There are nice outdoor and indoor communal hot springs on 18F.  The outdoor ones are hot springs, but the indoor ones are not.  You can relax while viewing a Shinjuku City view after a long day out.  They are open from 6:00-10:00, 15:00-26:00.  If you want to relax while soaking in the baths, you should use them before 20:00.  They may be crowded after 20:00.  You can check the congestion status with a QR code before using them.  Then free popsicles are available at the bathing areas between 15:00 and 26:00.  *If you have tattoos, you may not be permitted to use the communal bathing area.

Then this is not a perfect universal design, but there is room for wheelchair users.  Wheelchairs are available for borrowing.  If you bring someone with weak legs, you may want to inform the staff in advance as they arrange a room near the lift.
  TOP5 Accessible Luxury Hotels in Tokyo

How about meals?
There is a Japanese restaurant only.  Breakfast costs JPY1800.  If you have Japanese cuisine for breakfast, you should book a room with breakfast in advance.  The restaurant is popular and often it's fully booked.  Breakfast 7:00-10:00, Lunch 11:30-14:00, Dinner 17:30-22:00   Also, if you love tempura and teppanyaki, you should try them for lunch and dinner.
Then there are many restaurants around the property.  Just enjoy local food.
My impressions
Overall the price range would be reasonable.  All staff is friendly, flexible, and attentive.  This is a great place to learn about Japanese customs in a casual setting.  It will be a valuable experience to stay here.  At last, if you stay here in the spring or autumn season, you should go to Shinjuku Gyoen National Garden near the property.  The big garden would be beautiful.  Have a nice trip! Welcome to receive any questions about the property from the below space. Check Availability and Pricing for the hotel on Booking.com or Agoda
Info about ONSEN RYOKAN YUEN SHINJUKU
Style

Onsen Ryokan

Check-in and out times

15:00/11:00


Estimated Price

20,000 JPY for 2 adults per room

Contact E-Mail Address


info-shinjuku@ryokan-yuen.jp

Internet Connection

Free Wifi in the hotel

Facility Information

Wheelchairs are available


Pets are not allowed
No Parking lot


Location

ONSEN RYOKAN YUEN SHINJUKU's MAP

Access

Refer to the above

Address and TEL

Tel +81 3-

5361-8355

Official Homepage

ONSEN RYOKAN YUEN SHINJUKU

's HP
*All information the above is as of the date that I posted on my blog.