What kind of hotel is The Tokyo Station Hotel?
This is my cup of tea.  The building of the hotel is one of the nationally designated important cultural properties and is a prestigious hotel with over 100 years of history.  It is also a place of comfort and quality time with the latest facilities. 
Once you step inside the hotel, another world opens up.  The crowds at Tokyo Station and the hustle and bustle of the city seem like a lie.  The hotel is a perfect place to relax after a long day of travel.

If this is your first visit to Tokyo and you're looking for a luxury hotel near Tokyo Station, I would recommend it.  The location, as the name of the hotel suggests, is Tokyo Station.  It's a very convenient place for sightseeing, shopping, and business.  Perhaps, if you love classic hotels, you may want to stay here.  It's definitely one of the best classic hotels in the world.
  TOP5 Luxury Hotels near Tokyo Station and Marunouchi

On the other hand, if you want to see dynamic Tokyo City views while chilling out in your room, this is not for you.  I would rather recommend staying at Shangri-La Hotel, Tokyo, or Marunouchi Hotel nearby.  Also, there is no club lounge, no library, no swimming pool, etc.  If you need a lot of amenities, this is not for you.
  TOP5 Luxury Hotels with Great Views in Tokyo
  TOP5 Luxury Hotels with Swimming Pools in Tokyo
  TOP5 Luxury Hotels with Club Lounges in Tokyo

The hotel would be great for business persons, solo travelers, or romantic couples.  At night, the office buildings around the hotel and Tokyo Station are lit up, creating a romantic atmosphere.

Is the location easy to access?
Yes, the hotel is directly connected to the Marunouchi South Exit of Tokyo Station.
JFYI, it takes 30min from Haneda Airport by train and costs JPY660 per adult.  It takes 60min by airport limousine bus and costs JPY950 per adult.  It takes 55min by taxi and costs around JPY8000.
The fastest way to get to Haneda Airport is by train, although you have to change trains at Hamamatsucho Station. Buses and cabs are not recommended because of the traffic jams during rush hour.
Where is the best accommodation for anniversaries?
If you are looking for a good place for a special occasion in Tokyo, the property would be one of the best. The staff arranges flowers and cakes to celebrate an anniversary at additional charges if you request in advance.
  TOP5 Romantic Luxury Hotels in Tokyo

Rooms I would recommend?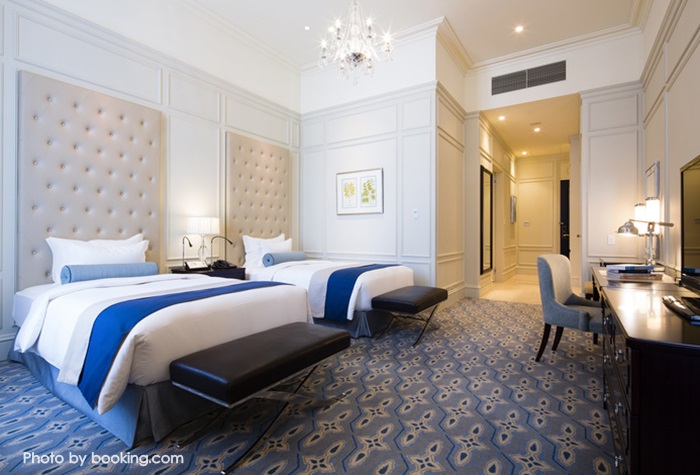 If you are going to stay here, I would recommend a dome side room.  The room has a sophisticated space with natural light shining through the vertical windows.  You can view a beautiful cupola dome ceiling and the hustle and bustle of commuters streaming in and out of the station from above.  That's really interesting.  We never get tired of watching the outside from the windows.  Also, most of the dome side rooms would be close to the elevators.  The rooms would be conveniently located.  
The building is horizontally long.  You may need to walk along very long corridors if you stay in rooms on the palace side.  It is like a labyrinth.  Also, it seems that some rooms have no nice view.  They tend to be a bit dark even in the daytime.
How about toiletries & in-room amenities?
All of the amenities are taken care of including enough toiletries, bathrobes, pajamas, a coffee machine with capsules, English tea bags, Japanese tea bags, and bottled water, etc.  There are Gilchrist & Soames bath amenities in the bathroom.  You can travel light.  Room service is available between 6:00 and 24:00.  Turn-down service is available.  It seems that free Wi-Fi reception tends to be slow in some rooms.  DVD players, Blu-ray players, and CD players are available for borrowing.  There is a convenience store nearby.  A smartphone was placed in our room.
Is this child-friendly?
This is child-friendly.  Staff provides amenities, meals, and baby cots, etc. if you request in advance.  One child (ages 12 and under) per adult will be free of charge for co-sleep.

How about In-house Facilities?
The gym, sauna, and artificial hot springs on B1 are available.  *A minimum age requirement of 16 applies   The gym costs 1,000JPY.  The hot springs cost 2,000JPY.  You can rent sportswear, shoes, T-shirts, etc. at JPY500.  They are open from 7:00-23:00 on weekdays, 10:00-20:30 on Saturdays, 10:00-19:00 on Sundays, and Japan's public holidays

Then there is a nice spa treatment shop on B1.  The spa shop is open between 10:00 and 22:00 on weekdays, 10:00 and 21:00 on Saturdays, 10:00 and 19:00 on Sundays, and Japan's public holidays.  You need to make an appointment in advance.  Also if you have a spa treatment service, you can use the above amenities for free.  Also, you can borrow sportswear, shoes, T-shirts, etc.
Then the hotel is a perfect universal design.  Wheelchairs are available for borrowing.  There is a universal room for wheelchair users.  If you bring someone with weak legs, you may want to inform the staff in advance as they can arrange a room near the lift.
  TOP5 Accessible Luxury Hotels in Tokyo

How about meals?
The food experience for breakfast at the restaurant on 4F called "The Atrium" was just divine.  You won't be able to resist even you are full.  The Japanese and western buffet-style breakfast was quite extensive, with more than 70 kinds of dishes.  The restaurant would be busy between 8:00 AM and 9:00 AM.  You might want to avoid this time slot if you want to have breakfast in a tranquil atmosphere.  It's open from 6:30-11:00 for breakfast.
Part of the ceiling of the restaurant is a skylight, through which bright light streams in, creating an open space.  You won't believe you're in Tokyo Station.  The red bricks that remain from the time of the building's construction over 100 years ago are used in the interior, giving the space a sense of history and tradition.

Then after dinner, I would recommend taking a walk around the property illuminated.  I was impressed by the beauty of Tokyo Station's fusion of exotic architectural styles and Japanese design. 
After that, don't forget to visit the bar & cafe "Camellia" on 2F.  The ambiance is very cozy.  Alternatively, there is a romantic bar called "Oak" for adults on 2F.  The red brick interior creates an ambiance of high quality.

My impressions
Overall, the hotel has great value for money if compared to other luxury hotels.  Then all staff is gracious, sophisticated, and elegant.  If you expect Japanese signature hospitality, the hotel would be one of the best in Tokyo.  If anything, the lobby tends to be cramped.  The reception would be so busy between 3 PM and 5 PM.  If you want to avoid making a line, you might want to check in after 5 PM.  Have a nice trip!  Welcome to receive any questions about The Tokyo Station Hotel from the below space.  *You need to inform the staff of your expected arrival time in advance.  **Guests are required to show a photo ID and credit card upon check-in.  Check Availability and Pricing for the hotel on Booking.com or Agoda
Info about The Tokyo Station Hotel
Style

Classic Luxury Hotel

Check-in and out times


15:00/12:00

Estimated Price

55,000 JPY for 2 adults per room

Contact E-Mail Address


 info@tokyostationhotel.jp 




Internet Connection

Free Wifi in the hotel

Facility Information

Wheelchairs are available




Pets are not allowed


The parking lot is available at 2,000JPY per day


Location

The Tokyo Station Hotel's

MAP

Access

Tokyo Station Yard


Address and TEL

+

81 3-5220-1111

Tel

Official Homepage

The Tokyo Station Hotel's HP
*All information above is as of the date that I posted on my blog.