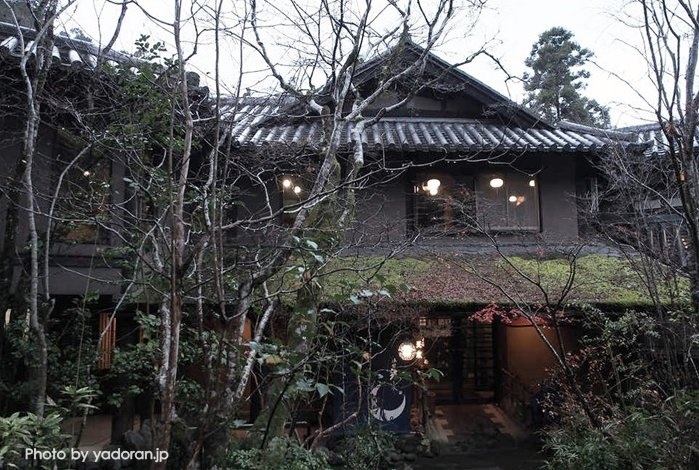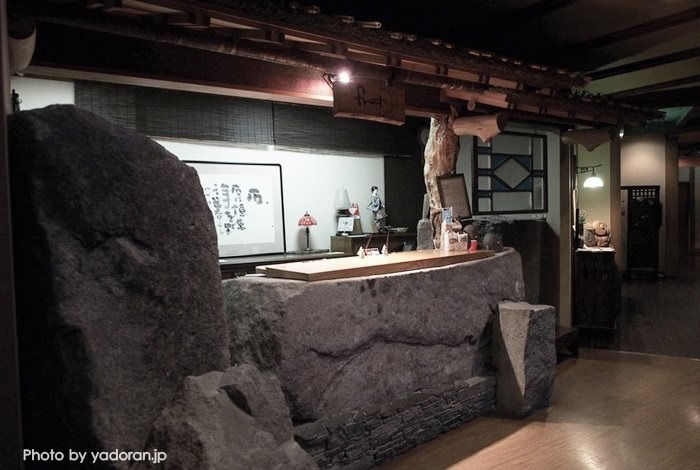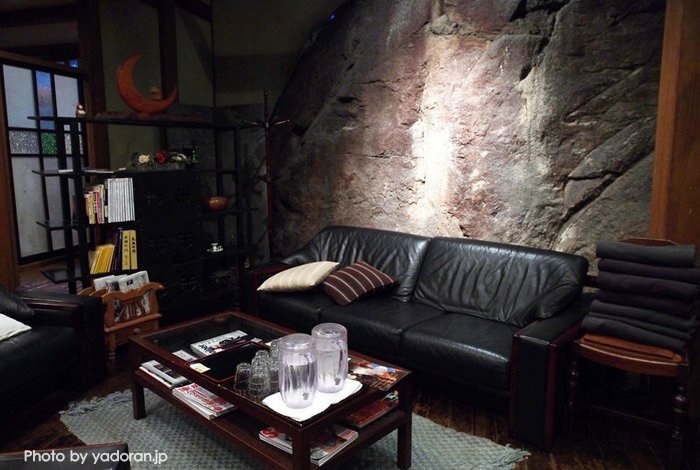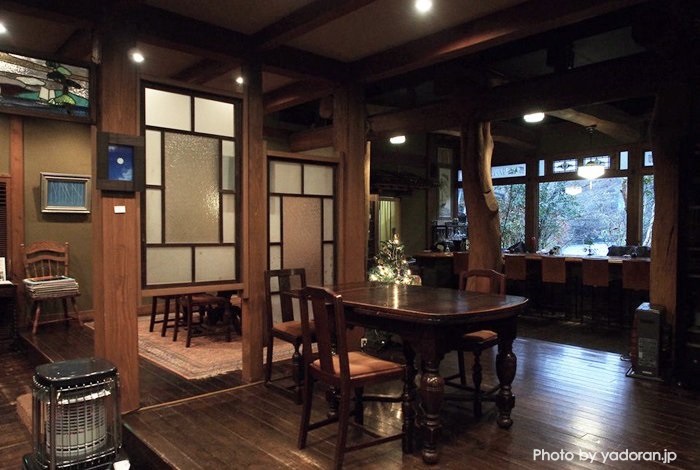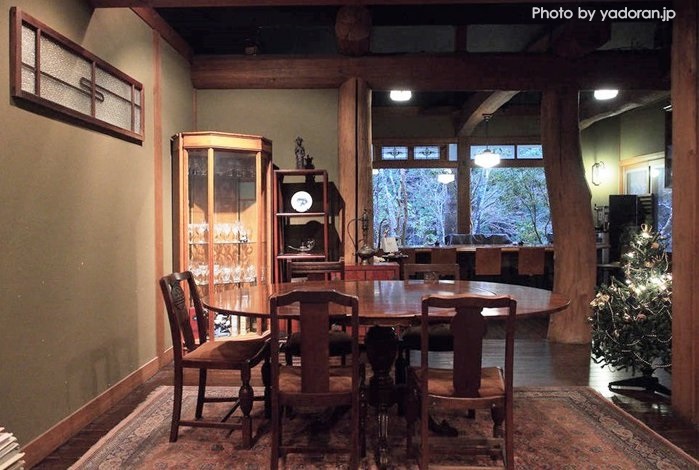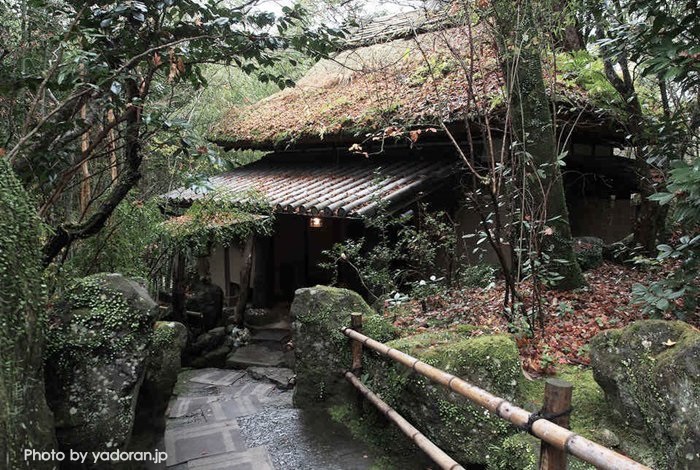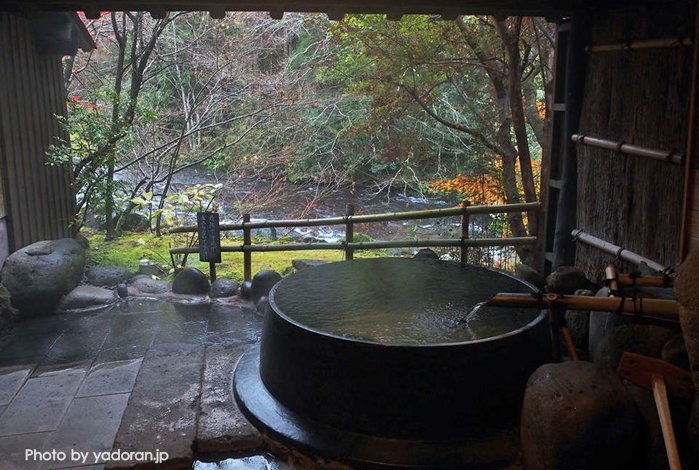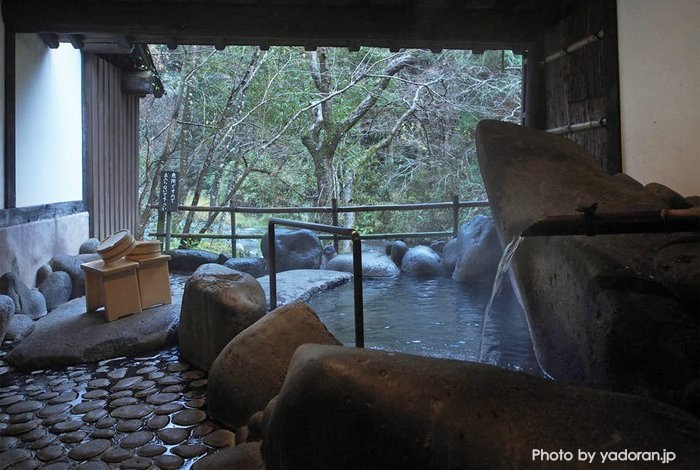 All rooms showcase unique Japanese aesthetic and design elements. You can choose a room with an open-air bath.  And you can see the scenery of the four seasons in the space of your choice. You must try hot springs that is surrounded by nature.  When you cross the stone steps from the indoor bath, you will arrive at an outdoor bath along the River Gakurama River.  Facing the mountain stream are five different reserved family baths all with different taste.  After relaxing at the hot springs, a delicious meal from the appetizers to the desserts that the chef has skillfully made will be waiting.  The cuisine are filled with seasonal ingredients.  The sound of the river, the singing of the birds, the sound of the wind passing through the trees: it is here at Sansou-Tensui where you can experience this.  
Style

Traditional Japanese Ryokan

Guest Rating

Fabulous 8.8

Estimated Price

47,000 JPY for 2 adults per room

Contact

Call at +81 973-57-2424 from overseas
Call at 0973-57-2424 domestic Japan


Internet Connection

Free wifi in the ryokan

Booking

Check Availability and Pricing for the ryokan


on agoda




Location

Sansou-Tensui's MAP

Access

Free shuttle bus provided from Amagase Station
Need to book in advance upon request.

Address and TEL

601 Amagasemachi Sakuradake, Hita-shi
Ōita-ken 879-4201  Tel +81 973 57 2424

Official Homepage

Sansou-Tensui's HP
Sansou-Tensui is not located in Yufuin.  The ryokan is in Amagase Onsen, approx.40min by Yufu express train from Yufuin station to Amagase station where is near the ryokan. It takes 30min by car from Yufuin.  Perhaps it takes 90min from Hakata station to Amagase station by the train.  It seems like the location wouldn't be convenient.  However I love authentic hot springs with tasteful views on site.  That's amazingly charming and quaint. Definitely one of the best in Japan.  If you love Japanese onsens like me, you must come and try them.  There are many types of onsens on site.  You must be excited with views of peaceful rich nature while taking a bath in a hot spring.  If you are going to stay here, I would highly recommend booking a room with a private hot spring and Irori which is a hearth sunk in the floor without chimney.  It's really worth it.  Everything, such as hospitality, service, Kaiseki food, ambiance, spring quality is impeccable.  On top of that, the ryokan has good value for money if compared to Hakone, Izu, Atami etc.  I would say that it wouldn't be easy to find a ryokan like Tensui in Japan.  If you are going to Yufuin, you must stay in here.  You won't regret it.  The best season to stay in here would be in spring, early summer, or fall if you are the first time to visit here.  The ryokan is located in a large-site.  You will be able to explore and enjoy taking a walk while seeing beautiful forest in good weather.  Have a great trip !  Check Availability and Pricing for the property on Agoda
You may be interested in other places near Yufuin.