What kind of onsen ryokan is Kinugawa Onsen Hotel?
This is not a luxury ryokan, but cozy.  If you are looking for typical onsen ryokans in Kinugawa, you should stay here.  Perhaps, if you bring small children, I would recommend it.  This is a family-friendly hotel.  *One child (age 0) per adult will be free of charge for co-sleep.  Staff can provide baby bouncers, cribs, baby chairs, baby baths, baby food, toys, soap, shampoo, and yukatas, etc.  On top of that, the property has great value for money.  On the other hand, if you are a solo traveler or couple, I wouldn't recommend it.  Perhaps, if you are looking for rooms with private onsen, this is not.  There is no room with private ones.  Kinugawa Onsen Hotel would be great for families with children or groups.  There are many families with small children, especially on weekends and Japan's public holidays.

Is the location easy to access?
Access to the onsen ryokan would be a bit inconvenient.  It takes 25min on foot from Kinugawa Onsen Station.  You may want to take a taxi if you have a lot of luggage.  It takes 5min by car.  It costs 1,000JPY.  A free shuttle service is not available.  Alternatively, you can take a Nikko-Koutsu Bus between 12:00 and 17:17.  Turn right after you exit the station, and take the bus at the number 5 bus stop.  When you get on a bus, you need to tell a bus driver where you are staying.  Then get off at Kinugawa Onsen Hotel.  It takes around 10min.  It costs 190JPY per adult and JPY100 for children.
Rooms I would recommend?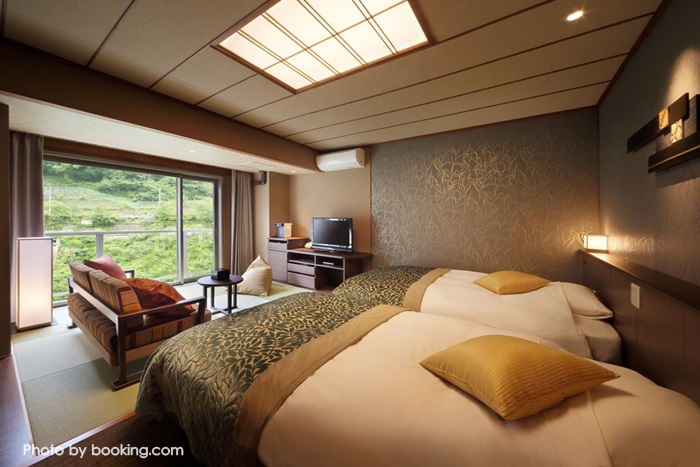 If you are going to stay here, I would recommend Japanese-Western-style rooms with river views in Yunomachi-Kan Tower.  The rooms are user-friendly, functional, and cozy.  You can relax while hearing white noise from the river.  On the other hand, some rooms haven't been renovated yet and facilities tend to be worn out.  On top of that, there wouldn't be nice views.
How about toiletries & in-room amenities?
All of the amenities are taken care of including minimum toiletries, samue outfits, drip coffee bags, tea bags, and yukatas.  Also, a DVD player and a humidifier were placed in our room.  The free Wi-Fi reception was excellent when we stayed in 2019.  Complimentary coffee, tea, and orange juice, etc., are available in the lobby from 14:00 to 18:00.  There is no convenience store nearby.  You may want to buy your necessities before coming here.  Room service is not available, but you can order some dishes and beverages at the lobby lounge until 24:00, such as ramen, yakitori, rice balls, curry, beer, wine, and whiskey, etc.  Also, there are vending machines for drinks including beer.
How about In-house Facilities?
Overall, the property has an outdated exterior, but the inside is modern and well-maintained.  There are very large indoor and outdoor communal hot springs.  The water temperature tends to be high and the spring quality wouldn't be special.  There is no view from the outdoor baths.  That's too bad.  They are open from 14:00 to 24:55.  Then there are 2 private family hot springs.  They cost 3,300JPY for 45min. *If you have tattoos, you may not be permitted to use the communal bathing area.  You may want to use the reserved private family baths instead.  Then Kinugawa Onsen Hotel is a universal design.  Wheelchairs are available for borrowing.  If you bring people with weak feet, you may want to inform the staff in advance as they can arrange a room near the lift.
How about meals?
Western, Chinese, and Japanese-style buffet for dinner and breakfast were good, but not special.  Considering the price, it might be good.  The buffet is quite extensive.  There is always more than enough food each day.  Baby food is also available in the buffet section.
My impressions
All staff tends to be very friendly, helpful, and warm.  If you want to experience signature Japanese hospitality, you should stay here.  Overall, there are many return guests all year round.  If you want to chill out here in a tranquil atmosphere, you may want to avoid staying during Lunar New Year, late April to early May, weekend in Oct and Nov, and the end of the year and New Year holiday.  The property would be crowded more than you expect.  Have a nice trip!  Welcome to receive any questions about Kinugawa Onsen Hotel from the below space.  *If you check-in after 17:00, you need to inform the staff in advance. Check Availability and Pricing for the hotel on Agoda
Info about Kinugawa Onsen Hotel
Style

Typical Onsen Ryokan

Check-in and out times


15:00/10:00

Estimated Price

30,000 JPY for 2 adults per room

Contact

reservation@kanaya1931.com

Internet Connection

Free wifi in the property

Facility Information

Wheelchairs are available




Pets are not allowed


The free parking lot is available


Location

Kinugawa Onsen Hotel's MAP

Access

25min walk from

Kinugawa Onsen Station

Address and TEL

 
Tel +81


Official Homepage

Kinugawa Onsen Hotel's HP
*All information above is as of the date that I posted on my blog.