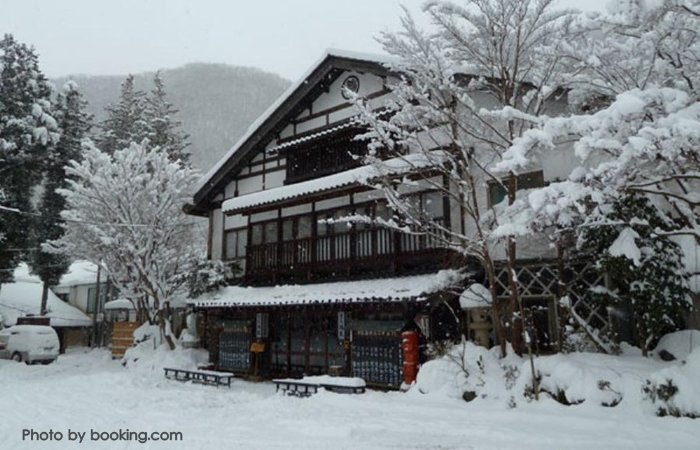 If you are looking for a unique traditional ryokan adventure, I would highly recommend Honke Bankyu Hot Spring Ryokan.  This is like a countryside SAMURAI residence.   We were so excited to explore the property.   Perhaps, if you are keen on Japanese history, architecture, interior, and decorations, etc., you should stay here.  This wouldn't be luxury, but this is like a culture museum.  The ambiance is cozy, tranquil, and nostalgic.  The ryokan would be great for family, couples, groups, or friends, but not solo travelers.  Once we entered the building, we felt that we were being pulled into old-Japan.  It's like another world.  If you are going to stay here, I would highly recommend booking a room with a private hot spring in the main building.  Others wouldn't be special.  Facilities tend to be worn-out.  The room tends to be not user-friendly, but charming, quaint, and unique.  Then the wooden building has no enough soundproofing and walls tend to be thin.  Your ear may catch the sounds of daily life from next door.  If you are a light sleeper, this could be an issue.  Then there are only a few wall sockets in a room.  It may be a bit inconvenient when you charge your iPhone, iPad, or PC, etc.  Also, the free wifi reception is available in all rooms in the main building, the library, and the lobby only.  Then all of the amenities are taken care of including minimum toiletries, yukatas, and a green tea set, etc.  Complimentary coffee, tea, rice juice, Japanese sweets, etc., are available in the lobby.  Room service is not available.  There is a vending machine in-house.  There is no convenience store nearby.  You might want to buy your necessities before coming here.  Then there are wonderful indoor and outdoor large communal hot springs.  The water temperature tends to be high.  You can fully enjoy soaking in the baths while hearing white noise from the river.  Also, there are three outdoor private family hot springs.  It costs JPY1,080 for 40min.  You need to book at the reception if you want to use them.  You should try it.  All of them are open from 15:00 to 9:30 the following morning.  *Please note that if you have tattoos and want to use the communal baths, use reserved private family ones.  Then 

Honke Bankyu Hot Spring Ryokan is not a universal design

.  There are many steps on-site.  There is no lift.  If you bring people with weak feet, I wouldn't recommend the property.  Then the local food experience for dinner and breakfast was wonderful.  The portion tends to be very big.  Don't forget to bring your empty stomach.  We sat around the fire called IRORI and enjoyed various cooking while keeping warm.  That's a great experience.  Then when you go to a dining area for dinner, you need to cross a suspension bridge.  That's interesting.  Dinner starts at 18:00.  Then breakfast is a buffet-style local cuisine.  All meals are served in a dining area.  *Please note that inform the staff when you book a room with meals if you have any food allergies.  They probably wouldn't be able to prepare alternative food if you request on that day.  Then, as far as I know, there is no nice restaurant around the property.  You may want to book a room including meals.  *You need to check in by 19:00 if you have dinner on the property.  Then the staff tends to be not sophisticated, but they are friendly, helpful, and prompt.  Overall, we had a lot of unique experiences during our stay.  It's well worth a visit.  The best season to stay here would be except for the summer season.  There would be many bugs around outdoor hot springs.  If you are metropolitan, you may feel uncomfortable.  Then access to the property would be bit hard. 

Refer to the info

.  You can take a Tobu Dial Bus at Yunishigawa Onsen Station for Yunishigawa Onsen.  It takes around 20min.  The bus fare is JPY880 per adult.   Then get off at Honke Bankyu Bus Stop and a 1min walk to the property.  If this is your first visit Yunishigawa Onsen, you may be worried where you should get off so you may want to show the below Japanese sentence to a bus driver when you get on a bus.  Then you wouldn't miss the bus stop even if you fall asleep.

本家伴久のバス停に着いたら、教えて下さい。
Please let me know when you reach "Honke Bankyu Bus Stop".
Please note that you need to prepare a 1,000JPY bill or less

.  You wouldn't be able to use a five thousand JPY bill and a ten-thousand JPY bill when you pay the bus fare.   Then the free shuttle bus is not available.  On top of that, I didn't see any taxies waiting around the station so don't miss a bus.  Have a nice trip!  Welcome to receive any questions about Honke Bankyu Hot Spring Ryokan from the below space.  *All information is as of the date that I posted on my blog. 

Check-in and out times 3:00 PM/10:00 AM

You need to inform staff in advance if you check in after 17:00.   Check Availability and Pricing for the ryokan on

Agoda
Info about Honke Bankyu Hot Spring Ryokan
Style

Traditional Japanese Ryokan

Guest Rating

Superb 9.0

Estimated Price

39,500 JPY for 2 adults per room

Contact

Fill the form in 

Internet Connection

Free wifi in the main building only

Facility Information

Wheelchairs are not available




Pets are not allowed


The free parking lot is available


Location

Honke Bankyu Ryokan's MAP

Access

Refer to the info




Address and TEL

749 Yunishikawa, Nikko-shi, Tochigi 321-2601
Tel +81 288-98-0011  Open 8:00-20:30


Official Homepage

Honke Bankyu Ryokan's HP