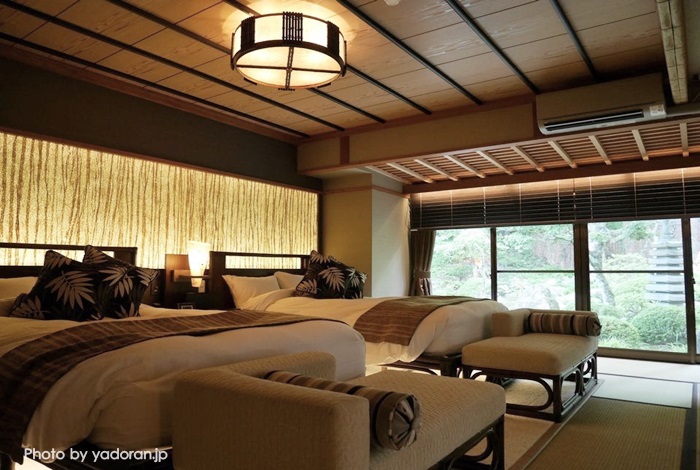 If you are looking for luxury ryokans in Nagano, I would highly recommend the property. Once you enter the building, it's like you're in another world.  Everything, such as interior, architecture, decorations, and a garden is sophisticated.  Perhaps if you are looking for rooms with private hot springs, you must stay here.  Each room has a private one.  The spring quality is smooth, moist and soft.  We spent a lot of time soaking in our private bath while viewing a well-kept garden.  The property would be great for couples, family, small groups or solo travelers.  *A minimum age requirement of 13 applies.  Then if you are going to stay here, I would highly recommend booking a corner room.  If you are a light sleeper, you may want to book a room with a garden view.  Rooms with river views tend to be bit noisy.  My ear sometimes caught the sound of water current.  Then facilities tend to be the latest.  Wifi reception was good.  All of the amenities are taken care of including enough toiletries, samue outfits, yukatas, bathrobes, a complimentary minibar including beer, orange juice, bottled water and oolong tea, a coffee machine with capsules, and a Japanese tea set.  Also you can complimentary refill all drinks in the minibar.  Then there are REN amenities in the bathroom.  Room service is not available.  There is no convenience store nearby.  You may want to buy your necessities before coming here.  Then the property is almost universal design.  There are few steps in-house.  A wheelchair is available for borrowing.  If you take people with weak feet, you may want to inform staff of it in advance as they can arrange a room near the entrance.  Then there are indoor and outdoor public hot springs in the sister inn, Hotel Kinokawa next to the property.  You can complimentary use all of them.  You must try them.  They are open from 5:00-9:00, 15:00-24:00.  *There is no public bath and no private family bath in Tokisumika.  *If you have tattoos and want to use the public hot springs, use a private hot springs attached in your room.  Then innovated Kaiseki cuisine was just divine.  The chef has experience from New York.  The food tends to be sophisticated.  If you are a gourmet, you must be so happy.  The portion tends to be average.  Our dinner was stretched out over 2 hours.  You may want to ask staff to serve all dishes within 2 hours before stating dinner.  The tables in the dining room are separated by dividers that provide a decent level of privacy.  Dinner starts from 18:00 or 19:30.  Breakfast starts from 7:30, 8:00, or 8:30.  *Please note that inform staff when you book a room with meals if you have any food allergies.  They probably wouldn't be able to prepare it if you request on that day.  Then you need to check in by 18:30 if you have dinner in the property.  Actually there wouldn't be nice restaurants around here.  The location is out of the way.  You may want to book a room with meals.  Then staff tends to be patchy.  If you expect a 5 hotel service, this is not.  I guess it's OK.  This is Nagano prefecture.  Overall the price range would be reasonable.  Anyway the best season to stay here would be in the spring or the fall season.  You can see a breathtaking view from a room.  At last, an access to the property would be not easy.  Free shuttle service is available from Komagane Station or Chuo Expressway Komagane I.C. Bus stop.  You need to book it in advance.  You can take a bus from Shinjuku Expressway Bus Terminal, etc.  It takes 3 hours 30min by bus from Shinjuku Expressway Bus Terminal to the bus stop.  The bus fare is around JPY4,000 for per adult.  If this is your first visit Nagano, you may be worried where you should get off so you may want to show the below Japanese sentence to a bus driver when you get on a bus.  Then you wouldn't miss the bus stop even if you fall asleep.
中央高速駒ヶ根インターのバス停に着いたら、教えて下さい。
Please let me know when you reach "Chuo Expressway Komagane I.C. Bus stop".
Have a nice trip!  Welcome to receive any questions about the property from the below space.  *All information is as of the date that I posted on my blog.  **

Check in and out times 15:00/11:00

  Check Availability and Pricing for the hotel on Booking.com or Agoda
Info about Tokisumika
Style

Modern Japanese Ryokan

Guest Rating

Wonderful 8.8

Estimated Price

60,000 JPY for 2 adults per room

Contact

 Call at 0265-83-7888 from domestic
Call at +81 265-83-7888 from overseas


Internet Connection

Free Wifi in the ryokan

Facility Information

Wheelchairs are available




Pets are not allowed


Free parking lot is available


Location

Tokisumika's MAP

Access

Free pick up service from Komagane Station
or Chuo Expressway Komagane I.C. Bus stop
You need to book in advance

Address and TEL


Tel +81 265-83-7888

Official Homepage

Tokisumika

'

s

HP