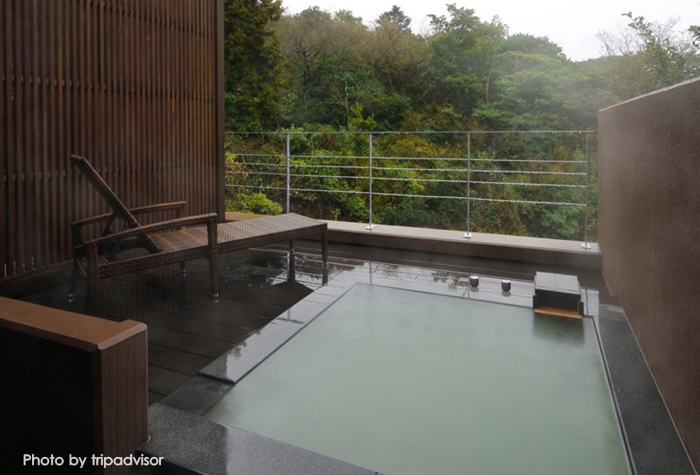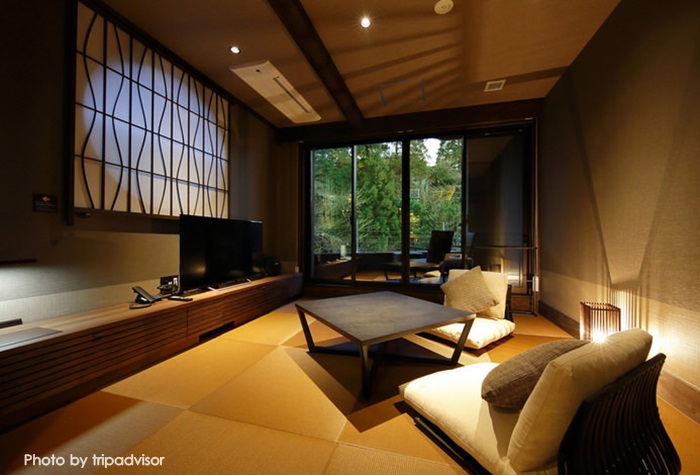 Among the beautiful natural beauty and the home of the famous Unzen Onsen sits the modern folk style inn Fukudaya.The modern folk style of the inn blends in harmoniously with the surrounding nature. Fukudaya's newest annex opened in February 2017. Each of 7 guest rooms comes with a different interior design but all come with a private outdoor bath that is drawn from the natural hot spring. With exposed beams the relaxing modern folk style of the guest rooms provides a luxurious and upscale atmosphere for your stay.
Style

Modern Traditional Japanese Ryokan

Guest Rating

Superb 9.0

Estimated Price

25,000 JPY for 2 adults per room

Contact

Call at +81 957-73-2151 from overseas
Call at 0957-73-2151 domestic Japan


Internet Connection

Free wifi in the ryokan

Booking

Check Availability and Pricing for the ryokan
on

Booking.com

or

Agoda




Location

Unzen Fukudaya Yama Terrace Bettei's MAP

Access

75min by bus from Nagasaki Station

Address and TEL

380-2 Obamacho Unzen, Unzen
Nagasaki 854-0621  Tel +81 957-73-2151

Official Homepage

Unzen Fukudaya Yama Terrace Bettei's HP

If you are a hot spring lover, I would highly recommend staying at the ryokan. The spring quality is definitely one of the best in Japan.  It's really worth it.  All of the 7 rooms have wonderful private hot springs.  Then the ryokan has amazing public large hot springs on site as well.  The spring quality is superb.  If you want to chill out at hot springs after you fully enjoy going on a hike around UNZEN, the ryokan would be perfect.  Actually there are few accommodations around here.   I would say that if you have a chance to visit Unzen, you must stay here.  If you prefer to stay at a top notch ryokan in Unzen, I would rather recommned Hanzuiryo.  It's really worth it.
Anyway if you stay at Unzen Fukudaya Yama Terrace Bettei, you must try Teppanyaki food for dinner.  That's wonderful.  Especially Nagasaki beef.  A room is specious, modern, and comfortable.  There is no better option than just spending to soak in the hot spring bath and enjoy the precious moments where you get to do nothing.  My bit concern is that staff wouldn't be sophisticated.  The ryokan opened in Feb 2017.  Therefore maybe they were not used to work yet in busy seasons.  But here is Nagasaki.  I guess it's OK.  Because more than anything, hot springs is really amazing.  On the other hand, I wouldn't recommend it unless you are a hot spring lover.  The best season to stay here would be between late April to early Nov.  If you visit here during the period, you must see a lot of beautiful views of UNZEN in rich nature.  The average temperature is around 20 degrees even in the summer season, almost same as Hokkaido.  The weather wouldn't be so hot, not so cold, just comfortable.  Therefore Unzen is well-known as a mountain resort among local people.  The location wouldn't be convenient.  However, currently there is an express bus only at 14:00 everyday from Nagasaki airport to Unzen.  It takes approx. 2 hours, 3,000yen *Round trip.  If you need to arrange it, you might want to ask the ryokan's staff in advance at least 2 days before.  They can book bus seats for you instead.  It's easier to visit here by bus from the airport.  This ryokan would be for adults, couples or small groups.  If you stay here, don't forget to try HAIKARA omelette and rice for lunch at "Yama cafe RICKY" in the ryokan.  That's simply wonderful.  Welcome to receive any questions about the ryokan from the below space.  *All of the information is as of the date that I posted on my blog.
You may be interested in other places near Nagasaki.