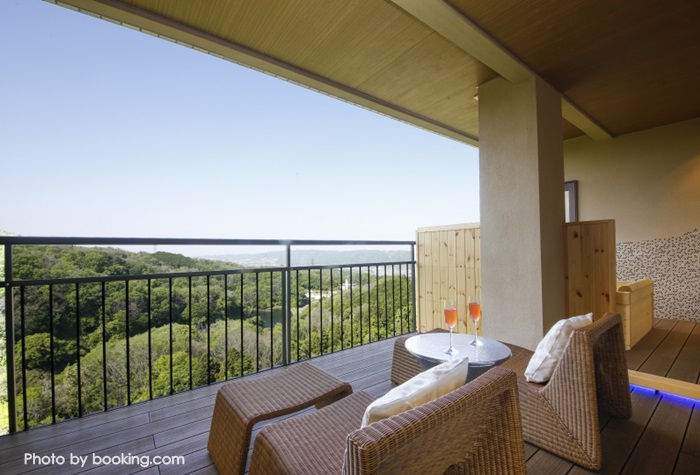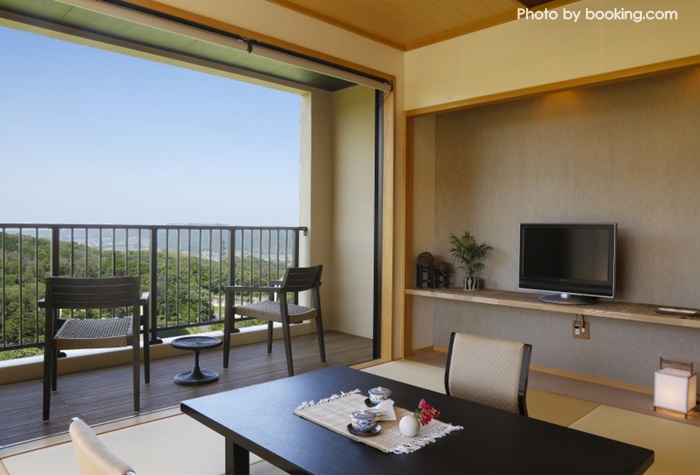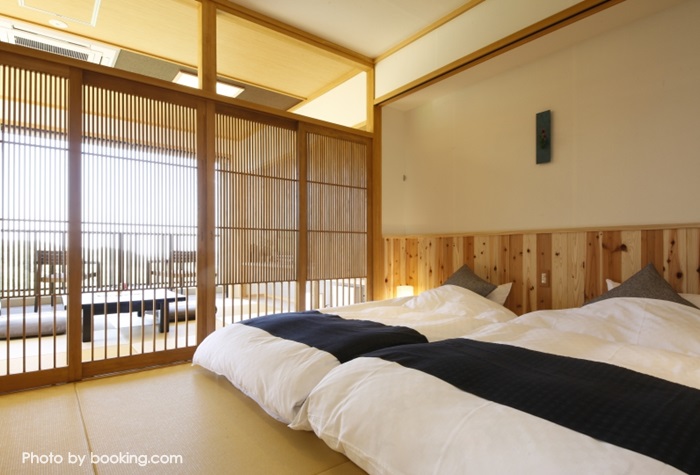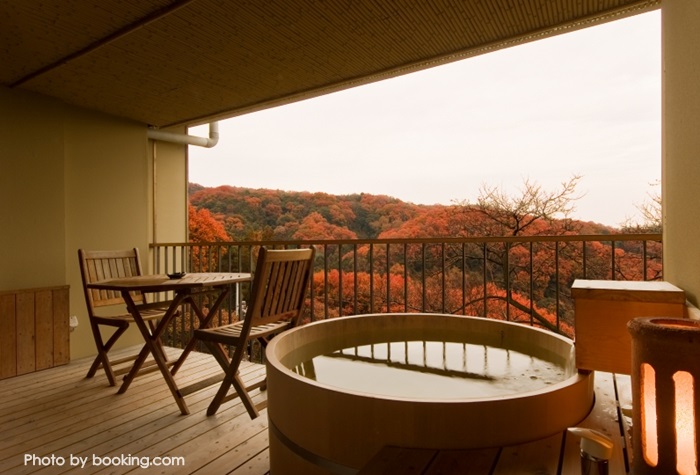 If you are looking for ryokans in Nara, I would highly recommend it. When we arrived at the property, we were getting low expectation at the lobby. Because the public spaces tend to be dated. However, once we entered a room with an amazing view of the forest, we were getting excited. If you are going to stay here, you must book a room with an opened-air bath at the balcony. You will be able to chill out at the bath while viewing dynamic landscapes in good weather. That's really wonderful. It would be very hard to find this kind of accommodations in

Nara

. On top of that, kaiseki food experience was fabulous! It's worth trying it when you are in Nara. It seems that there are many local return customers who stay here for a rejuvenating and refreshing oasis from the hustle and bustle of city life. bThey would stay here at least 2 days on weekends. Overall the property wouldn't be sophisticated, but staff tends to be warm, helpful, and friendly. I would say that here is in Nara. Probably most of guests wouldn't mind it. An access from Oji station is 10min by taxi. *approx. 1,000yen *There is no shuttle bus service provided. That's too bad. But the location would be truly perfect to relax in Nara. If you stay here, you must take a walk to Shigisan Chogosonshi-ji Temple. There are many unique temples and some hiking trails around the property. The best season to stay here would be in spring, early summer and fall. The weather is just nice, not so hot, and not so cold. If you want to view Sakura, you must visit in early April. If you want to view beautiful autumn color leaves, you might want to visit in Nov. Around Mt. Shigi would be very busy during the above seasons. Many people from the suburbs tend to flock to the mountain. It's ordinarily very quiet and a remote area though. On the other hand, I wouldn't recommend visiting here in winter or summer. Actually it's very cold in mid Dec to late March, and very hot in early July to mid Sep. You may feel like reluctant to take a walk around here during the seasons. You visit Nara all this way though. That's such a waste of time!
Anyway before booking a room, don't forget to check a weather forecast. If the weather is good, just go ahead. That's the most important to stay here! Have a nice trip! Welcome to receive any questions about the property from the below space. *All information is as of the date that I posted on my blog.

   Check Availability and Pricing for the ryokan on Booking.com or Agoda

About Kakimotoya
"Kakimotoya" is a long-established Ryokan that stands in Mt.Shigi, which is elected as a National Monument. From the guest rooms that are on the National Monument side and from the public bath, you can see a view of Mt.Shigi. A paranormal view of this can be seen from the spacious guest rooms. Spend a relaxed day off with someone special. Dinner at Kakimotoya is a Creative Japanese Style cuisine, where Western essences are mixed in with the Japanese Style cuisine.
Info about Kakimotoya
Style

Japanese-style Hotel

Guest Rating

Fabulous 8.7

Estimated Price

22,000 JPY for 2 adults per room

Contact

 

info@kakimotoya.com

Internet Connection

Free wifi in the ryokan

Booking

Check Availability and Pricing for the ryokan
on

Booking.com

or

Agoda




Location

Kakimotoya's MAP

Access

15min by TAXI from Ouji Station

Address and TEL

5-8 Shigisanhigashi Sangocho Ikomagun,
Nara 636-0831  Tel +81 745 72 8000
Reception Time 9:00-21:00 JST

Official Homepage

Kakimotoya's HP
You may be interested in other places near Nara.