What kind of hotel is Mitsui Garden Hotel Nagoya Premier?
This is a stylish business hotel near Nagoya Station.  Also, this is a romantic city hotel with nice city views.  If anything, I'd say that the hotel is more for couples, business persons, or solo travelers than for families with children.  I saw some families there when we stayed, though.  If you are looking for venues for special occasions in Nagoya City, the property would be one of the best.  The staff arranges flowers and cakes to celebrate an anniversary at additional charges if you request in advance.  Then all staff is excellent.  If you expect signature Japanese hospitality, you should stay here.  Perhaps, if this is your first-time visit to Nagoya, I would recommend it because the location is convenient from Nagoya Station.
  TOP5 Romantic Hotels and Ryokans in Nagoya
  TOP5 Hotels and Ryokans for Solo Travelers in Nagoya

Is the location easy to access?
Yes, it would be easy.  It takes less than 10min on foot from Nagoya station.  Actually, the hotel is connected to the underground of Nagoya Station, but the underpass is very complicated.  If this is your first visit, you might get lost, so you may want to check the route to the hotel beforehand.  Refer to the map  The hotel is located in Symphony Toyota Building and the reception is on 18F.

Then there is no parking lot for the hotel.  I wouldn't recommend driving a car. 
Rooms I would recommend?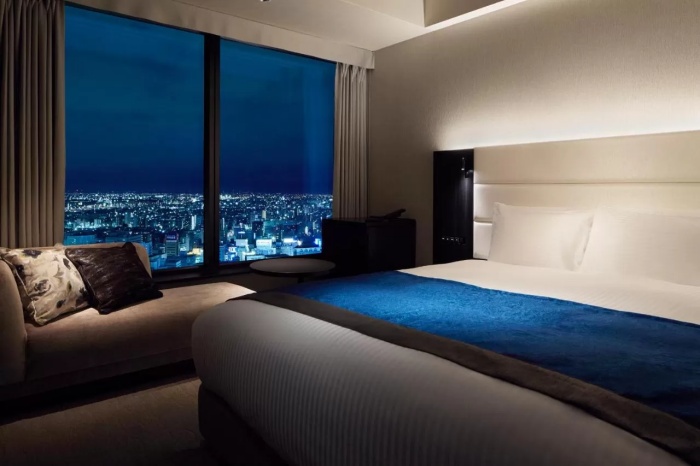 If you are going to stay here, I would recommend a corner room on a high floor possible.  You can fully relax while seeing nice Nagoya city views.  The night and sunrise views are especially spectacular.  It's great to enjoy the view while lying on the bed. 
On the other hand, I wouldn't recommend rooms on the east side.  The views are not special.  Also, it seems that some rooms tend to be cramped.  You should stay in rooms on the west side.
Is this child-friendly?
Yes, staff arranges amenities,  pajamas, baby cots, etc. if you request in advance.  *One child up to elementary school age per adult will be free of charge for co-sleep.
  TOP5 Hotels and Ryokans for Families in Nagoya

How about toiletries & in-room amenities?
All of the amenities are taken care of including enough toiletries, pajamas, drip coffee bags, and tea bags, etc.  There were skincare products in the bathroom.  Room service is not available.  There is a convenience store within a 5min walk.  Free Wi-Fi was available.
How about In-house Facilities?
There are communal baths on 18F.  *You can check the congestion status on the TV screen in your room.  The communal baths are open between 6:00-9:00, 15:00-25:00.  *If you have tattoos, you may not be permitted to use the communal bathing area.

Then this is a perfect universal design. There is room for wheelchair users. Wheelchairs are available for borrowing. Then there is a laundromat.  There is no swimming pool, no gym, no club lounge, etc.  If you want to stay in a hotel with well-equipped facilities, Nagoya Marriott Associa Hotel would be a better choice.
 TOP5 Accessible Hotels and Ryokans in Nagoya

How about meals?
The buffet-style breakfast was good.  You can enjoy meals while seeing a peaceful Nagoya city view.  Breakfast is served from 6:30 to 10:00 a.m.  Then there are many restaurants around there, but most of them except for fast food shops are open from 10:00 or 11:00.

My impressions
Overall, the hotel has great value for money.  If you need to leave early in the morning or arrive late in the day, this is really convenient.  At last, the hotel lobby is gorgeous and romantic at night.  Don't forget to take a walk around there.  Have a nice trip!  Welcome to receive any questions about the property from the below space.  Check Availability and Pricing for the hotel on Agoda
Info about Mitsui Garden Hotel Nagoya Premier
Style

Stylish Business Hotel

Check-in and out times

15:00/11:00


Estimated Price

20,000 JPY for 2 adults per room

Contact E-Mail Address


Fill in the form




Internet Connection

Free wifi in the hotel

Facility Information

Wheelchairs are available
Pets are not allowed
The parking lot is not available.


Location

Mitsui Garden Hotel Nagoya Premier's MAP

Access

Refer to the above

Address and TEL

4-11-27 Meieki, Nakamura-Ku, Nagoya, Aichi 450-0002
Tel +81 52-587-1131


Official Homepage

Mitsui Garden Hotel Nagoya Premier's HP
*All information above is as of the date that I posted on my blog.