What kind of onsen ryokan is Wakamatsu Chita Hot Spring Resort?
This is a small authentic onsen ryokan with ocean views in Aichi prefecture.  There are 18 rooms only.  The location is not in Nagoya city.  It takes 60min by train from Nagoya station, but it's well worth a visit.  If you are a gourmet, you should stay here.  This is one of the best auberge ryokans in Aichi.  On the other hand, if you are looking for rooms with private hot springs, this is not.  The property has no room with private hot springs.  There are private family hot springs in-house, though.
Once we arrived at the property, the staff welcomed us very warmly and served Japanese sweet and green tea in the lobby.  We relaxed here while viewing a traditional small garden.  It's like you're in another world.  The property would be great for couples, solo travelers, family, or small groups.
  TOP5 Ryokans with Private Onsen in Aichi

Is the location easy to access?

Yes, access to the property would be easy.  It takes 60min from Nagoya Station to Utsumi Station by train.  Free shuttle service is available from Utsumi Station.  You need to book it in advance.
Rooms I would recommend?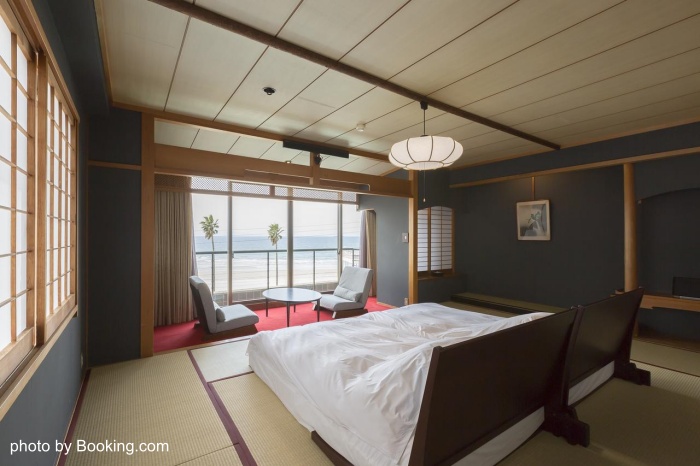 If you are going to stay here, I would recommend rooms on 5F.  All rooms are facing the ocean, but the rooms on 5F would be best if you want to see magnificent ocean views.  The rooms tend to be cramped, but cozy and functional.  Facilities tend to be a bit worn out, but the housekeeping was excellent.  The inside is well-maintained even though the outside of the building is a bit outdated.  The property was renovated a few years ago.
Is this child-friendly?
Yes, staff arranges yukatas, meals, and amenities if you request in advance.  We saw several families with small children in the ryokan during our stay.
  TOP5 Hotels and Ryokans for Families in Aichi

How about toiletries & in-room amenities?
All of the amenities are taken care of including enough toiletries, a green tea set, yukatas, sweets, and a nice coffee machine with capsules.  Also, there are colorful yukatas that you can choose from.  There are skincare amenities in the bathroom.  It seems that each room has a separate shower cabin, but there is no bathtub.  Then room service is available by iPad provided in each room.  Also, you can adjust room temperature, lighting equipment, and curtains, etc., using the iPad.  On top of that, you can use a streaming service to watch TV dramas and moves, and listen to music.  Free WiFi was good when we stayed in 2019. 
Then there is no convenience store within 5min walking distance.  You may want to buy your necessities before coming here.  There is no vending machine, but complimentary coffee, tea, and hot cocoa, etc., are available at the lobby lounge.  Also, some kinds of wine, Japanese sake, and whisky are available at additional charges.  The lounge has such a laid-back atmosphere.  You can appreciate the old-world beauty of the garden while drinking.
How about In-house Facilities?
There are small indoor and outdoor communal hot springs.  Also, there are two private family hot springs that you can use for free.  You need to book the private family ones in advance.  You may want to check in earlier for better time selections.  The spring quality wouldn't be special.  All of them are open from 6:00-10:00, 15:00-24:00.  *If you have tattoos, you may not be permitted to use the communal bathing area.  You may want to use the private family ones.
Then this is not a universal design.  If you bring someone with weak legs, I wouldn't recommend this property.  There are some steps.  You may want to stay at others.
  TOP5 Accessible Hotels and Ryokans in Aichi
How about meals?
The Kyoto kaiseki food experience was just divine.  If you love Japanese food, you must be excited.  The portion tends to be average.  You need to check in by 19:00 if you have dinner on the property.  Basically, dinner is served in a private room.  If you prefer a meal served in your room, you can request at an additional charge.  Breakfast time is between 7:30-9:30. *Please note that inform the staff when you book a room with meals if you have any food allergies.  They probably wouldn't be able to prepare alternative food if you request it on that day.
My impressions
The staff tends to be patchy.  Some staff is professional, though.  Overall, the property has great value for money if you love hot springs, Japanese kaiseki food, and authentic ryokans.  At last, the property is located in front of a designated swimming area.  There would be so many local children during the summer season between mid-July and mid-Aug.  If you want to relax in a tranquil atmosphere, you may want to avoid staying here during the summer season.  Have a nice trip!  Welcome to receive any questions about Wakamatsu Chita Hot Spring Resort from the below space.  Check Availability and Pricing for the ryokan on Agoda

Info about Wakamatsu Chita Hot Spring Resort
Style

Traditional Ryokan

Guest Rating

Wonderful 8.9


Estimated Price

30,000 JPY for 2 adults per room

Contact E-Mail Address


info_chita@wakamatsuryokan.com

Internet Connection

Free WiFi in the hotel

Facility Information

Wheelchairs are not available
Pets are not allowed
The free parking lot is available

Location

Wakamatsu Chita Hot Spring Resort's MAP

Access

Free shuttle service from

Utsumi Station


Need to book in advance upon request

Address and TEL


Tel +81

Official Homepage

Wakamatsu Chita Hot Spring Resort's HP
*All information is as of the date that I posted on my blog.