What kind of onsen ryokan is Akariya Geihanro?

This is a small luxury modern ryokan in Aichi.  The location is a 30min train ride from Nagoya Station.  Each room has a wonderful private onsen.  We never met other guests even though the property was fully booked.  Absolutory the ryokan completely emphasizes private experiences for each guest.  If you want to experience luxury ryokans near Nagoya city, I would recommend it.  Facilities tend to be the latest.  The ambiance is serene, tranquil, and stylish.  It would be great for couples, families, small groups, or solo travelers.  *A minimum age requirement of 13 applies.
  TOP5 Ryokans with Private Onsen in Aichi

Is the location easy to access?
Yes, it would be easy.  Get off at Inuyama Station, then a 5min taxi ride to the property.  The taxi fare will be refunded upon check-out.  Don't forget to get a receipt from a taxi driver.  Alternatively, you can walk from the station unless you have a lot of baggage.  It takes around 20min.  You can enjoy Inuyama castle town on the way to the property.
Where is the best accommodation for anniversaries?
If you are looking for venues for special occasions, the property would be one of the best in Aichi.  The staff arranges flowers and cakes to celebrate an anniversary at additional charges if you request in advance.
  TOP5 Romantic Hotels and Ryokans in Aichi

Rooms I would recommend?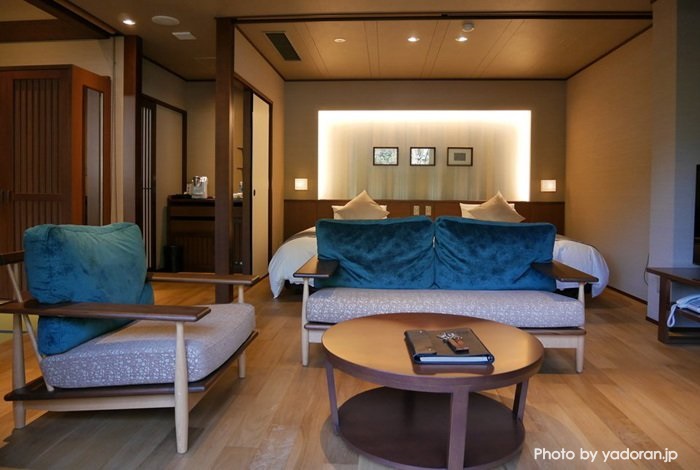 If you are going to stay here, I would recommend rooms with Kiso river views on 1F.   Some rooms are facing the parking lot and the street.  They wouldn't be special.  Your ear may catch some noise from the outside.

How about toiletries & in-room amenities?

All of the amenities are taken care of including enough toiletries, pajamas, bathrobes, yukatas, a coffee machine with capsules, a complimentary minibar including beer, MARIAGES FRÈRES tea, and a green tea set, etc.  Also, there are AVEDA amenities in the bathroom.  Room service is not available.  Turn-down service is available if you request.  Free Wi-Fi reception was good on the property. 
Then a DVD player, a Blu-Ray player, and a CD player were placed.  Also, a portable projector, a Bluetooth speaker, and a hair iron are available if you request. 
Then complimentary coffee, KUSMI tea, orange juice, apple juice, herb tea, etc., are available at the lounge.  Also, after dinner, complimentary red and white wine and canapés are available.  There is no convenience store nearby.  You may want to buy your necessities before coming here.
How about In-house Facilities?
This is almost a universal design.  There are some steps, though.  Also, there is no lift in the building but once you enter your room, you wouldn't need to move around there.  A wheelchair is available for borrowing.  There are some rooms for wheelchair users.
  TOP5 Accessible Hotels and Ryokans in Aichi

Then there is an amazing private family hot spring which you can use for free.  You should try it.  You need to book it when you check in.  You can fully enjoy soaking in the bath while viewing a beautiful Inuyama castle.  It was good without any comparison.
How about meals?

The kaiseki food experience for dinner and breakfast was wonderful.  The food presentation was sophisticated.  If you are a gourmet, you must be happy.  They have a nice sake list to complement the meal.  After dinner, some rice balls were served in our room.  Dinner starts at 18:00, 18:30, or 19:00.  Then you can choose either Western or Japanese food for breakfast.  All meals are served in a private room. 
*Please note that inform the staff when you book a room with meals if you have any food allergies.  They probably wouldn't be able to prepare alternative food if you request it on that day. 
Then, as far as I know, there wouldn't be nice local restaurants around there.  Local papa-mama shops are closing early.  I would recommend booking a room with meals.
  TOP5 Gourmet Hotels and Ryokans in Aichi

My impressions
All staff tends to be professional.  If you want to experience signature Japanese hospitality, you should stay here.  Then if you want to chill out at the property in a tranquil atmosphere, you might want to avoid staying during early April, late April to early May, mid Aug, weekends in Nov, and the end of the year and New Year holiday.  The property would be busy during the above periods more than you expect.  Have a nice trip!  Welcome to receive any questions about the property from the below space.  Check Availability and Pricing for the ryokan on Agoda
Info about Akariya Geihanro
Style

Modern Ryokan

Check-in and out times


15:00/11:00

Estimated Price

85,000 JPY for 2 adults per room

Contact E-Mail Address


info@geihanro.co.jp

Internet Connection

Free wifi in the ryokan

Facility Information

Wheelchairs are available




Pets are not allowed


The free parking lot is available
Valet parking is available


Location

Akariya Geihanro's MAP

Access

5min TAXI from

Inuyama Station




Address and TEL

41-6 Kitakoken Inuyama Inuyama-shi
Aichi 484-0082  Tel +81 568-61-2204

Official Homepage

Akariya Geihanro's HP
*All information above is as of the date that I posted on my blog.