What kind of resort hotel is Okinawa Spa Resort Exes?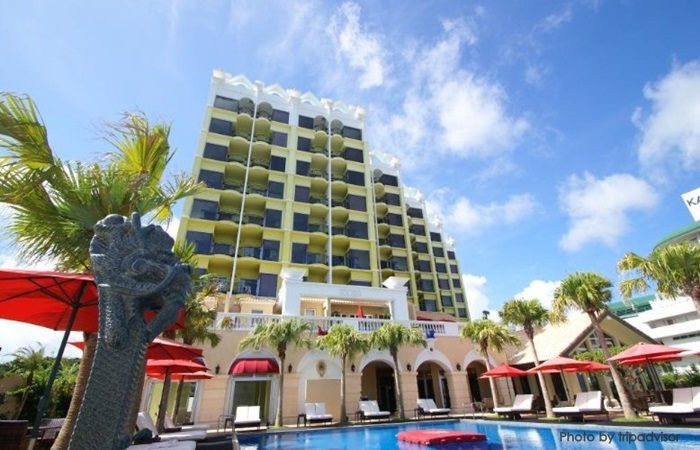 If you are looking for boutique resort hotels in Okinawa, you should stay here.  The resort wouldn't luxury, but very cozy, relaxed, and comfortable.  All staff tends to be sophisticated.  Sincere and wonderful hospitality greeted us the moment we stopped our car at the entrance.  On top of that, the property has great cost performance.  The building has an outdated exterior but once we went inside, we felt so relaxed.  I love the calm atmosphere.  Perhaps, if you are looking for rooms with large private swimming pools, you should stay here.  There are wonderful suite rooms with private pools on the top floor.   Perhaps if you want to enjoy water sports, the property would be convenient as the location is a 15min walk from Kariyushi Beach, or a free shuttle service is available from the hotel.
On the other hand, if you want to get much of an immersive "ocean view" experience, this is not.  You can see ocean views from your room, but the property is facing a large car park too.  The car park may spoil ocean views from the property.
The property would be nice for couples, small groups, families with children, or solo travelers.  If anything, the resort would be for adults.  We noticed that there were many couples.  Also, this is child-friendly.  The staff can prepare baby cribs, strollers, and bed rails if you request in advance.  You can order baby food at the restaurant.  *One child (ages 6 and under) per adult will be free of charge for co-sleep.
  TOP5 Luxury Resorts for Solo Travelers in Okinawa
  TOP5 Luxury Resorts for Families in Okinawa

Is the location easy to access?
It wouldn't be easy.  You can take an Airport Limousine Bus from Naha Airport, and then get off at Okinawa Kariyushi Beach Resort Ocean Spa Bus Stop.  It takes 120min.  You need to book bus seats by Japan Bus Online in advance.  Then free shuttle service is available from the bus stop to the property.  It takes 10min by car.  You need to inform the staff in advance.  Alternatively, you can get a rental car from the airport and it takes 70min.
Rooms I would recommend?
If you are going to stay here, I would recommend rooms on a high floor.  The rooms tend to be spacious, functional, and user-friendly.  Facilities tend to be a bit worn out, but the housekeeping was excellent.
How about toiletries & in-room amenities?
All of the amenities are taken care of including enough toiletries, bathrobes, pajamas, beach hooded sweatshirts, bottled water, tea bags, a coffee machine, and a green tea set.  Also, there are BVLGARI or L'Occitane amenities in bathrooms.  Room service is available from 7:00-21:00.  A business center, turn-down service, and a laundromat is available.  A complimentary valet parking service is available.  That's a great service.  The free Wi-Fi reception is excellent.  You can find the ID and password for your room Wi-Fi on the TV screen.  Then if you stay on the Exes club floor, 8F or 9F, complimentary coffee, tea, fresh juice, local cookies, and cakes, are available at the Exes Lounge from 8:00 to 16:00.  Also, complimentary beer, whiskey, awamori, and snacks, etc., are available from 16:00-20:00.  The food presentation wouldn't be special, though.
How about In-house Facilities?
There are indoor and outdoor swimming pools.  The outdoor one is open between April and Oct.  The indoor one is open all year round.  There is a gym.  It's open from 8:00 to 22:00.  Also, communal hot baths, jacuzzis, and dry saunas are available at an additional charge.  You may want to bring your swimwear, swim caps, goggles, sportswear, and running shoes, etc., if you use them.  You can rent all of them, but availability may be limited.  *If you have tattoos, you may have to wear rash guards.  Then I would recommend "spa treatment" on 2F.  This is one of the best spa shops in Okinawa.  It's open from 14:30 to 23:00.  You need to make an appointment in advance.  Then if you stay here, you can use for free swimming pools, saunas, and large communal baths in the sister inn, Okinawa Beach Resort Ocean Spa Karuyushi Hotel.  Also, there is a large souvenir shop and a convenience store in the sister inn.  Then the property is universal design.  There are rooms for wheelchair users.  Wheelchairs are available for borrowing.  If you bring people with weak feet, you may want to inform the staff in advance as they can arrange a room near the lift.
How about meals?
The food experience was wonderful, especially, western Japanese local buffet-style cuisine for breakfast.  The buffet is quite extensive for a small hotel.  We stayed for 3 nights, but we never got bored with the food.  You can choose a main dish such as egg benedict, omelet, or pancake waffle French toast, etc.  Breakfast time is from 7:00-10:00.  Alternatively, you can have meals in the sister inn as there are some restaurants.  Unluckily, there is no restaurant within walking distance.  If you go out for meals, you need a car or taxi.
My impressions
Overall, the service was more than worth the price we paid.  If you want to enjoy an Okinawan resort on a budget, this hotel would be the best hotel.  At last, this is very popular.  If you want to chill out here in a tranquil atmosphere, you may want to avoid staying during Lunar New Year, late April to early May, the third week of July to late Aug, and the end of the year and New Year holiday.  The property would be very crowded more than you expect.  Have a nice trip!  Welcome to receive any questions about the property from the below space.  Check Availability and Pricing for the hotel on Booking.com or Agoda
Info about Okinawa Spa Resort Exes
Style

Modern Resort Hotel

Check-in and out times


14:00/11:00

Estimated Price

25,789 JPY for 2 adults per room

Contact

rsv@exes-kariyushi.com 

Internet Connection

Free wifi in the hotel

Facility Information

Wheelchairs are available




Pets are not allowed


The free parking lot is available


Location

Okinawa Spa Resort EXES's MAP

Access

120mins by

Airport Limousine Bus

from Naha airport.
70min by TAXI from Naha airport.

Address and TEL

 〒904-0401 Okinawa-ken, Kunigami-gun, Onna-son, Nakama2592-40  Tel +81 98-967-7500

Official Homepage

Okinawa Spa Resort EXES's HP
*All information above is as of the date that I posted on my blog.