What kind of resort is Hakkoda Hotel?

This is a cup of my tea.  The hotel is not luxurious, but a very cozy boutique mountain hut resort in Aomori.  There are 55 rooms only.  This is the perfect place for those who want to immerse themselves in a vacation home with hot springs in magnificent and beautiful nature.  You will be impressed by the natural beauty of the four seasons.  If you live in a big city, this is just another world.  Wherever you are, you can smell the wood and it's pleasant.

On the other hand, if you are looking for a luxury mountain hut resort with a private onsen, this is not.  There is no room with a private one.
The hotel would be great for couples, families, groups, or solo travelers.  *One child per adult will be free of charge for co-sleep.
  TOP5 Hotels & Ryokans for Families in Tohoku

Is the location easy to access?
Yes, take a Tohoku Shinkansen from Tokyo station and get off at Shin-Aomori Station. It takes 190min.  Then change to Ou Line and get off at Aomori Station.  Free shuttle service is available from the station at 10:15 or 14:00.  Refer to the map.  You need to book it by one day before.  It takes 60min from the station to the property.  The shuttle buses leave on time, so please allow plenty of time to get there. 
If you take a taxi from Shin-Aomori Station to Aomori Station, it takes 10min and costs around JPY2,000.  It seems that there are some taxis waiting in front of Shin-Aomori Station.
Then the check-in time is from 12:00 p.m.  I would recommend checking in as early as you can.

Rooms I would recommend?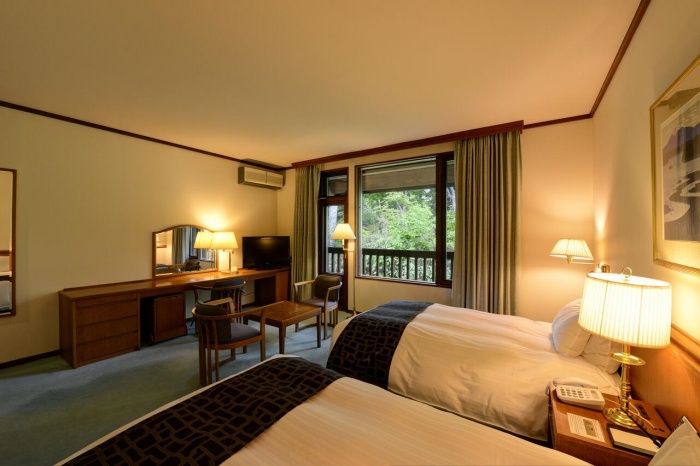 The rooms are available in Japanese and Western style.  In the winter season, you may feel cold in the Japanese-style rooms.   A Western-style room is recommended.
How about toiletries & in-room amenities?
All of the amenities are taken care of including enough toiletries, bathrobes, and a green tea set, etc. There is no skin product in the bathroom. Room service is not available. There is no convenience store nearby.  You may want to buy your necessities around Aomori Station.  Free Wi-Fi reception was good but sometimes very slow at night.  Also, this is child-friendly.  The staff can arrange baby cots and meals for small children at additional charges.

How about In-house Facilities?
Overall, the facilities are old-fashioned, but the housekeeping was excellent.  Then there are indoor communal hot springs.  They are open from 12:00-11:00 the following morning.  *If you have tattoos, you may not be permitted to use the communal bathing area.

Then the property is not a universal design.  There are some steps and the property is large.  Nevertheless, if you bring people with weak feet, you should book a room near the reception.  All staff is very cooperative.
Also, this is dog-friendly.  If you bring your dogs, you should inform the staff in advance as there are some conditions.
  TOP5 Accessible Hotels & Ryokans in Tohoku 
How about services?
Overall, the service was beyond what I expected.  Staff will bring you to Sukayu Onsen which is a large traditional public hot spring by free shuttle bus whenever you want.  Even if you don't soak in the hot spring, you should definitely take a look around.  It's a great experience.  The onsen here is mixed bathing, but in the morning it is for women only.
Also, the staff will take you to Hakkouda Ropeway Ski Resort whenever you want.  That's a great service.  You can fully enjoy skiing during your stay in the winter season.  If you visit in the spring, summer, and fall seasons, you can enjoy trekking.  All staff is informative.  You should ask them about recommended spots, etc. 
How about meals?
Authentic French food is amazing.  I didn't expect to be able to eat great French food deep in the mountains.  If you love French cuisine, you should try it.  You can choose either French or Japanese cuisine for dinner and breakfast, but I would recommend the former.  I was happy to be able to enjoy wonderful French cuisine while viewing the snow falling from the window.  All meals are served in restaurants.  After dinner, don't forget to visit a bar.  The ambiance is very cozy.  There is also live Tsugaru shamisen music at the bar.

*Please note that inform the staff when you book a room with meals if you have any food allergies.  They probably wouldn't be able to prepare alternative food if you request it on that day.  Then, as far as I know, there is no restaurant around there. You may want to book a room with meals.
  TOP5 Gourmet Hotels & Ryokans in Tohoku

My impressions
Overall, everything was amazing.  In particular, all staff is excellent.  I was impressed by the dignified service.  You will have an unforgettable time in your life.  Check Availability and Pricing for the resort hotel on Agoda
Info about Hakkoda Hotel

Style

Mountain Hut Style Resort Hotel


Check-in and out times

12:00/11:00

Estimated Price

45,000JPY for 2 adults per room

Contact

+81 17-728-2000 from overseas
017-728-2000 from domestic

Internet Connection

Free WiFi in the property

Facility Information

Wheelchairs are not available




Pets are allowed


The free parking lot is available


Location

Hakkoda Hotel's Map

Access

Free shuttle service from Aomori Station

Official Homepage

Hakkoda Hotel's HP
*All information is as of the date that I posted on my blog.