What kind of onsen ryokan is Yamagata The Takinami?

This is a stunning ryokan that has been renovated with a modern design while retaining the good qualities of an old traditional samurai residence.  Absolutely this is one of the amazing ryokans in JAPAN.  Also, each room has a wonderful private outdoor onsen.  On top of that, the spring quality is perfect.  Even if you are a connoisseur of Japan, you would be satisfied with it.  After passing through the stately and massive gate, we were led to the lobby, which was tastefully decorated with traditional architecture and modern design furniture, and checked in while having coffee.  All staff is so welcoming.  There are 19 rooms only.  The property would be great for couples, families, small groups, or solo travelers.  *Children under 10 years old are not allowed to stay.
  TOP5 Ryokans with Private Onsen in Tohoku
  TOP4 Modern Ryokans in Tohoku

Is the location easy to access?
Yes, take a Yamagata Shinkansen from Tokyo station and get off at Akayu Station.  It takes 140min.  Then free shuttle service is available from Akayu Station at 14:30 or 15:30.  If you take a taxi, it takes JPY870.  It takes 10min by car.

Where is the best accommodation for anniversaries?
If you are looking for a good place for a special occasion, the property would be one of the best.  The staff can arrange cakes to celebrate an anniversary at an additional charge if you request in advance.
  TOP5 Romantic Hotels & Ryokans in Tohoku

Rooms I would recommend?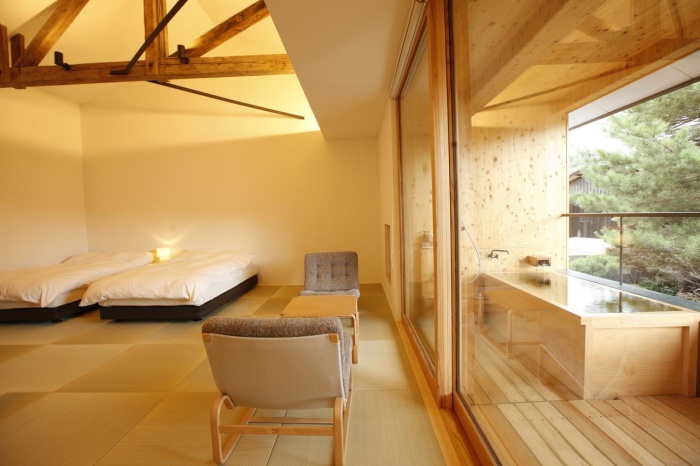 I think that each room would be unique, stylish, and user-friendly.  If you stay here in the spring season, I would recommend rooms called SAKURA.  You can chill out in the rooms while viewing SAKURA in the garden.  That's precious time.  *Please note that the traditional building has no latest soundproofing.  My ear sometimes caught some noise from upstairs.

How about toiletries & in-room amenities?
All of the amenities are taken care of including enough toiletries, yukatas, samue outfits, bathrobes, and a green tea set, etc.  A DVD player, a Blu-Ray player, and a tablet were placed in our room.  Room service is not available, but there are complimentary beer, Japanese sake, fresh juice, coffee, tea, etc. at the lobby lounge.  There is a convenience store nearby.  The Free Wi-Fi reception was excellent.

How about In-house Facilities?
There are communal hot springs. All of them are open from 15:00-10:00 the following morning. *If you have tattoos, you may not be permitted to use the communal bathing area.
Then the property is almost universal design.  Wheelchairs are available for borrowing. If you bring people with weak feet, you may want to request a room on 1F.
  TOP5 Accessible Hotels & Ryokans in Tohoku 
How about services?
If you are going to stay here, you should check in early.  There are some free tours available.  Before dinner, you can watch the owner himself make soba noodles while drinking free Japanese sake.  Also, he will take you on an ocean of clouds tour early in the morning.  We received some rice from Yamagata as a souvenir after the tour.  Please wake up early and join it. 
How about meals?
The local kaiseki for dinner was just divine.  All local ingredients are so fresh.  If you are a gourmet, you should try it. All meals are basically served in a dining area.  I notice there are some private rooms.  The portion tends to be small.
*Please note that inform the staff when you book a room with meals if you have any food allergies. They probably wouldn't be able to prepare alternative food if you request it on that day.  Then, there are some local restaurants around there, but I would recommend having meals on the property.
  TOP5 Gourmet Hotels & Ryokans in Tohoku

My impressions
Japan is blessed with many fine hotels and ryokans, but this is indisputably one of the best.  Everything would be sophisticated.  You will have an unforgettable time in your life.  We definitely return again.  Check Availability and Pricing for the onsen ryokan on Booking.com or Agoda
Info about Yamagata The Takinami
Style

Modern Onsen Ryokan


Check-in and out times

15:00/11:00

Estimated Price

60,000JPY for 2 adults per room

Contact

Internet Connection

Free WiFi in the property

Facility Information

Wheelchairs are available




Pets are not allowed


The free parking lot is available


Location

Yamagata The Takinami's Map

Access

Free pick-up service from Akayu Station

Address and TEL

〒999-2211 Yamagata, Nanyō, Akayu, 3005




TEL +81238436111

Official Homepage

Yamagata The Takinami's HP
*All information is as of the date that I posted on my blog.