What kind of resort hotel is Hotelli Aalto?

This is a luxury boutique resort hotel in Fukushima.  There are 17 rooms only.  The warmth and scent of the wood here relaxes you, and the simple, functional Nordic furniture and interior design are amazingly cozy.  Strolling around the grounds, you can fully enjoy the blue sky reflected in the jade-colored swamp and the beautiful green shining forest.  If your main purpose to visit Fukushima is relaxation in rich nature, the resort hotel would be perfect.  Then this is one of the best gourmet hotels in JAPAN.  You can enjoy dishes made from a variety of fresh, local ingredients.  On top of that, the wine, beer, cocktails, champagne, Japanese sake, coffee, milk, juice, etc. that you drink here are all free.  It is truly a paradise for drinkers!
The property would be great for couples, small groups, solo travelers, or family.  *Elementary school students and older can stay.
  TOP5 Hotels & Ryokans for Solo Travelers in Tohoku

Is the location easy to access?
Yes, it would be easy.  Take a Shinkansen from Tokyo Station, then get off at Koriyama Station.  It takes around 90min.  Then change to Banetsusai Line and get off Inawashiro Station.  It takes around 40min.  Free shuttle service is available from Inawashiro Station.  It takes 20min by car.  You need to book it in advance.
Where is the best accommodation for anniversaries?
If you are looking for a good place for a special occasion, the property would be one of the best in Fukushima. The staff arranges cakes to celebrate an anniversary at an additional charge if you request in advance.
Rooms I would recommend?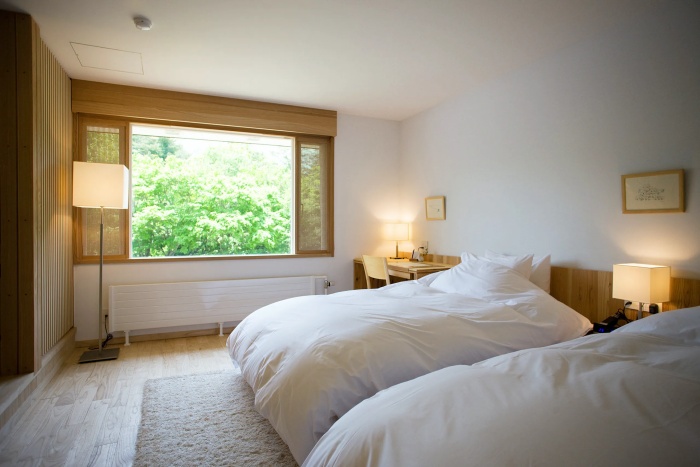 If you love hot springs, you should book a room with an outdoor private onsen in the annex.  Alternatively, I would recommend No.301 or No.302 room in the main building.  They have nice balconies and peaceful views.  Also, the rooms have a high ceiling and are very open.  On the other hand, I wouldn't recommend superior rooms as they wouldn't have nice views.

How about toiletries & in-room ameniti

es
All of the amenities are taken care of including enough toiletries, pajamas, samue-outfits, cookies, a complimentary minibar including beer, a Nespresso machine, and a green tea set, etc.  There are shu uemura skincare products in the bathroom.  A Bluetooth speaker was placed in our room.  Also, a towel warmer, floor heating, and a small sink were installed.  Room service is not available, but there are complimentary beer, Raspberry fruit wine, Japanese sake, fresh juice, coffee, tea, etc. at the lobby lounge.  There is no convenience store nearby.  You may want to buy your necessities before coming here.  The Free Wi-Fi reception was excellent.

How about In-house Facilities?
There are small outdoor and indoor communal hot springs.  They are open from 15:00-10:00 the following morning.  The spring quality is wonderful.  *If you have tattoos, you may not be permitted to use the communal bathing area. Also, there is a cozy lounge.  Complimentary drinks are available until 22:00.

Then the property is not a universal design. There are some steps. If you bring people with weak legs, you should find others.
  TOP5 Accessible Hotels & Ryokans in Tohoku

How about meals?
The French cuisine for dinner is just divine.  The food tends to be sophisticated.  All drinks are complimentary, including alcoholic beverages, even during dinner.   Dinner starts at 17:30 or 19:30.  After dinner, some rice balls were served for a night snack.  Then don't forget to visit the courtyard after drinking at the lounge.  The stars in the night sky were incredibly bright.
Then the western-Japanese buffet for breakfast is also wonderful.  Champagne was served.  All meals are served in a dining area with a nice fireplace.
*Please note that inform the staff when you book a room with meals if you have any food allergies.  They probably wouldn't be able to prepare alternative food if you request it on that day.  Then there is no restaurant around here.  The location is in a large national park.
  TOP5 Gourmet Hotels & Ryokans in Tohoku

My impressions
Overall, the property has good value for money if you are a happy drinker.  There is a wide variety of alcoholic beverages available, so we tend to drink too much.  Delicious fresh air and good food, this place is surprisingly great.
Then, if you want to enjoy the beauty of nature, spring, summer, and autumn would be the best times to visit. Summer is cooler because it's a summer resort.  In the winter, there is a lot of snow in the area, so if you are not into skiing or hot springs, it may be a bit boring.
At, last, don't forget to check the weather forecast before booking a room.  That's important.  Have a nice trip!  Check Availability and Pricing for the resort hotel on Agoda
Info about Hotelli Aalto
Style

Luxury Resort Hotel


Check-in and out times

15:00/12:00

Estimated Price

40,000JPY for 2 adults per room

Contact

info@hotelliaalto.com

Internet Connection

Free WiFi in the property

Facility Information

Wheelchairs are not available




Pets are not allowed


The free parking lot is available


Location

Hotelli Aalto's Map

Access

Free pick-up service from

Inawashiro Station




Address and TEL

1073-153 Obudaira, Kitashiobara, Yama-gun,
Kitashiobara, Kitashiobara 969-2701


TEL +81 24-595-2149

Official Homepage

Hotelli Aalto

's HP
*All information is as of the date that I posted on my blog.