What kind of onsen ryokan is Meigetsuso?
This is a luxury authentic villa-style ryokan with a long history.  If you plan to visit Yamagata Prefecture, I would recommend it.  Perhaps, if you are looking for luxury ryokans with private onsen, you should stay here.  There are some wonderful rooms with private ones.  Access to the property would be a bit tricky from Tokyo.  It takes around 150min, but it's well worth staying here if you are in JAPAN.  This is one of the best.
Overall, the property tends to be sophisticated.  We felt the luxury and authenticity at once.  Once we arrived at the property, the staff welcomed us warmly.  The ambiance is truly cozy, relaxed, and serene.  There are 20 rooms only.  The onsen ryokan completely emphasizes private experiences for each guest.  This is great for couples, families, small groups, or solo travelers.
  TOP5 Ryokans with Private Onsen in Tohoku
  TOP5 Authentic Ryokans in Tohoku

Is the location easy to access?
Yes, take a Yamagata Shinkansen from Tokyo Station and get off at Kaminoyama Onsen Station.  It takes 150min.  The shuttle service by taxi is available from Kaminoyama Onsen Station.  Free taxi fare.  When you book a room, please let the staff know if you take a taxi from the station.

Where is the best accommodation for anniversaries?
If you are looking for a good place for a special occasion, the property would be one of the best.  The staff arranges flowers and cakes to celebrate an anniversary at additional charges if you request in advance.
  TOP5 Romantic Hotels & Ryokans in Tohoku

Rooms I would recommend?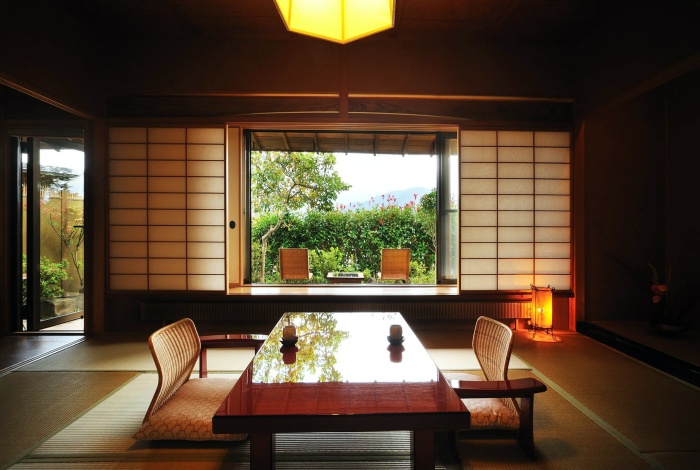 If you are going to stay here, I would recommend a room with a private hot spring. That's truly amazing. Actually, one night stay wouldn't be enough. You can relax while viewing a beautiful countryside landscape and enjoy white noise. Then if you don't want to sleep on Japanese mattresses in tatami rooms, you should book a room with twin beds.
How about toiletries & in-room amenities?
All of the amenities are taken care of including enough toiletries, yukatas, pajamas, Japanese sweets, coffee drip bags, and a green tea set, etc.  Also, a DVD player, a BOSE speaker, and an air cleaner were placed in our room.  You need to request skincare products if you want to use them.  Room service is not available.  There is a vending machine for drinks in-house.  There is no convenience store nearby.  You may want to buy your necessities before coming here.  Also, this is child-friendly.  Staff can provide meals, amenities, toys, picture books, and baby baths, etc. if you request in advance.  Free Wi-Fi reception was great.  The housekeeping was excellent.
How about In-house Facilities?
There are some cozy public spaces on the property, such as a lobby lounge, terrace, library, yoga studio, wine cellar, gallery, a beautiful large garden, and a souvenir shop, etc.  Find your favorite spaces.  You may want to check-in as early as possible if you are staying.  We were so excited to explore around property.

Then there are wonderful indoor and outdoor communal hot springs with steam saunas.  On top of that, there are three private family hot springs that you can use for free whenever they are not occupied.  You should try all of them.  They are open for 24H.   The spring quality is soft, smooth, and moist.  *If you have tattoos, you may not be permitted to use the communal bathing areas.  Also complimentary coffee, tea, vegetable juice, and snacks, etc., are available at the lounge near the communal hot springs.
Then this is not a universal design.  There are some steps in-house and the property is very large.  If you bring people with weak feet, you may want to inform the staff in advance as they can arrange a room near the entrance.  Also, you may want to book a room with a private onsen and twin beds.  Once you enter your room, you wouldn't need to move around.  Wheelchairs are available for borrowing.
  TOP5 Accessible Hotels & Ryokans in Tohoku

How about meals?
The local kaiseki food was great.  All local ingredients were so fresh, exquisite, and tasty, especially Yonezawa beef.  The portion tends to be average.  After dinner, some rice balls were served.  Then you can choose either Japanese or western cuisine for breakfast.  All meals are basically served in your room.  Alternatively, you can request a counter seat in a dining area.  Dinner starts from 18:00-19:30.  If you have dinner on the property, you need to check-in by 18:00.  Breakfast starts from 7:30-9:30.  *Please note that inform the staff when you book a room with meals if you have any food allergies.  They probably wouldn't be able to prepare alternative food if you request it on that day.  Then, as far as I know, there is no restaurant near the property.  The location is in a rural area.  You may want to book a room with meals.
TOP5 Gourmet Hotels & Ryokans in Tohoku 

My impressions
Overall the property has great value for money compared to Hakone, Izu, and Atami. All staff is very warm, proactive, and professional.  They are the loveliest group.  If you want to experience signature Japanese hospitality with a personal touch, you should stay here.  You will have an unforgettable time in your life.  Have a nice trip!  Welcome to receive any questions about the property from the below space.  Check Availability and Pricing for the resort on Agoda or Booking.com
Info about Meigetsuso
Style

Authentic villa-style onsen ryokan

Guest Rating

14:00/11:30

Estimated Price

40,000 JPY for 2 adults per room

Contact

Internet Connection

Free wifi at the property

Facility Information

Wheelchairs are available




Pets are not allowed


The free parking lot is available


Location

Meigetsuso's Map

Access

Free pick-up service from


Kaminoyama Onsen Station

Address and TEL

5-50 Hayama, Kaminoyama, Yamagata 999-3242
Tel +81 23-672-0330

Official Homepage

Meigetsuso's HP




*Japanese Only
*All information is as of the date that I posted on my blog.