What kind of onsen ryokan is Sakunami Onsen Yuzukushi Salon Ichinobo?
This is a luxury modern onsen ryokan in Sendai.  Once we entered the lobby, we were overwhelmed by the beauty of the forest when we visited in the fall season.  The ambiance is very cozy, tranquil, and relaxed.   If you are looking for a modern room with private onsen in Sendai, you should stay here.  Some rooms have private ones.  Perhaps, if you are a hot spring freak, I would recommend it as there are dynamic outdoor communal hot springs along the river.
Also, if you love drinking, the property would be paradise.  There are many complimentary drinks at the lobby lounge, such as Japanese sake, wine, beer, whisky, cocktail, coffee, tea, orange juice, snacks, Japanese sweets, popsicles, etc.  It couldn't be better.  On top of that, the property has great cost performance on weekdays.

The property would be great for families, groups, couples, solo travelers, or business persons.  If you are a couple or solo traveler, you should stay on weekdays.  There would be many return local families with children on weekends.   I noticed there were some solo travelers.  This is comfortable and easy to stay at the property, even for business persons.
  TOP5 Ryokans with Private Onsen in Tohoku
  TOP5 Hotels & Ryokans for Solo Travelers in Tohoku
  TOP4 Modern Ryokans in Tohoku
  TOP5 Hotels & Ryokans in Sendai

Is the location easy to access?
Yes, it would be easy from Sendai Station.  Take a JR Senzan Line from Sendai Station and get off at Sakunami Station.  It takes around 40min.  Then, a free shuttle service is available from Sakunami Station between 14:30 and 18:00.  It takes 5min by car.
Rooms I would recommend?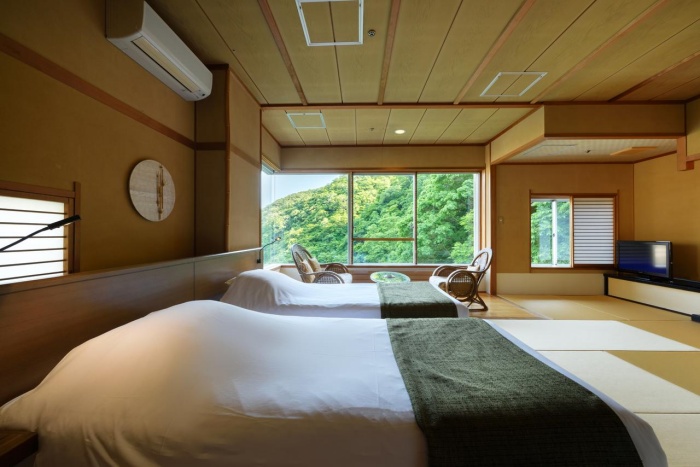 If you are going to stay here, I would recommend a room with a private hot spring.  You can chill out in the room while soaking in the private bath.   The building tends to be aged, but the housekeeping was good.  Then if you don't want to sleep on Japanese-style mattresses on tatami mats, you should book a room with twin beds.
How about toiletries & in-room amenities?
All of the amenities are taken care of including minimum toiletries, yukatas, samue outfits, and a green tea set, etc.   Room service is not available.  There is a vending machine.  There is no convenience store nearby.  You may want to buy your necessities before coming here.  Wi-Fi reception was excellent.  Also, you can borrow tablets.
Then this is child-friendly.  The staff provides bassinets, amenities, and samue outfits, etc. if you request in advance.  Also, cribs are available for borrowing at the restaurant and the communal bathing area only.
  TOP5 Hotels & Ryokans for Families in Tohoku

How about In-house Facilities?
There are amazing indoor and outdoor communal hot springs.  You should try all of them.   The spring quality is wonderful.  They are open from 5:00-14:00, 14:30-24:30.  *If you have tattoos, you may not be permitted to use the communal bathing areas.   You may want to book a room with a private hot spring.
Then there is an outdoor swimming pool.  It's open between late July and late Aug.  You need to bring your own swimwear, swim caps, and goggles, etc.
Then the property is almost universal design.  Wheelchairs are available for borrowing.  Also, there are some rooms for wheelchair users.  If you bring people with weak feet, you should inform the staff in advance as they can arrange a room near the lift.  The property tends to be large.  Actually, there are some steps when you go to the outdoor hot springs along the river.  The location is a bit away from your room.  It takes around 15min on foot.  Wheelchair users wouldn't be able to visit there.
  TOP5 Accessible Hotels & Ryokans in Tohoku

Then there is a very cozy lobby lounge with the fireplace and it's open from 7:00-11:00, 15:30-20:00.  We fully relaxed here while viewing beautiful nature and drinking.  Don't forget to bring your favorite books.  After dinner, we chilled out in front of the fireplace while drinking wine.  That's precious time.
How about meals?
The local cuisine buffet for dinner was wonderful, especially beefsteak.  The food is quite extensive, such as sushi, tempura, shabu-shabu, beefsteak, and beef stew, etc.  Each dish is of high quality.  On top of that, complimentary beer, wine, Japanese sake, whisky, and fresh fruit juice, etc., are available.   Don't forget to bring your empty stomach.  Dinner time is between 17:30-21:00.  Then western and Japanese cuisine for breakfast was also great. Breakfast time is from 7:30-9:30.  All meals are served in a dining area.  Then, as far as I know, there are no nice restaurants around here.  You should book a room with meals.
My impressions
Overall, if relaxation is your main purpose, the property would be perfect in Sendai.  The staff would be helpful, friendly, and attentive.  At last, the check-out time is supposed to be by 11:00, but there would be long lines at the front desk just before 11:00.  You may want to check out earlier and then you can relax at the lobby lounge.  Have a nice trip!  Welcome to receive any questions about the property from the below space.  *You need to inform staff if you check in after 18:00.  Check Availability and Pricing for the ryokan on Booking.com or Agoda
Info about Sakunami Onsen Yuzukushi Salon Ichinobo
Style

Modern Onsen Ryokan

Check-in and out times


15:00/11:00

Estimated Price

40,000 JPY for 2 adults per room

Contact

Call at 0570-053-973 from domestic
Call at +81 570-053-973 from overseas

Internet Connection

Free wifi in the ryokan

Facility Information

Wheelchairs are available
Pets are not allowed


The free parking lot is available

Location

Sakunami Onsen Yuzukushi Salon Ichinobo's MAP

Access

5min by free shuttle bus from Sakunami Station


Address and TEL

989-3431 Miyagi Sendai Aoba-Ku
Sakunami Nagahara 3  Tel 0570-053-973
*All information is as of the date that I posted on my blog.