What kind of onsen ryokan is Kashoen?
This is like a Samurai residence.  If you are looking for an authentic luxury ryokan in Iwate prefecture, you should stay here.  I felt that I was being pulled into old-Japan with a beautiful tatami room and a large courtyard all being perfectly traditional Japanese.  Everything, such as architecture, furniture, interior, and decorations, etc., is elegant, charming, and quaint.  This would be definitely a 5-star experience and worth every Yen you spend. 
On the other hand, if you are looking for a room with an outdoor private onsen, this is not.  The property has 2 rooms with indoor private ones only.  Those rooms would be great for big families, not for couples.  
Once we arrived at the lobby, the staff welcomed us very warmly.  The ambiance is tranquil, serene, and comfortable.  The property would be nice for couples, solo travelers, small groups, or families.
  TOP5 Authentic Ryokans in Tohoku
  TOP5 Hotels & Ryokans for Families in Tohoku

Is the location easy to access?
Yes, take a Tohoku-Shinkansen from Tokyo station and get off at Shin-Hanamaki Station.  It takes 185min.  Then free shuttle service is available from the station.  It takes 30min.  You need to book it in advance.
Rooms I would recommend?
If you are going to stay here, I would recommend a spacious western-Japanese or western room.  Each room has a nice Japanese cypress wooden bathtub.  It gives off a pleasant smell.  This is not a hot spring, though.  Then if you don't want to sleep on a Japanese mattress in a tatami room, you should book a room with twin beds.
How about toiletries & in-room amenities?
All of the amenities are taken care of including minimum toiletries, yukatas, a coffee machine, a complimentary mini-bar including beer and a green tea set, etc.  There are colorful yukatas in the lobby you can choose from.  There are skin products and bath amenities in the bathroom.  Room service is available from 14:00-22:00.  There are vending machines for drinks including beer in-house.  There is no convenience store nearby.  You may want to buy your necessities before coming here.  The free Wifi reception was great.
How about In-house Facilities?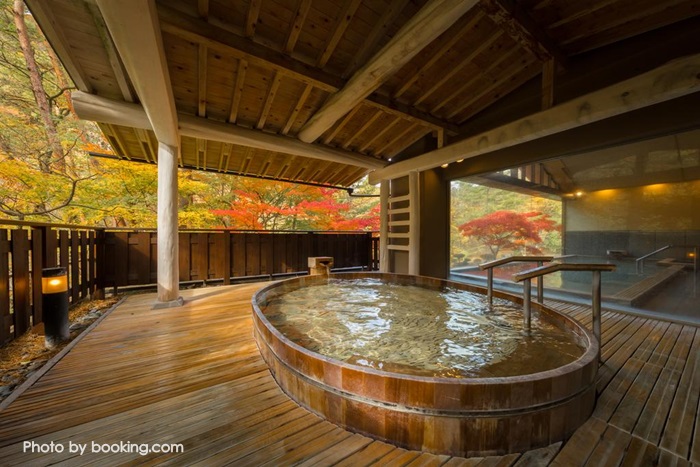 There are wonderful large communal indoor and outdoor hot springs on 2F.  You can view a beautiful green forest while soaking in the baths.  The spring quality is amazing.  It's so creamy, smooth, and moist.  Then I notice that a baby cot was placed in the public bathing area.  All of them are open between 13:00 and 11:00 the following morning.  There is no private family hot spring in-house.  *If you have tattoos, you may not be permitted to use the communal bathing areas. 
Then you can use communal hot springs for free in the sister inns, such as Hotel Sensyukaku, Hotel Hananomaki, and Hotel Koyokan.  Staff may be able to send you to the venues if you request.
Then the property is a perfect universal design.  There is room for wheelchair users.  Wheelchairs are available for borrowing.  If you bring people with weak feet, you may want to inform the staff in advance as they can arrange a room near the entrance.
  TOP5 Accessible Hotels & Ryokans in Tohoku

How about meals?
The kaiseki food experience was good, but it may be challenging for the western palate.  The portion tends to be small, so we ordered Maezawa beef at an additional charge.  That's great.  If you book a western room, dinner is served in a dining area.  If you book others, dinner is served in your room.  If you have dinner on the property, you need to check-in by 20:00.  Dinner starts between 18:00 and 20:00.  Then you can choose either Western or Japanese for breakfast.  Breakfast is served in a dining area.  Breakfast starts between 7:00 and 9:00.  *Please note that inform the staff when you book a room with meals if you have any food allergies.  They probably wouldn't be able to prepare alternative food if you request it on that day.  Then, as far as I know, there wouldn't be nice restaurants near the property.  The location is in a rural area.  You may want to book a room with meals.  Then after dinner, don't forget to visit a bar.  The ambiance is cozy for adults.  You can drink while viewing a solemn and mysterious courtyard.  It's open from 20:00-23:00.
My impressions
All staff is professional, gracious, and welcoming.  You can definitely experience signature Japanese hospitality with a personal touch during your stay.   Overall, the property has great value for money.  We were completely happy the whole entire time.  If you want to get a luxury onsen ryokan experience, Kashoen would be perfect.  Have a nice trip!  Welcome to receive any questions about the property from the below space.  Check Availability and Pricing for the resort on Agoda or Booking.com
Info about Kashoen
Style

Authentic onsen ryokan

Check-in and out times


15:00/11:00

Estimated Price

40,000 JPY for 2 adults per room

Contact

Internet Connection

Free wifi at the lobby

Facility Information

Wheelchairs are available




Pets are not allowed


The free parking lot is available


Location

Kashoen's Map

Access

Free pick-up service from


Shin-Hanamaki Station

Address and TEL

Dai 1 Chiwari Yumoto, Hanamaki,
Iwate 025-0304  Tel +81 198-27-2111

Official Homepage

Kashoen's HP
*All information is as of the date that I posted on my blog.