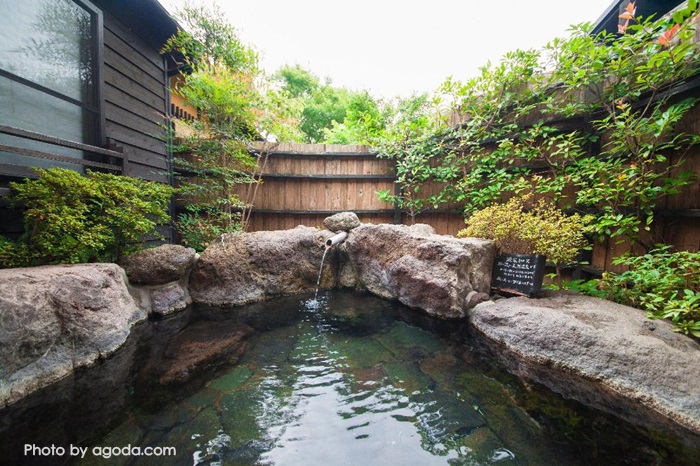 If you are looking for rooms with private indoor and outdoor hot springs, you should stay here.  Most of rooms have private indoor and outdoor hot springs.  It wouldn't be easy to find this type of rooms in Yufuin.  If you are a hot spring freak, you must be excited.  This is like a hideaway for adults.  There are 10 rooms only.  We never met other guests even it would be fully booked.  Once we arrived at the property, a staff immediately escorted us to a rustic tatami room and then checked in in our room while having green tea and Warabi mochi.  Absolutory the property completely emphasizes private experiences for each guest.  The surrounding neighborhood was so quiet.  The property would be great for couples, family, small groups, or solo travelers.  The ambience is cozy, serene and relaxed.  If you are going to stay here, I would highly recommend booking a room called Momiji.  The room is truly charming, quaint, and comfortable.  We spent a lot of time soaking in our private baths until check-out time.  Also a hot stoned bath was installed in our bathroom.  The spring quality is soft, smooth and moist.  The water temperature tends to be high.  When you fill a bath, you need to adjust the temperature with cold tap water.  Then all of the amenities are taken care of including enough toiletries, yukatas, tea bags, bottled water and a Japanese tea set.  Facilities tend to be the latest. 

Wifi reception was good in the property when we stayed in 2018

.  The housekeeping was excellent.  There is a vending machine for drinks.  Room service is not available.  There is no convenience store nearby.  You may want to buy your necessitates before coming here.  Then

the property is not universal design

.  There are some steps in-house, but once you enter your room, you wouldn't need to move around as each room has private hot springs and all meals are served in your room.  If you bring people with weak feet, you may want to inform staff as they can arrange a room near the entrance.  A wheelchair is available for borrowing, but if you bring wheelchair users in Yufuin, I would rather recommend Hinoharu Ryokan than Kaede no Shoja.  Then the property is pet-friendly.  There is a room called Muku where you can stay with your dogs.  Then there is a private family and a foot hot springs in-house which you can complimentary use whenever they are not occupied.  There is no public hot spring.  All of them are open from 16:00-22:00 only.  Then Japanese food experience was wonderful, but two consecutive nights of traditional full course Japanese meals here were a bit too much for us.  There are some nice restaurants in Yufuin.  You may want to go out for dinner if you stay for two or more nights.  Dinner starts from 18:00.  *Please note that inform staff when you book a room with meals if you have any food allergies.  They probably wouldn't be able to prepare alternative food if you request on that day.  Then all staff tends to be friendly, warm and helpful.  Sincere and wonderful hospitality greeted us the moment we started parking our car.  Also they are very informative.  If this is your first visit Yufuin, you should ask them about recommended spots. Overall the property has good value for money if compared to others.  If relaxation is your main purpose, the property would be perfect.  The location is 25min walk from Yufuin Station.  It wouldn't be easy to find the property.  You may want to ask staff to pick up from the station.  Free shuttle service is available from

15:30-18:00

.  It takes 10min by car.  You need to book it in advance.  Have a nice trip!  Welcome to receive any questions about the property from the below space.  *All information is as of the date that I posted on my blog.  **

Check in and out times 16:00/10:00

  ***If you check in after 18:00, you need to inform staff of it in advance. 
Check Availability and Pricing for the property on

Agoda

 
Info about Kaede no Shoja
Style

Mountain hut style ryokan

Guest Rating

Wonderful 9.0

Estimated Price

30,000 JPY for 2 adults per room

Contact

Internet Connection

Free wifi in the property

Facility Information

Wheelchairs are available
Pets are allowed
Free parking lot is available


Location

Kaede no Shoja's MAP

Access

25min walk from

Yufuin Station


Free shuttle service from the station


Address and TEL

Tel +81 

Official Homepage

Kaede no Shoja's HP