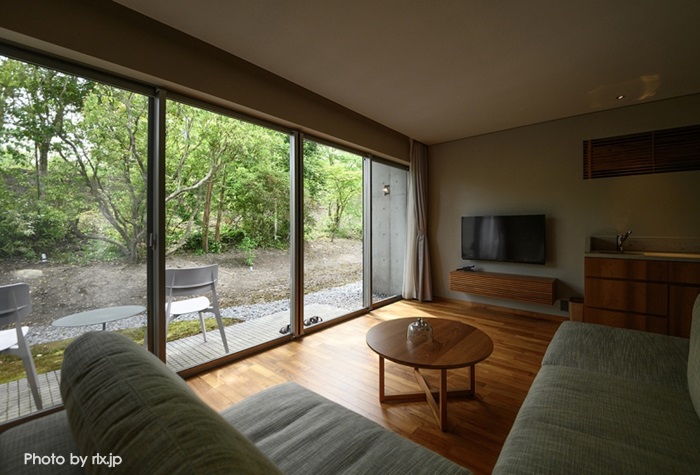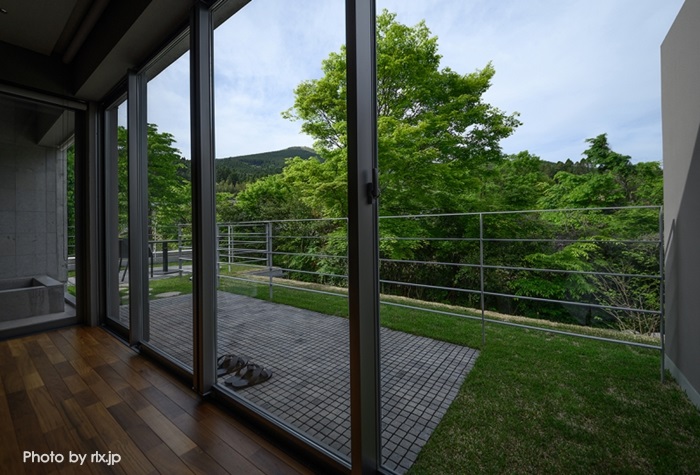 If you are looking for small luxury modern resort hotels in rich nature, I really think you should stay here.  Actually everything, such as facilities, food, hospitably, and ambience was impeccable.  The website looks good, but in reality, the property was much more amazing, dynamic and magnificent.  The view of nature was truly impressive.  The exterior of buildings are like a contemporary Art Museum.  The ambience is serene, sophisticated, and tranquil.  The property would be great for couples, family, small groups, or solo travelers.  There are 13 rooms only in extensive grounds.  Each room has a wonderful private hot spring.  The spring quality is thick, creamy, and like skin moisturizer.  This is one of the best in Yufuin.  There is no public bath in-house.  Facilities tend to be the latest.  The stylish interior creates a mature impression.  Our room was so spacious, functional, and user-friendly.  A small kitchen, floor heating, and the newest appliances are installed. 

Wifi reception was sometimes patchy when we stayed in March 2019

.  Then all of the amenities are taken care of including enough toiletries, samue outfits, pajamas, a complimentary minibar including beer, tea bags, welcome sweets, and a Japanese tea set.  There are MARKS&WEB amenities in the bathroom.  Room service is not available.  There is no convenience store nearby.  You may want buy your necessities before coming here.  Then

the property is universal design

.  A wheelchair is available for borrowing.  If you bring people with weak feet, you may want to inform staff in advance as they can arrange a room near the entrance.  Then Japanese kaiseki food experience was just divine.  The food tends to be sophisticated.  If you are a gourmet, you must be excited.  They have a nice sake list to complement the meal.  The portion tends to be big.  Don't forget to bring your empty stomach.  On top of that, some rice balls for a night snack were served after dinner.  There are some nice restaurants in Yufuin, but I would highly recommend having meals in the property.  Dinner starts from 18:00, 18:30, and 19:00.  Breakfast time is from 8:00-10:00.  All meals are served in a restaurant.  There are three private rooms.  You can request a private room if you want to use.  *Please note that inform staff when you book a room with meals if you have any food allergies or dietary needs.  They probably wouldn't be able to prepare alternative food if you request on that day.  Then don't forget to visit the café and bar lounge after dinner.  The ambience was very cozy.  We fully enjoyed drinking wine while listening to jazz.  Also the night sky was full of stars and a moon that seemed like I could reach out and grab them with my hand.  That's the precious time.  Then all staff is gracious, warm, and welcoming.  They are the loveliest group.  Overall, the property has great value for money.  One night stay wouldn't be enough.  If you are a metropolitan, just stay here and enjoy being completely lazy and recharge your batteries.  An access to the property would be easy from Yufuin Station by taxi.  It takes 8min by car.  It costs around JY1,000.  It takes 25min on foot from the station.  Free shuttle service is not available.  At last, the best season to stay here would be in the spring or the fall season.  You can see breathtaking views while taking a walk around here.  It's well worth a visit.  Have a nice trip!  Welcome to receive any questions about the property from the below space.  *All information is as of the date that I posted on my blog.  **Check in and out times 15:00/12:00  ***If you check in after 18:00, you need to inform staff in advance. 
Check Availability and Pricing for the property on

Agoda
Info about Yufuin Ryokan Sansoh Warabino
Style

Mountain Resort Villa

Guest Rating

Superb 9.3

Estimated Price

40,000 JPY for 2 adults per room

Contact

Internet Connection

Free wifi in the property

Facility Information

Wheelchairs are available
Pets are not allowed
Free parking lot is available


Location

Yufuin Ryokan Sansoh Warabino's MAP

Access

25min walk from

Yufuin Station


Less than 10min by car


Address and TEL

Official Homepage

Yufuin Ryokan Sansoh Warabino's HP
*Japanese only